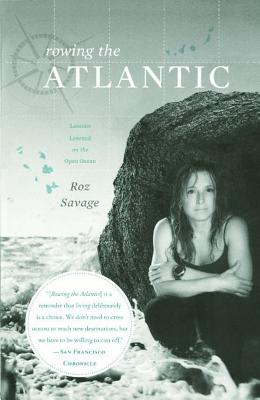 Rowing the Atlantic (Paperback)
Lessons Learned on the Open Ocean
Simon & Schuster, 9781439153727, 256pp.
Publication Date: October 26, 2010
* Individual store prices may vary.
Description
Stuck in a corporate job rut and an unraveling marriage, Roz Savage realized that if she carried on as she was, she wasn't going to end up with the life she wanted. So she turned her back on an eleven-year career as a management consultant to reinvent herself as a woman of adventure. She invested her life's savings in an ocean rowboat and became the first solo woman ever to enter the Atlantic Rowing Race.

Flashing back to key moments from her life before rowing, she describes the bolt from the blue that first inspired her to row across oceans, and how this crazy idea evolved from a dream into a tendonitis-inducing reality. Savage discovers in the rough waters of the Atlantic the kind of happiness we all hope to find.
About the Author
A latecomer to the life of adventure, Roz Savage was previously a management consultant and investment banker, before realizing at the age of thirty-four that there might be more to life than a steady income and a house in the suburbs. In 2005, she was the only solo female competitor in the Atlantic Rowing Race, the first solo woman ever to compete in that race and the sixth woman to row an ocean solo. In 2010, Roz was selected as an "Adventurer of the Year" by National Geographic.
Praise For Rowing the Atlantic: Lessons Learned on the Open Ocean…
"[Rowing the Atlantic] is a reminder that living deliberately is a choice. We don't need to cross oceans to reach new destinations, but we have to be willing to cast off."
–San Francisco Chronicle

"A great armchair adventure."
–Publishers Weekly