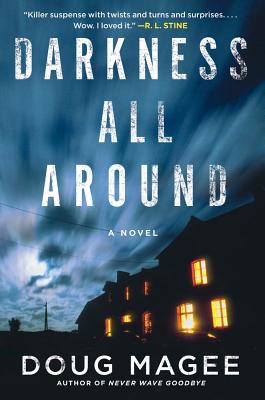 Darkness All Around (Hardcover)
Touchstone Books, 9781439154021, 339pp.
Publication Date: October 18, 2011
* Individual store prices may vary.
or
Not Currently Available for Direct Purchase
Description
When there's DARKNESS ALL AROUND . . . some memories are best forgotten Within the span of one harrowing week, Risa's alcoholic husband, Sean, disappears, and her best friend, Carol, is brutally murdered. Eleven years later, Risa has seemingly put her life back together again, comforted by the love of her new husband, who is a local politician, and the knowledge that Carol's killer has been convicted. But then just as suddenly as he disappeared, Sean resurfaces-- sober, plagued by horrific recollections of Carol's murder, and convinced he was the real killer. Sean's startling claim buzzes through the small, football-crazy Pennsylvania community, and Risa is left to wonder if the man she still loves actually committed the grisly murder. Her growing belief in his innocence sends her on a treacherous search for the truth: a search that reveals ugly secrets that her new husband and the town's law enforcement community are hiding. Emboldened by her discoveries, Risa convinces Sean to flee as the town's violent forces move in to keep the truth from coming to light. But Risa doesn't realize that her attempts to get vindication for Sean may come at a very high price. Part murder mystery, part love story, Darkness All Around is a gripping exploration of the depths of the criminal mind, the fine line between the truth and a lie, and the bravery of the human heart.
About the Author
Doug Magee is a writer, photographer, filmmaker, and the author of Never Wave Goodbye. He lives in New York City. Visit him at DougMagee.com.
Praise For Darkness All Around…
"Magee's book is a tantalizing puzzle that plays with your mind. Killer suspense with twists and turns and surprises until the last piece is in place. Wow. I loved it." —R.L. Stine



"Doug Magee's Darkness All Around is a rarity: a real mystery by a real writer. If you're looking for a page-turner with characters who live and breathe and a setting that's as authentic as your hometown, you'll be very happy you picked it up." —Peter Blauner, Edgar-award-winning author of Slow Motion Riot and Slipping Into Darkness
Advertisement