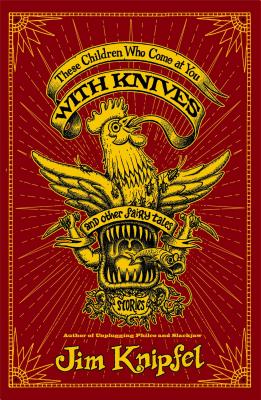 These Children Who Come at You with Knives, and Other Fairy Tales
Stories
Paperback

* Individual store prices may vary.
Description
From the irresistibly droll mind of Jim Knipfel comes These Children Who Come at You with Knives, and Other Fairy Tales, a series of twisted fables that echo with pinpoint acuity. A masterful storyteller whose memoirs and novels have earned him widespread acclaim, this is Knipfel's first foray into the short story, and he delivers in spades: this wickedly dark satire on the notion of happily ever after turns the traditional fairy tale on its head. Among the array of lonely losers wallowing in discontent, the enterprising reader of this volume may meet a talking chicken who learns the world has little patience for intelligence, a foul-mouthed gnome set on world domination, and a magical snowman wrestling with the horror of being alive. In These Children Who Come at You with Knives, Knipfel's singular and brilliantly funny mind reinvents the bedtime story and offers up a wildly entertaining meditation on the perils of human nature.
Praise For These Children Who Come at You with Knives, and Other Fairy Tales: Stories…
"Jim Knipfel has crafted this collection of fairy tales for adults, and while the morality might be a bit grayer and the beasties a little less bucolic, he taps directly into the twisted vein of creepiness that made Grimm so grim. Only Knipfel's funny. Really funny. In These Children Who Come at You With Knives…nothing's as hilarious in Knipfel's sarcasm-soaked mind as that three-word lie ''happily ever after.'' A– —Entertainment Weekly



"Once upon a time, a literary iconoclast mocked classical fairy tales, and it was good. It's not often a book is nimble enough to extract laughs in its first paragraph, but these twisted fairy tales from memoirist-novelist Knipfel are the exception….Douglas Adams–esque…it's obvious that Knipfel knows the sacred ground on which he trespasses. Happily ever after, indeed." —Kirkus, STARRED REVIEW



"The title of Knipfel's offbeat collection of creepy stories makes one thing immediately clear—this, thankfully, isn't a typical collection of fairy tales….these twisted stories horrify the reader, provide ample shots of humor, and, of course, offer lessons…Funny, sarcastic, and disturbing, Knipfel's stories will cause readers to squirm in their seats and laugh out loud at the same time." —Publishers Weekly, "Pick of the Week"



"[M]ordantly comical fairy tales. These bleak fables about the hazards of greed, vanity, and other follies are filled with eccentric loners…Knipfel fashions a wildly entertaining and wicked world where few live happily ever after, if they live at all." —Jonathan Fullmer, Booklist



"[These Children Who Come at You With Knives] will cause you to laugh out loud, then look around to count those now staring at you, then re-read the last paragraph to see if you had read it right, then laugh some more." —Scott Butki, Blogcritics.org



"Wonderfully filled with dark humor and fantastic in all the best ways, Jim Knipfel's These Children Who Come at You With Knives is a collection of modern-day fairy tales that hearken back to the true spirit of the Brothers Grimm." —Large Hearted Boy



"[W]ry mash-ups of political correctness, human carnivorousness and urban legends [like] such cultural touchstones as Edward Gorey and Tim Burton." —James Cihlar, Minneapolis Star Tribune



"Knipfel is one of the few writers who are really laugh-out-loud funny. Sure, one might chuckle at Sedaris and smile at Burroughs, but Knipfel is on another level entirely….The stories in These Children are dark, funny, and memorable, and readers may be surprised to find them filling their psyches, taking the place of real fairy tales….Knipfel's writing is so ebullient that his joyful sentences ameliorate the unhappy endings." —Marie Mundaca, The Hipster Book Club
Simon & Schuster, 9781439154120, 256pp.
Publication Date: June 1, 2010