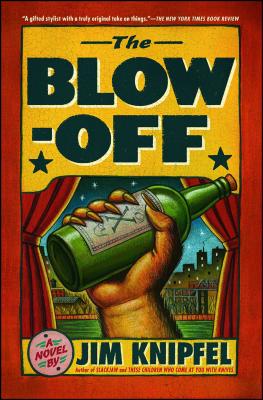 The Blow-off (Paperback)
A Novel
Simon & Schuster, 9781439154137, 336pp.
Publication Date: July 12, 2011
* Individual store prices may vary.
Description
Monster Stalks NYC

When a local drunk is mugged near the toxic Gowanus Canal by "a hulking, hairy beast who smells really bad," Hank Kalabander thinks nothing of blaming the assault on the legendary Bigfoot. His sardonic crime blotter for The Hornet, a local Brooklyn rag, often gleefully recounts the tragedies that befall the borough's dimmer residents. But when an upstart reporter from The Eagle, a tabloid paper, lifts his piece and implicates Bigfoot in two more attacks, the crimes become local news fodder and the hunt for the "Gowanus Beast" takes off. Pretty soon the G.B. is to blame for everything from murder and robberies to playground scuffles and a pie's disappearance—and neighborhood watch patrols have taken to the streets. Alarmed by the populace's response, Hank decides it's his responsibility to disprove the existence of this menacing beast and, with the help of an old carny colleague, put an end to the growing hysteria.

In The Blow-off, acclaimed writer Jim Knipfel has crafted an astoundingly funny send-up of our current times—an intoxicating blend of sharp cultural references, wildly comical scenes, discerning commentary, and unforgettable characters.
About the Author
Jim Knipfel is the author of three memoirs, Slackjaw, Quitting the Nairobi Trio, and Ruining It for Everybody, and three novels, Noogie's Time to Shine, The Buzzing, and Unplugging Philco. He lives in Brooklyn.
Praise For The Blow-off: A Novel…
"A gritty, satirical thriller that wonderfully echoes H.L. Mencken's views on the American public. . . . Knipfel's characters are delightfully pitch-perfect. . . .
The Blow-Off
is laugh-out-loud funny."
—John Wilwol, The Washington Post
"[A] hilariously sardonic shake of the head at the media and the public's willingness, even outright desire, to get riled up over nothing in particular . . . Knipfel's writing has quite a bite."
—
Keith Staskiewicz
, Entertainment Weekly
"Forget the Loch Ness monster. There's a beast lurking by the Gowanus Canal, and he may be responsible for a crime wave. In this fun novel . . . every incident in the city is lain at his big, fictional feet."
—Billy Heller, The New York Post
"An engrossing, hilarious novel that also has bite and wonderfully paced dialogue. Through Hank,
Knipfel—a Brooklyn-based former newspaper columnist himself—makes insightful and humorous observations on a number of annoyances threatening to make the world a beastlier place."
—Michelle Jones, The Dallas Morning News
"Knipfel takes hilarious aim at the ravening New York media and what Knipfel portrays as the desperately thin veneer of reason and public order in the Big Apple . . . dark, and quirky humor animates all his writing."
—Booklist
"Knipfel gets to wax poetic on the (d)evolution of journalism and the media's appetite for sensationalism. But he does it with the same pointed humor that made
These Children
such a treat. A funny and subversive caper novel that speaks the language of days gone by."
—Kirkus Reviews
"Knipfel balances the ugly, the frightening, and the unseemly to give readers a morbidly playful story with a surprising amount of heart."
—Publishers Weekly
"You read [Knipfel] for the spell under which his prose can place you. At this, he has only gotten better with time."
—Roy Edroso, The Village Voice