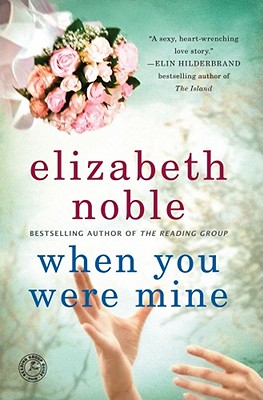 When You Were Mine
A Novel
Paperback

* Individual store prices may vary.
Description
IS A SECOND CHANCE AT HAPPINESS WORTH RISKING EVERYTHING? EVEN A BEST FRIEND?

Susannah has been living with Doug for eight years, acting as stepmother to his three unappreciative children and wondering why she doesn't mind much when he sometimes sleeps in his study. She's known her best friend Amelia since they were teenagers. Amelia never minces words, and Susannah doesn't like hearing what Amelia has to say about her noncommittal relationship.

At her brother's wedding, Susannah runs into Rob—her first love, the love of her life. There's no band on his ring finger, and Susannah begins to fantasize. Her fantasies turn to reality when Rob gives her a call. Susannah's world is rocked by her rekindled feelings for Rob, then totally turned upside down by a revelation from Amelia. Just when Susannah and Amelia need each other the most, they are facing a crisis that threatens to tear their friendship apart. Without her familiar guiding star, Susannah must finally make some hard choices in order to grow up for good, no matter who or what she has to leave behind.

Heartwarming, wise, and sophisticated, When You Were Mine is a story about first loves, best friends, and choices that will resonate with readers everywhere.
Praise For When You Were Mine: A Novel…
Elizabeth Noble's new novel, When You Were Mine, combines two of my favorite things: a sexy, heartwrenching love story and a rich and nuanced friendship between two unforgettable women. Every detail is just right; the end result is a book that creates a nearly-impossible-to-achieve cocktail of emotional maturity and pure fun.
-Elin Hilderbrand, bestselling author of The Island

"A poignant meditation on lost chances, the power of female friendship, and the necessity of fully embracing adulthood, When You were Mine delightfully charms and entertains, but at its heart is a novel that tackles profound themes with wit and wisdom." --Susan Rebecca White, author of A Soft Place to Land
Touchstone, 9781439154854, 352pp.
Publication Date: March 1, 2011
About the Author
Elizabeth Noble is the internationally bestselling author of The Reading Group, The Friendship Test, Alphabet Weekends, and Things I Want My Daughters to Know. She lives in New York City with her husband and their two daughters.