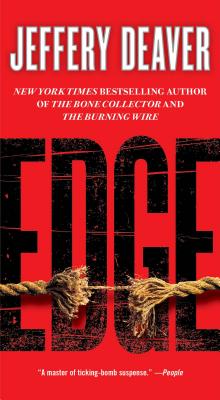 Edge
Mass Market

* Individual store prices may vary.
Other Editions of This Title:
Digital Audiobook (11/1/2010)
Digital Audiobook (11/1/2010)
Paperback (1/8/2013)
Hardcover (12/2/2010)
CD-Audio (3/12/2013)
Paperback (9/1/2011)
Paperback (5/1/2011)
CD-Audio (11/2/2010)
Paperback, Large Print (9/28/2011)
Description
Behind the well-known U.S. security organizations— the FBI and CIA among them—lies a heavily guarded, anonymous government agency dedicated to intelligence surveillance and to a highly specialized brand of citizen protection.

Shock waves of alarm ripple through the clandestine agency when Washington, D.C., police detective Ryan Kessler inexplicably becomes the target of Henry Loving, a seasoned, ruthless "lifter" hired to obtain information using whatever means necessary. While Loving is deft at torture, his expertise lies in getting an "edge" on his victim—leverage—usually by kidnapping or threatening family until the "primary" caves under pressure.

The job of keeping the Kessler family alive falls to a man named Corte, a senior federal protection officer known as a "shepherd." Uncompromising, relentlessly devoted to protecting those in his care and a passionate board game aficionado, he applies brilliant gaming strategy to his work. For Corte, the reappearance of Loving—the man who, six years earlier, had tortured and killed someone close to him—is also an opportunity to avenge his friend's death. The assignment soon escalates into a fast-paced duel between Corte and Loving, a dangerous volley of wits and calculated risks.

As he shepherds the Kesslers to a concealed safe house, Corte must anticipate Loving's every step as the lifter moves in on his prey, and with the help of razor-sharp investigator Claire DuBois and his longtime ally, FBI agent Paul Fredericks, pinpoint which of Kessler's seemingly insignificant cases has triggered Loving's return. As the team digs deeper, each of the Kesslers comes under close scrutiny, and in captivity their family bonds are stretched to the breaking point—as the lifter draws near, Corte must ultimately choose between protecting his charges and exposing them to a killer in the name of long-awaited revenge.
Praise For Edge…
"[A] brain teaser of a thriller . . . Following the moves of Deaver's ingenious plot is hard enough. The real trick is keeping up with his brilliant mind."—The New York Times Book Review



"Along with a complex investigation and a dangerous cat-and-mouse game, Edge also boasts some high-stakes political drama . . . Swiftness and ruthlessness carry the book's momentum, keeping readers on the . . . well, check the title again. . . . Rumors are that Edge might kick off a new series for Deaver [and] Corte's combination of professionalism and duplicity offer the chance for conflicts, both internal and external, to deepen. In the meantime, Deaver has been commissioned to write the next James Bond novel—a golden opportunity he's clearly earned."—The Washington Post



"[A] twist-filled thriller . . . In Mr. Deaver's kaleidoscope world, the odds seem to change with each turn of the page."—The Wall Street Journal



"Jeffery Deaver is one of the most reliable and prolific writers of mysteries and thrillers. . . . And some of his books are among the best thrillers written. The Bone Collector and The Coffin Dancer are brilliant, involving and creepy to the max. The Vanished Man is brilliant although less creepy, kind of a tribute to thriller-writing, in a way. Those three are all Lincoln Rhyme mysteries—his quadriplegic forensics investigator is one of the most popular characters in mystery fiction ever created, and certainly one of the best among living writers. Deaver's latest, Edge, is not a Rhyme mystery, but it's still one of Deaver's best, a book that grabs readers on its first page and doesn't let go."—San Jose Mercury News



"The action is a cat-and-mouse weave of clues and counter-clues. . . . This is vintage Deaver at his best."—Toronto Globe and Mail



"Another Deaver winner."—The Toronto Sun



"Completely and utterly thrilling. . . . Deaver has created a story where nothing is as it seems. The only thing you can be sure of is that it will keep you on the edge of your seat from start to finish."—Sunday Times (South Africa)



"Anyone who doubts the Ian Fleming estate's choice of perennial chart-topper Jeffery Deaver to pen the next James Bond novel need only savour his latest standalone barnburner, Edge. . . . A master of brilliantly paced misdirection, Deaver could teach a post-grad course in thriller writing."—The Winnipeg Free Press



"Deaver unveils some nifty new tricks in this edge-of-your-seat thriller . . . Deaver's first first-person narrator, Corte, is an exciting new weapon in the author's arsenal of memorable characters."—Publishers Weekly



"Fans of Deaver's fiendishly clever suspensers (The Burning Wire, 2010, etc.) won't be surprised by the nonstop deceptions, reversals, shocks and surprises, but this time they're even more varied than usual, and, given the characters' backgrounds, a lot more plausible. The result is his most successful thriller in years."—Kirkus reviews (starred review)
Pocket Books, 9781439156360, 576pp.
Publication Date: July 26, 2011
About the Author
Jeffery Deaver is the #1 international bestselling author of more than forty novels, three collections of short stories, and a nonfiction law book. His books are sold in 150 countries and translated into 25 languages. His first novel featuring Lincoln Rhyme, The Bone Collector, was made into a major motion picture starring Denzel Washington and Angelina Jolie, which is currently being adapted for television by NBC.

He's received or been shortlisted for a number of awards around the world, including Novel of the Year by the International Thriller Writers and the Steel Dagger from the Crime Writers' Association in the United Kingdom. In 2014, he was the recipient of three lifetime achievement awards. A former journalist, folksinger, and attorney, he was born outside of Chicago and has a bachelor of journalism degree from the University of Missouri and a law degree from Fordham University.
or
Not Currently Available for Direct Purchase