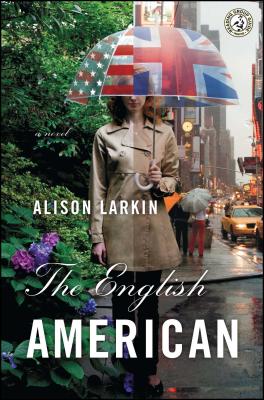 The English American
A Novel
Paperback

* Individual store prices may vary.
Other Editions of This Title:
Digital Audiobook (12/15/2019)
MP3 CD (5/1/2018)
Compact Disc (5/1/2018)
Description
When Pippa Dunn,adopted as an infant and raised terribly British, discovers that her birth parents are from the American South, she finds that "culture clash" has layers of meaning she'd never imagined. Meet The English American, a fabulously funny, deeply poignant debut novel that sprang from Larkin's autobiographical one-woman show of the same name.

In many ways, Pippa Dunn is very English: she eats Marmite on toast, knows how to make a proper cup of tea, has attended a posh English boarding school, and finds it entirely familiar to discuss the crossword rather than exchange any cross words over dinner with her proper English family. Yet Pippa -- creative, disheveled, and impulsive to the core -- has always felt different from her perfectly poised, smartly coiffed sister and steady, practical parents, whose pastimes include Scottish dancing, gardening, and watching cricket.

When Pippa learns at age twenty-eight that her birth parents are from the American South, she feels that lifelong questions have been answered. She meets her birth mother, an untidy, artistic, free-spirited redhead, and her birth father, a charismatic (and politically involved) businessman in Washington, D.C.; and she moves to America to be near them. At the same time, she relies on the guidance of a young man with whom she feels a mysterious connection; a man who discovered his own estranged father and who, like her birth parents, seems to understand her in a way that no one in her life has done before. Pippa feels she has found her "self" and everything she thought she wanted. But has she?

Caught between two opposing cultures, two sets of parents, and two completely different men, Pippa is plunged into hilarious, heart-wrenching chaos. The birth father she adores turns out to be involved in neoconservative activities she hates; the mesmerizing mother who once abandoned her now refuses to let her go. And the man of her fantasies may be just that...

With an authentic adopted heroine at its center, Larkin's compulsively readable first novel unearths universal truths about love, identity, and family with wit, warmth, and heart.
Praise For The English American: A Novel…
"The English American has something universal to teach about adoption and all the big issues that go along with it, including love, grace and acceptance. Both poignant and funny, the story rings true because the author has lived the situation. It looks like Larkin has a winner on her hands in this semi-autobiographical novel about an adoptee's identity crisis." --The Oregonian

The English American is a funny, charming and poignant book -- the kind that you can't resist reading in a single day. --Chicago Sun Times

"The English American is an engaging, highly readable tale of one woman's search for love and a place in the world." --The Star Ledger

"Deceptively simple in framework, the novel successfully veers between poignancy and outrageous humor, with Larkin having great fun with English and American cultures as Pippa navigates her way through the culture clashes and extended families to recognize her unique, quirky self.." --Library Journal

"Drawn from Larkin's own life, this debut novel -- like Pippa herself -- is smart, funny, and utterly charming." --Booklist

"The English American is a heartfelt journey through the dual life of a vulnerable woman who is searching for her past in an attempt to find her future...this comedic jaunt into the nature v. nurture enigma is sure to acquire a beloved spot in hearts and on bookshelves for years to come." --GTWeekly

"You need only to turn the page to find something that will make you laugh...or cry...Pippa's journey of self-discovery and identity becomes our own. I still think about her, weeks after finishing this book." --Adoptive Families Magazine

"Alison Larkin has written a book that makes you laugh and cry at the same time. Not only that, The English American is a story that you've never read before... You will love it!" --Gail Parent, Emmy Award winning writer for Tracey Takes On, The Golden Girls, and The Carol Burnett Show

"Alison Larkin nails the Anglo-American cultural divide brilliantly in the most compelling novel I have read in years. Fast-paced, moving, deeply comic and sexy, I could not put it down." --Clive Pearse, HGTV, Host of Designed to Sell and Design Star
Simon & Schuster, 9781439156537, 368pp.
Publication Date: November 17, 2009
About the Author
Alison Larkin was adopted at birth in Washington, D.C., by British parents and raised in England and Africa. After graduation from the University of London and the Webber-Douglas Academy of Dramatic Art, she became a regular on the British stage with appearances on Broadway, a ubiquitous voice-over artist, and a successful stand-up comic. Her internationally acclaimed one-woman show, The English American, was a highlight of the London Comedy Festival. For more information, go to www.alisonlarkin.com.