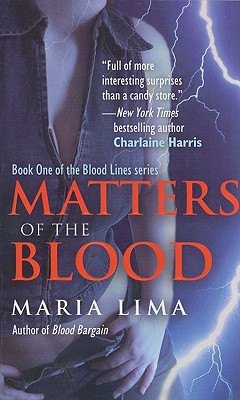 Matters of the Blood
Mass Market

* Individual store prices may vary.
Other Editions of This Title:
Paperback (10/18/2014)
Description

If you thought your family was strange...

Try being Keira Kelly. A member of a powerful paranormal family, Keira elected to stay among humans in the Texas Hill Country when the rest of the clan moved (lock, stock, and grimoire) to Canada. But family duty means still having to keep an eye on cousin Marty -- a genetic aberration who turned out 100% human, poor guy. And recently Keira's been having violent dreams -- or are they visions? -- featuring Marty as the victim of a vicious murder. Something sinister seems to be brewing in little Rio Seco. Can Keira get to the bottom of it all while avoiding entanglement with her former lover, Sheriff Carlton Larson? And what does she plan to do about the irresistible and enigmatic Adam Walker? When this old friend shows up as the new owner of a local ranc and wants to get better acquainted, Keira is more than happy to be welcoming...until she suspects that Adam could be intimately connected to the dangerous doings in Rio Seco.
Praise For Matters of the Blood…
"Full of more interesting surprises than a candy store."
— New York Times bestselling author Charlaine Harris

"Maria Lima weaves a brilliant tale of supernatural power, revenge, and the excitement of newfound love." —Darque Reviews
Pocket Books, 9781439156742, 352pp.
Publication Date: August 25, 2009
About the Author
Sometime before the Revolution, Maria Lima was born in Matanzas, Cuba, to a family of voracious readers and would-be writers. After her family emigrated to the United States, Maria discovered the magic of books. She started writing her own stories and has been at it ever since. Her writing turned corporate as she used her journalism degree and cranked out marketing copy, feature stories and book reviews. The fiction muse kept calling and in the spring of 2005, was finally fed as Maria's first published short story, "The Butler Didn't Do It" was published in Chesapeake Crimes I and garnered an Agatha Award nomination for Best Short Story. Maria spends most of her days working as a Senior Web Project Manager in the DC area. Her evenings and weekends are spent writing.