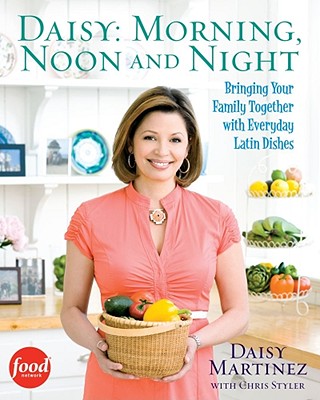 Daisy
Morning, Noon and Night: Bringing Your Family Together with Everyday Latin Dishes
Hardcover

* Individual store prices may vary.
Description
Brilliant color, bold flavors, and an innovative mix of the traditional and modern are the hallmarks of Daisy Martinez's cooking on her Food Network show, Viva Daisy! In this lavish collection of 150 recipes, the can't-fail dishes Daisy learned to cook alongside her mother and grandmother in Puerto Rico mingle with the recipes she has picked up during her travels around the Spanish-speaking world, to create a classic cookbook that encompasses the very best of Latin cuisine. Daisy believes that the act of cooking and sharing food with your family is more than just a culinary experience, it's an opportunity to create memories with your loved ones.
?
Conveniently divided into Morning, Noon, and Night sections, Daisy: Morning, Noon and Night begins with sweet and savory breakfast treats, such as Peruvian tamales stuffed with raisins. A light noontime meal features Berengena con Coco (braised eggplant with coconut milk) from the Dominican Republic. And then there are the nighttime meals—everything from Arepitas de Yuca (yucca fritters) with pineapple-vinegar-chile dipping sauce to Tamarind Rum Glazed Chicken Wings.
With her trademark warmth and candor, Daisy demystifies the staple ingredients of the Latin kitchen—which many people walk right by during their trips to the supermarket—and provides easy tips to help "Daisify" everyday dishes and turn each meal into an unforgettable memory.
Praise For Daisy: Morning, Noon and Night: Bringing Your Family Together with Everyday Latin Dishes…
"Daisy's authentic recipes are easy to make, easy to eat, and sure to please." -- Rachael Ray



"Daisy Martinez will make a lot of people, but particularly my wife, Gloria, happy with these Latin dishes." -- Chef Jacques Pépin



"Daisy was a great student, but in this book she proves herself to be a great teacher as well. These recipes are warm, inviting, and intelligent...just like that young, vivacious student!" -- Dorothy Cann Hamilton, founder and CEO of The French Culinary Institute



"Passion, tradition, flavor, and, most important, love -- those are Daisy's main ingredients, and you find them in every dish! From the first recipe I tried (Spicy Pineapple Vinegar!) to the latest (Fava Beans with Serrano Ham and Cream!), Daisy just propels me into the kitchen and makes me want to invite people over." -- Ted Allen, host of Chopped on the Food Network



"To dine at her home is to witness and taste one of America's premier Latino-American chefs. Well, lucky for us, she has created a book with those same home recipes that will take you right back to your home cooking!" -- Chef Art Smith, bestselling author and humanitarian



"Daisy has captured the true spirit of Latin-American cuisine and injected it with a powerful punch." -- Ivy Stark, executive chef of Dos Caminos



"A feast for all our senses!" -- Esmeralda Santiago, bestselling author of When I Was Puerto Rican



"Even if you don't have an abuelita, Daisy Martinez will teach you to cook like a true Boricua." -- Jason Perlow, founder of OffTheBroiler.com



"This is the kind of insanely flavorful food that you will want to eat all the time." -- William Schwalbe, founder of Cookstr.com
Atria Books, 9781439157534, 336pp.
Publication Date: March 2, 2010
Book Videos
or
Not Currently Available for Direct Purchase