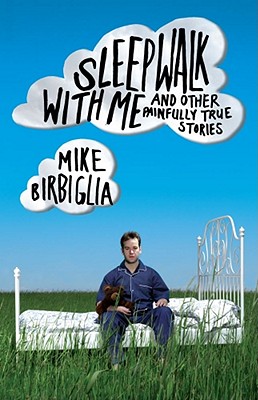 Sleepwalk with Me
and Other Painfully True Stories
Hardcover

* Individual store prices may vary.
Other Editions of This Title:
Paperback (8/21/2012)
Compact Disc (10/12/2010)
Paperback (5/3/2011)
MP3 CD (10/12/2010)
Description
Hello, I am Mike Birbiglia and I want you to read my book. Too on the nose? Sorry. Let me dial it back.

I'm Mike Birbiglia and I'm a comedian. You may know me from Comedy Central or This American Life or The Bob & Tom Show, but you've never seen me like this before.

Naked.

Wait, that's the name of another book. Also I'm not naked as there are no pictures in my book. Also, if there were naked pictures of me, you definitely wouldn't buy it, though you might sneak a copy into the back corner of the bookstore and show it to your friend and laugh. Okay, let's get off the naked stuff.

This is my first book. It's difficult to describe. It's a comedic memoir, but I'm only 32 years old so I'd hate for you to think I'm "wrapping it up," so to speak. But I tell some personal stories. Some REALLY personal stories. Stories that I considered not publishing time and time again, especially when my father said, "Michael, you might want to stay away from the per­sonal stuff." I said, "Dad, just read the dedication." (Which I'm telling you to do too.)

Some of the stories are about my childhood, some are about girls I made out with when I was thirteen, some are about my parents, and some are, of course, about my bouts with sleepwalking. Bring this book to bed. And sleepwalk with me.
Praise For Sleepwalk with Me: and Other Painfully True Stories…
"Mike Birbiglia was always a very funny guy who told stories onstage. But in the last two years it's been inspiring to see the stories get bigger and more complicated and emotional as he turned himself into a real storyteller and—with this book—a real author as well. These are deeply relatable, totally engaging stories. They're as moving and amusing as they come." —Ira Glass, host and producer of "This American Life"

"Mike Birbiglia can write an entertaining yet soulful story in his sleep—that and jump out of motel windows." —Sarah Vowell, author of The Wordy Shipmates and Assassination Vacation

"First, know that this book is well written and funny. Now, know that I hate cynicism. Hate it. This book is the opposite of cynicism. I love Sleepwalk With Me." —Jeff Garlin, Co-creator and Co-star of Curb Your Enthusiasm

"Mike Birbiglia is a good friend of mine but I'm still really happy when weird, bad things happen to him because I love hearing the stories." —Seth Meyers, head writer and host of Weekend Update, Saturday Night Live

"Funny. Very funny. Birbiglia is the child Woody Allen and Bob Newhart never had—please don't try to picture that 'encounter.' Smart and self-aware, with just enough perspective on his quirks and issues that you don't have to feel too sorry for him...as you laugh at and/or with him." —Bob Odenkirk, creator and star of HBO's Mr. Show with Bob and David

"Mike Birbiglia has always made me laugh and so did this book. No one explains their insanity as sanely or as honestly or is as funny as Mike. If you think you're crazy, this is the book for you. It's a good thing the kid is a talented writer and comic or he'd be screwed." —Lewis Black

"Sleepwalk with Me is so funny, inspired, and jealous-makingly well written, I am beginning to suspect that Mike Birbiglia MAY ACTUALLY HAVE BEEN AWAKE WHILE HE WROTE IT. This changes my whole worldview." —John Hodgman, author of More Information Than You Require

"Insightful, heartfelt, and comedic—what more could you want from a book? Mike Birbiglia is a unique and wonderful new voice in American theater and letters." —Jonathan Ames, creator of HBO's "Bored to Death" and author of The Extra Man and Wake Up, Sir!

"Sleepwalk With Me is about the things that keep us all up at night: love, family and growing up. In equal parts hilarious and moving, this book should cement Mike Birbiglia's status as a national treasure." —Andy Borowitz, author of Who Moved My Soap: The CEO's Guide to Surviving Prison; The Bernie Madoff Edition

"Mike Birbiglia is a great storyteller, just as funny on the page as on the stage. These comic gems strung together create a hilarious and touching memoir of growing up awkwardly and finding his way in the cruel world of stand-up. An original wit who raises self-deprecation to an art form, and always leaves you thinking and laughing." —Nathan Lane

"Mike Birbiglia has crafted a genuine rarity—a boisterous book you want to listen to, quietly." —Patton Oswalt, author of Zombie Spaceship Wasteland

"Sleepwalk with Me is not your typical comedian-writes-book book. It's something else. It's laugh-out-loud funny from beginning to end, and it's a truly fascinating and bizarre story about a guy with a very real and a very unique problem. It completely blew me away." —Michael Showalter, host of Michael Showalter Showalter and author of Mr. Funny Pants

"Mike Birbiglia is a brilliant comedian with a completely original point of view and an endearing stage presence. And somehow, he has taken this stage presence and turned it into a book presence. Sleepwalk With Me is an amazing read—funny, insightful, heartbreaking, uplifting, terrifying at times, and very, very funny. Yeah, I said funny twice, but that's because it's really funny." —Will Forte, writer and cast member, Saturday Night Live

"Mike Birbiglia might be the best comedian of our generation: smart, honest, and always painfully funny. He's the Rembrandt of awkwardness." —Michael Ian Black, author of My Custom Van

"If you read only one book this year, I wouldn't say you're an avid reader. That said, I truly believe that this should be the book." —Alan Zweibel, Thurber Prize-winning author of The Other Shulman

"Mike is my favorite kind of hero in his stories: always self-aware, usually awkward, sometimes sad, but never cynical or bitter. The truths he unpacks from his life ring like a bell." —Adam Savage, co-host of Discovery's "Mythbusters"

"Mike Birbiglia should be particularly commended on his sleepwalking story which is most responsibly written, turning a non-funny situation into one of hilarity, and legitimizing such occasionally injurious behaviors as a normal part of human existence unrelated to psychiatric disorders." —Mark Mahowald, M.D., author of Parasomnias

"Sleepwalk With Me is a delightful stroll into the charming, intelligent and accessible mind of Mike Birbiglia." —Kristen Schaal, comedienne and co-star of Flight of the Concords

"I was terrified by how much I related to Mike Birbiglia's stomach churning, embarrassing stories of childhood, sex, and more. With writing that is fresh, starkly direct and all his own, he exposes his real life experiences—from the mundane to the extraordinary—in ways that made me laugh out loud at every page. So much fun to read…just be ready to cringe in self-recognition." —David Wain, writer/director of Role Models, Wet Hot American Summer, and The State

"When Mike Birbiglia struts and frets his hour upon the stage, he is able to convey the pathos, longing, and bittersweet confusion that make being human such devastating and fantastic fun. Birbiglia's ability to translate this singular comic persona into seamless, Pringles-addictive prose is an even more radical achievement. You will want to play in Mike's childhood home, experience his delayed adolescence, and walk lucid through his dreams." —Lena Dunham, writer and director of "Tiny Furniture"

"Gas station pizza, chain-restaurant bottomless sodas, getting engaged with absolutely no intention of getting married—and his forever funny habit of sleepwalking/fighting/karate-kicking/escaping from Brad Pitt—make Mike Birbiglia's book unendingly hilarious and charming. Sometimes you laugh aloud, sometimes you spit out whatever it is you're sipping, sometimes you have to just put the book down because you're laughing hard enough to pull a neck tendon. Buy it. And buy another one for a friend." —Denis Leary

"Sleepwalk with Me is so funny, so smart, and so full of self-deprecating wit that for a second I thought I was reading one of my own books." —Alan Zweibel, Thurber Prize-winning author of The Other Shulman

"Charming, brainier than he'd probably admit, and frequently poignant in spite of himself, Birbiglia throws together an alternately rollicking and warm handful of stories; the lengthy title story, of his struggle with a sleep disorder, is as fascinating as it is hilarious."
--Booklist
Simon & Schuster, 9781439157992, 208pp.
Publication Date: October 12, 2010
About the Author
Mike Birbiglia is a comedian, author, actor, and director. His one person shows Sleepwalk with Me and My Girlfriend's Boyfriend have both run successfully off-Broadway and toured internationally. He was a finalist for the Thurber Prize for American Humor for this book and his feature film adaptation of it won the NEXT category's audience award at Sundance Film Festival in 2012.
Coverage from NPR
or
Not Currently Available for Direct Purchase