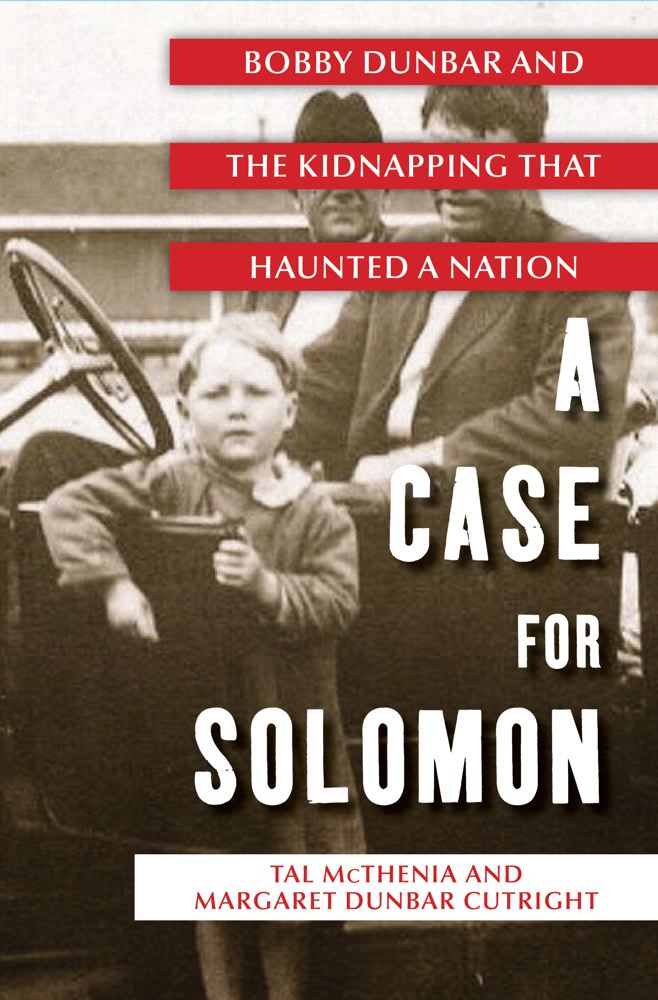 A Case for Solomon
Bobby Dunbar and the Kidnapping That Haunted a Nation
Hardcover

* Individual store prices may vary.
Other Editions of This Title:
Paperback (8/13/2013)
Description
A Case for Solomon tells the spellbinding story of one of the most celebrated kidnapping cases in American history, and a haunting family mystery that took almost a century to solve.

A CASE FOR SOLOMON: BOBBY DUNBAR AND THE KIDNAPPING THAT HAUNTED A NATION chronicles one of the most celebrated—and most misunderstood—kidnapping cases in American history. In 1912, four-year-old Bobby Dunbar, the son of an upper-middle-class Louisiana family, went missing in the swamps. After an eight-month search that electrified the country and destroyed Bobby's parents, the boy was found, filthy and hardly recognizable, in the pinewoods of southern Mississippi. A wandering piano tuner who had been shuttling the child throughout the region by wagon for months was arrested and charged with kidnapping—a crime that was punishable by death at the time. But when a destitute single mother came forward from North Carolina to claim the boy as her son, not Bobby Dunbar, the case became a high-pitched battle over custody—and identity—that divided the South.

Amid an ever-thickening tangle of suspicion and doubt, two mothers and a father struggled to assert their rightful parenthood over the child, both to the public and to themselves. For two years, lawyers dissected and newspapers sensationalized every aspect of the story. Psychiatrists, physicians, criminologists, and private detectives debated the piano tuner's guilt and the boy's identity. And all the while the boy himself remained peculiarly guarded on the question of who he was. It took nearly a century, a curiosity that had been passed down through generations, and the science of DNA to discover the truth.

A Case for Solomon is a gripping historical mystery, distilled from a trove of personal and archival research. The story of Bobby Dunbar, fought over by competing New Orleans tabloids, the courts, and the citizenry of two states, offers a case study in yellow journalism, emergent forensic science, and criminal justice in the turn-of-the-century American South. It is a drama of raw poverty and power and an exposé of how that era defined and defended motherhood, childhood, and community. First told in a stunning episode of National Public Radio's This American Life, A Case for Solomon chronicles the epic struggle to determine one child's identity, along the way probing unsettling questions about the formation of memory, family, and self.
Praise For A Case for Solomon: Bobby Dunbar and the Kidnapping That Haunted a Nation…
"A thoughtful look at the elusiveness of truth and the fluidity of identity… It's difficult not to empathize with both sides of this case, as everyone loses something—particularly the child caught in the middle." --Publisher's Weekly

"A Case For Solomon is a fascinating tale of an American changeling -- a little boy lost to the Louisiana swamps, only to be conjured back by headlines and a mother's agony. Within the life of Bobby Dunbar, a man who was a mystery even to himself, Tal McThenia and Margaret Cutright have uncovered a dramatic case of families caught between grief, injustice, and the desperate will to believe." --Paul Collins, author of The Murder of the Century

"A Case for Solomon is haunting and unforgettable. It swept me up like no other book I've read in a long time. It is a mystery story finally solved after a hundred years, but it's also a profound and heartbreaking examination of identity and loss told by writers whose hard-won research and narrative gifts are plain on every page. The exotic settings, the characters whose love redeems as well as destroys, a plot that is downright biblical...and in the end a little boy with arms outstretched and this question on his lips: Who am I?" -- John Ed Bradley, author of Tupelo Nights and It Never Rains in Tiger Stadium

"A Case for Solomon can easily be read as a kidnapping mystery or a legal thriller or a saga of class privilege or a lively indictment of the deadly shenanigans when the media circus comes to town. To me, it's a tragic accounting of the abuses inherent in our confidence about what's in the best interests of a child. And all of it is evidence of the power of nonfiction--fact after astonishing fact." --Adrian Nicole LeBlanc, author of Random Family: Love, Drugs, Trouble and Coming of Age in the Bronx

"a solid read that provides plenty of food for thought." --Library Journal

"A Case For Solomon is a thoroughly researched and detailed work of history that lets its mystery unfold with the restraint and craft of a detective story. Though as suspenseful and dark as any good thriller... it wonders, through the telling of the shocking tale, at greater questions - about the nature of identity, and family, and to what lengths people might go to avoid knowing a terrible truth." --The Times-Picayune

"A Case for Solomon... which reads like fiction, revisits the sensational 1912 kidnapping of four-year-old Bobby Dunbar from the swamps of Louisiana. The discovery of a boy matching Bobby's description in rural Mississippi and the shocking emergence of an indigent woman from North Carolina claiming to be his mother were red meat to newsmen ravenous for scandal. The nation was rapt for months, although the mystery wouldn't be solved for a century." --Vanity Fair

"The saga related in the book is so mind-bending that some readers might need to digest certain passages about family connections more than once, as I felt compelled to do. It is worth the effort." -- The Atlanta Journal-Constitution

"A fascinating narrative about an ostensible kidnapping and a 90-year case of mistaken identity, fully steeped in the flavor of the era. [A Case for Solomon] is a narrative about the fierceness of parental love, the flaws of the legal system, and ultimately about how we derive our own sense of who we are." --The Boston Globe
Free Press, 9781439158593, 464pp.
Publication Date: August 14, 2012
About the Author
Tal McThenia is a freelance writer who reported and wrote The Ghost of Bobby Dunbar, a one-hour radio documentary for the acclaimed public radio series This American Life. He has received residencies at the ShenanArt's Playwrights' Workshop and the MacDowell Colony. He lives in New York.

Margaret Dunbar Cutright is the granddaughter of Bobby Dunbar, the victim of the kidnapping in A Case for Solomon. She has researched the case for more than a decade, gathering and analyzing legal documents, family correspondence, and newspapers, and has had extensive and ongoing contact with descendants of all three of the families involved in the story. She lives in North Carolina.
or
Not Currently Available for Direct Purchase