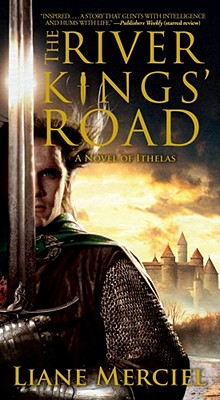 The River Kings' Road
Mass Market

* Individual store prices may vary.
Other Editions of This Title:
Digital Audiobook (6/15/2010)
Hardcover (3/9/2010)
MP3 CD (9/1/2010)
Compact Disc (9/1/2010)
Compact Disc (9/1/2010)
Description
A thrilling new voice in fantasy makes an unforgettable debut with this "intriguingly twisted tale of treachery and magic" (New York Times bestselling author L. E. Modesitt, Jr.). Liane Merciel's The River Kings' Road takes us to a world of bitter enmity between kingdoms, divided loyalties between comrades, and an insidious magic that destroys everything it touches. . . .

The wounded maidservant thrust the knotted blankets at him; instinctively, Brys stepped forward and caught the bundle before it fell. Then he glimpsed what lay inside and nearly dropped it himself.

There was a baby in the blankets. A baby with a tear-swollen face red and round as a midsummer plum. A baby he knew, even without seeing the lacquered medallion tucked into the swaddling—a medallion far too heavy, on a chain far too cold for an infant who had not yet seen a year.
A fragile period of peace between the eternally warring kingdoms of Oakharn and Langmyr is shattered when a surprise massacre fueled by bloodmagic ravages the Langmyrne border village of Willowfield, killing its inhabitants—including a visiting Oakharne lord and his family—and leaving behind a scene so grisly that even the carrion eaters avoid its desecrated earth. But the dead lord's infant heir has survived the carnage—a discovery that entwines the destinies of Brys Tarnell, a mercenary who rescues the helpless and ailing babe, and who enlists a Langmyr peasant, a young mother herself, to nourish and nurture the child of her enemies as they travel a dark, perilous road . . . Odosse, the peasant woman whose only weapons are wit, courage, and her fierce maternal love—and who risks everything she holds dear to protect her new charge . . . Sir Kelland, a divinely blessed Knight of the Sun, called upon to unmask the architects behind the slaughter and avert war between ancestral enemies . . . Bitharn, Kelland's companion on his journey, who conceals her lifelong love for the Knight behind her flawless archery skills—and whose feelings may ultimately be Kelland's undoing . . . and Leferic, an Oakharne Lord's bitter youngest son, whose dark ambitions fuel the most horrific acts of violence. As one infant's life hangs in the balance, so too does the fate of thousands, while deep in the forest, a Maimed Witch practices an evil bloodmagic that could doom them all. . . .
Praise For The River Kings' Road…
"The River Kings' Road is the intriguingly twisted tale of treachery and magic behind a brutal massacre and the impacts this unspeakable act has on the two survivors, on those who perpetrated it, on those who investigated it, and on those who tried to turn it to even more evil ends. It's also a tale that examines unsparingly the issue of to what degree the ends justify the means . . . or not."
—L. E. Modesitt, Jr., New York Times bestselling author of The Saga of Recluce series



"The River Kings' Road drew me in with the characters, all of whom felt real and reacted realistically for the setting. . . . The heroes are heroic because of the choices they make on their journey, choices that would test the very best . . . and worst . . . in all of us. . . . It's a story where the simplest choice could have drastic consequences, and where the lowliest of peasants can change the fate of a kingdom."
—Joshua Palmatier, author of The Vacant Throne
Pocket Books, 9781439159156, 448pp.
Publication Date: January 25, 2011
About the Author
Liane Merciel spent most of her childhood bouncing around the world as an Army brat. She has lived in Alaska, Germany, and Korea, and has gone camping in every one of the fifty states. Her hobbies include yoga, training rats, and baking cupcakes capable of sending the Stay-Puft Marshmallow Man into sugar shock with one bite. Currently she lives and practices law in Philadelphia.
or
Not Currently Available for Direct Purchase