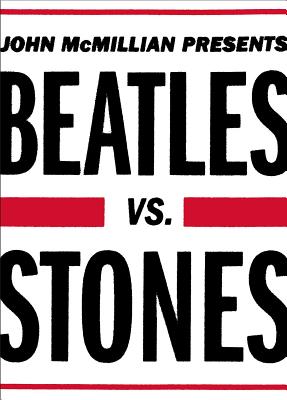 Beatles vs. Stones
Hardcover

* Individual store prices may vary.
Other Editions of This Title:
Paperback (11/11/2014)
Hardcover, Large Print (12/1/2013)
Description
Boasting the intellectual rigor of a historian and the passion of a diehard fan—a groundbreaking narrative account of the biggest and most misconstrued rivalry in the annals of rock and roll.

With the sophistication of a historian, the storytelling skills of a journalist, and the passion of a fan, John McMillian explores the multifaceted relationship between the two greatest bands of our time.

In the 1960s the two biggest bands in the world—the lovable Beatles and the bad-boy Rolling Stones—waged an epic battle. "The Beatles want to hold your hand," wrote Tom Wolfe, "but the Stones want to burn down your town." Both groups liked to maintain that they weren't really "rivals"—that was just a media myth, they politely said—but on both sides of the Atlantic, they plainly competed for commercial success and aesthetic credibility. In Beatles vs. Stones, John McMillian gets to the truth behind the ultimate rock 'n' roll debate.

McMillian reveals how music managers helped to construct the Beatles-Stones rivalry as they set out to engineer moneymaking empires. He explores how the Beatles were marketed as cute and amiable, when in fact they came from hardscrabble backgrounds in Liverpool. By contrast, the Stones were cast as an edgy, dangerous group, even though they mostly hailed from the London suburbs. Although the Beatles always sold more records than the Stones, the Stones seemed to win greater credibility with the "right" types of fans: discerning bohemians, as opposed to hysterical teenyboppers. Later, the Beatles embraced Flower Power, while the Stones briefly aligned themselves with New Left militance. Ever since, writers and historians have associated the Beatles with the gauzy idealism of the "good" sixties and portrayed the Stones as representatives of the dangerous and nihilistic "bad" sixties. Beatles vs. Stones explodes that split.

In a lively narrative that whisks readers from Liverpool to London to New York City—and to various recording studios, nightclubs, concerts, courtrooms, and protest rallies in between—McMillian also delves into the personal relationships between the two groups. In one chapter we see Lennon and McCartney huddle up in a rehearsal space and show the Stones how to write their own material; in another we eavesdrop on Jagger and Richards as they watch the Beatles play Shea Stadium from the visitors' dugout. McMillian also shows us how the two groups feuded about which act would headline a legendary Poll Winners' concert and the pernicious effect that the American businessman Allen Klein had on both bands.

Based on exhaustive research in primary sources, including overlooked teen magazines and underground newspapers, Beatles vs. Stones tells a vital story of the 1960s through the lens of music's greatest rivalry. Spirited, insightful, and gracefully written, this is the definitive account of the friendship and rivalry between the Beatles and the Rolling Stones.
Praise For Beatles vs. Stones…
"Balanced, informed, yet still passionate . . . Even the most gnarled and intransigent veterans of the Beatles-Stones debates will emerge enlightened by this book. . . . [McMillian] negotiates these thickets with insight, care, and a willingness to unsettle clichés."

"Smart, fantastically gossipy, and utterly compelling . . . The best parts of McMillian's story are his careful re-creations of various Beatles-Stones interactions"

"Fun and eye-opening . . . If you thought you knew everything there was to know about these two groups, think again. . . . John McMillian has done something I thought was no longer possible. He has written a book with a fresh perspective about these rock legends. . . . Beatles vs. Stones is one of the best rock biographies I have seen this year."

"Engaging . . . Nuanced . . . McMillian uses historical rigor to pull this conversation out from the jaws of celebrity memoir. His account pulls no punches, and injects new vitality into a well-worn subject. . . . McMillian's greatest success here is his ability to dispense with the tidy, nostalgia-soaked versions of the counterculture that are so prevalent in rock history."

"What is there that's left to be said about such a tired debate in 2013? As it turns out, there's still plenty to be said. . . . Beatles vs. Stones takes on a wholly different angle on how the greatest rock 'n' roll rivalry of all time was fostered by the fans, the music industry, the media, and by the bands themselves. By bringing to light mounds of source materials that most scholars and critics have never mined, namely the alternative newspapers and fan magazines of the late '60s and early '70s, McMillian taps into the stories of both bands as they unfold. By tracing their evolutions, side-by-side, as they appeared in the underground publications of the times, McMillian offers fresh insight into the dynamics of both groups as they grew and changed, with a real-time and palpable sense of excitement."

"Incisive . . . Masterful . . . McMillian works a certain magic here. . . . Beatles vs. Stones is the best kind of pop culture study, revivifying familiar material while stimulating the reader to question his own assumptions and tastes."

"A fascinating tour of rock history . . . Insightful and entertaining."

"John McMillian's rich, engaging, and thoroughly researched new book is a grand story . . . [He] displays the sure professional touch of a serious historian. His use of obscure teen magazines, offbeat underground newspapers and inside-the-band accounts animates a 'you are there' Norman Mailer-style knowledge. That, coupled with what can only be called a journalist's nose for noise, makes Beatles Vs. Stones that most precious thing--a prize potboiler with the poise and crescendo of first-rate cultural history."

"A delightful read . . . I've no idea whether universities still offer classes on the great rock and roll acts of the '60s and '70s, but McMillian's Beatles vs. Stones ought to be included in any such curriculum."

"Entertaining history . . . McMillan's breezy, insightful chronicle of a decade-defining battle of the bands—and, maybe, who won it—is a fascinating trip through pop music history."

"[A] pleasurable romp through popular-music history . . . Fans of both groups will enjoy this musical duel."

"The author turns up some great nuggets. . . . Using existing interviews, an impressive bibliography, and some little-known sources . . . McMillian has written an informative look at music's image machine—a powerful combination of media, marketing, and celebrity."

"Carefully researched . . . Casual and serious pop music fans, as well as readers of history, will enjoy this intelligent and original work."

"I didn't read this book—I inhaled it. This is a terrific new take on a great old rock 'n' roll story, a clash of the musical titans. The book is a boombox full of surprises and even if you have stacks of Beatles and Stones books, you will find hidden tracks of new information. This is a dual biography, telling the Beatles' story wrapped up in the saga of the Stones. Take a magical mystery tour, through the past, darkly. It's rock history held up to a funhouse mirror, with emphasis on the fun."
— William McKeen

"It's more than a battle of the bands—it's a great divide in cultural history whose meaning has continuing relevance. With a sharp edged sensibility and a provocative style, McMillian has redefined it, undermined it, and even if you find points to disagree with (as I do on occasion), he makes jumping into the argument irresistible reading."
— Ron Rosenbaum
Simon & Schuster, 9781439159699, 320pp.
Publication Date: October 29, 2013
About the Author
John McMillian is assistant professor of history at Georgia State University and author of the critically acclaimed Smoking Typewriters: The Sixties Underground Press and the Rise of Alternative Media in America. His writing has appeared in scholarly journals, magazines, and major newspapers. He lives in Atlanta, Georgia.
or
Not Currently Available for Direct Purchase