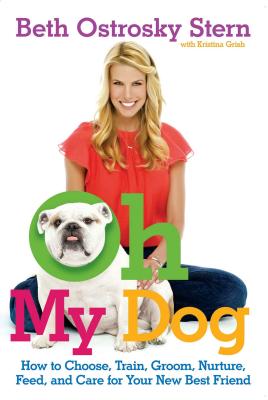 Oh My Dog (Paperback)
How to Choose, Train, Groom, Nurture, Feed, and Care for Your New Best Friend
Gallery Books, 9781439160299, 512pp.
Publication Date: May 4, 2010
* Individual store prices may vary.
Description
Calling the toughest canine questions!

Owning a dog is one of life's great joys, but sometimes the challenges it brings can make even the most devoted dog lovers panic, throw up their hands, or feel completely overwhelmed. Before you get to the end of your leash, turn to this friendly and relatable reference that's the next best thing to talking to a dog-owning friend who's seen it all.

In Oh My Dog, animal rights activist Beth Ostrosky Stern has compiled tips and invaluable advice from experts—and from her own experience as dogowner—to sooth concerns, answer questions big and small, and help you and your dog get the most out of your relationship. From the moment you even consider getting a dog, to caring for your old friend when his puppy years are far behind him, Oh My Dog covers every angle of dog ownership, including:

- Which breeds would be good match for me?

- What do I look for in a vet?

- How do I make sure our first night together is as stress-free as possible?

- What activities will help me bond with my dog?

- Is my dog showing sign of illness?

- What should I know before I head to a doggie day care or park?

- How do I read pet food labels?

- What should I do in an emergency?

Choc full of informative side bars, questionnaires, to-do lists, and much, much more, Oh My Dog is the answer-filled field guide for anybody who owns a dog or is considering getting one.

Beth Ostrosky Stern

About the Author
Beth Ostrosky Stern is a spokesperson for the North Shore Animal League of America, the world's largest no-kill animal rescue and adoption organization. She is also involved with The Wildlife Rescue in The Hamptons and English Bulldog Rescue on Long Island. Ostrosky Stern has graced the pages of many magazines and was named one of FHM's "Top 100 Sexiest Women of the Year" in 2002, 2003, 2004 and 2007. She also appears regularly on network morning and daytime talk shows and has been a guest co-host on The View. Beth is also known for her work as a television personality for Spike TV and G4 and as a special correspondent for EXTRA.

Kristina Grish is the author of three books, including Simon Spotlight Entertainment's Boy Vey! The Shiksa's Guide to Dating Jewish Men. She's currently a contributing editor to Marie Claire and has written for Cosmopolitan, Men's Health, Teen Vogue, Outside, and Vibe, among others. She lives in New York City. Visit Kristina at www.kristinagrish.com.
Praise For Oh My Dog: How to Choose, Train, Groom, Nurture, Feed, and Care for Your New Best Friend…
"Whether you're an experienced pet parent, trying to decide on the type of dog you want, or you simply love animals, this book is a must-have. It is packed with practical information and a wonderful resource."
-- Joanne Yohannan, Senior Vice President, Operations, North Shore Animal League America