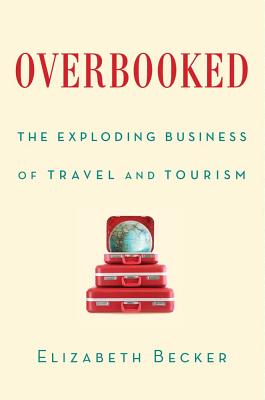 Overbooked
The Exploding Business of Travel and Tourism
Hardcover

* Individual store prices may vary.
Other Editions of This Title:
Paperback (2/23/2016)
MP3 CD (7/12/2016)
Description
The largest global business in the world today is tourism. Employing one out of twelve people in the world and producing $6.5 trillion of the world's economy, it is the main source of income for many countries. Elizabeth Becker describes the dimensions of this industry and its huge effect on the world economy, the environment, and our culture.

Tourism, fast becoming the largest global business, employs one out of twelve persons and produces $6.5 trillion of the world's economy. In a groundbreaking book, Elizabeth Becker uncovers how what was once a hobby has become a colossal enterprise with profound impact on countries, the environment, and cultural heritage.

This invisible industry exploded at the end of the Cold War. In 2012 the number of tourists traveling the world reached one billion. Now everything can be packaged as a tour: with the high cost of medical care in the U.S., Americans are booking a vacation and an operation in countries like Turkey for a fraction of the cost at home.

Becker travels the world to take the measure of the business: France invented the travel business and is still its leader; Venice is expiring of over-tourism. In Cambodia, tourists crawl over the temples of Angkor, jeopardizing precious cultural sites. Costa Rica rejected raising cattle for American fast-food restaurants to protect their wilderness for the more lucrative field of eco-tourism.

Dubai has transformed a patch of desert in the Arabian Gulf into a mammoth shopping mall. Africa's safaris are thriving, even as its wildlife is threatened by foreign poachers. Large cruise ships are spoiling the oceans and ruining city ports as their American-based companies reap handsome profits through tax loopholes. China, the giant, is at last inviting tourists and sending its own out in droves. The United States, which invented some of the best of tourism, has lost its edge due to political battles. Becker reveals travel as product. Seeing the tourism industry from the inside out, through her eyes and ears, we experience a dizzying range of travel options though very few quiet getaways. Her investigation is a first examination of one of the largest and potentially most destructive enterprises in the world.
Praise For Overbooked: The Exploding Business of Travel and Tourism…
"Elizabeth Becker has found a giant gap in journalistic coverage and stepped squarely into the middle of it. Even though it's under our noses, beneath our feet, even in our happier dreams, rarely has the investigative story she recounts in her new book previously received the coverage it deserves: The rampant growth of travel and tourism."

"[A] meticulously reported and often disturbing exposé of the travel industry."

"Required reading for anyone interested in the future of travel."
— Arthur Frommer

"The definitive account of the rise of the modern tourism industry, from its beginnings as a small, fanciful pastime among elites, to its explosive growth after World War II, to its present as an economic engine valued at $7 trillion."

"Ms. Becker is a skilled, critical writer delivering illuminating information, telling engaging stories, and advancing her own personal observations. Overbooked appeals to a wide audience: those who make the billion trips annually; those who have a stake in the places impacted, sometimes for better, but all too often for worse, by those travelers' visits; and all who have a stake in the global economy."

"In the tourism industry, image is definitely everything, but Becker shows readers the flip side of all this luxury and play, exposing the seedy underbelly of a business gone haywire from Cambodia to the United States."

"Travel is a huge global industry, rivaling oil and finance in economic value. Now, a terrific reporter gives us a full picture of its dimensions and its future. Elizabeth Becker does so, not by loading us down with statistics but by taking us around the world to match up the daunting numbers with places, adventures, and even pitfalls that will keep you reading."
— Steven Brill, author of Class Warfare

"A comprehensive, often alarming, and sometimes puzzling examination of an oft-invisible powerhouse. . . . Overbooked succeeds in demonstrating the growing heft of the travel industry and the numerous problems that are associated with it."

"Journalist Becker travels widely, experiencing and analyzing 'the stealth industry of the twenty-first century.' . . . Impressively wide-ranging . . . intriguing and eye-opening, this book will leave few in doubt that tourism deserves more consideration than it has hitherto received in larger discussions of globalization and public policy."

"Tourism is one of the world's largest – and unexamined – industries. Elizabeth Becker takes us on a compelling journey across continents to show us just how essential tourism is to global prosperity. You will never book a room, ascend the Eiffel Tower, or see the sites in quite the same way again."
— Zachary Karabell, author of Superfusion

"Follow Elizabeth Becker on this trip around the world and become a more mindful traveler. She is not only an intrepid globetrotter, but a terrific reporter who asks all the right questions!"
— Sylvia Nasar, author of Grand Pursuit and A Beautiful Mind

"Will tourism in America go the way of Venice and Cambodia, or France and Costa Rica? Elizabeth Becker's thoughtful, informed book should move that discussion along."
Simon & Schuster, 9781439160992, 464pp.
Publication Date: April 16, 2013
About the Author
Elizabeth Becker is an award-winning author and former correspondent for The New York Times who reported from Europe, Asia, and South America. As the Senior Foreign Editor at National Public Radio, she oversaw all the network's foreign bureaus and their reporting. She has won awards from the Robert Kennedy Book Awards, Overseas Press Club, and DuPont-Columbia and was part of the New York Times staff that won the 2002 Pulitzer Prize for public service.
Coverage from NPR
or
Not Currently Available for Direct Purchase