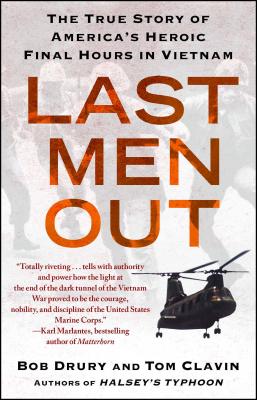 Last Men Out (Paperback)
The True Story of America's Heroic Final Hours in Vietnam
Free Press, 9781439161029, 293pp.
Publication Date: April 3, 2012
* Individual store prices may vary.
Description
Now in paperback--a "thrilling narrative of bravery, bravado, and loss" (Kirkus Reviews) that tells the "gripping story of a handful of marines who formed the last body of Americans to leave Saigon on April 30, 1975" (Booklist). In a gripping, moment-by-moment narrative based on a wealth of recently declassified documents and in-depth interviews, Bob Drury and Tom Clavin tell the remarkable drama that unfolded over the final, heroic hours of the Vietnam War. This closing chapter of the war would become the largest-scale evacuation ever carried out, as improvised by a small unit of Marines, a vast fleet of helicopter pilots flying nonstop missions beyond regulation, and a Marine general who vowed to arrest any officer who ordered his choppers grounded while his men were still on the ground. Drury and Clavin focus on the story of the eleven young Marines who were the last men to leave, rescued from the U.S. Embassy roof just moments before capture, having voted to make an Alamo-like last stand. As politicians in Washington struggled to put the best face on disaster and the American ambassador refused to acknowledge that the end had come, these courageous men held their ground and helped save thousands of lives. Drury and Clavin deliver a taut and stirring account of a turning point in American history that unfolds with the heartstopping urgency of the best thrillers--a riveting true story finally told, in full, by those who lived it.
About the Author
Bob Drury has written two books with Tom Clavin--Halsey's Typhoon and The Last Stand of Fox Company. He is currently a contributing editor and foreign correspondent for Men's Health magazine and lives in Manasquan, New Jersey.Tom Clavin is the author or coauthor of eleven books and was editor-in-chief of The Independent. He lives in East Hampton, New York.
Praise For Last Men Out: The True Story of America's Heroic Final Hours in Vietnam…
"Last Men Out tells the real story behind one of the most-referenced but least-understood episodes in recent American history. It's a gripping tale of heroism and heartbreak – and a reminder of the price paid by those who do our nation's bidding."

-Nathaniel Fick, author of the NYT bestseller One Bullet Away


"This totally riveting and moving story tells how a small band of Marines risked everything to accomplish the harrowing evacuation of American personnel in the last days of the Vietnam War. You feel the fear of facing overwhelming odds, the frustration of a self-serving bureaucracy turning an orderly evacuation plan into a shambles, and the terror and despair of our shamefully abandoned allies. This book tells with authority and power how the light at the end of the dark tunnel of the Vietnam War proved to be the courage, nobility, and discipline of the United States Marine Corps."

-Karl Marlantes, author of Matterhorn: A Novel of the Vietnam War


"An exciting, focused account… A thrilling narrative ofbravery, bravado and loss."