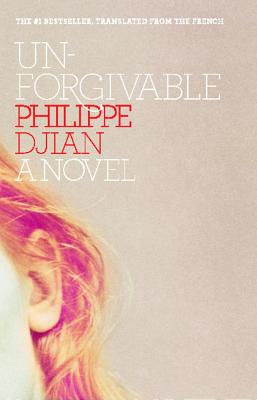 Unforgivable
Paperback

* Individual store prices may vary.
Other Editions of This Title:
Hardcover (3/9/2010)
Description
The Basque landscape is a delightfully sinister setting for the taut and cinematic "Unforgivable, "the #1 bestseller from French novelist Philippe Djian. Francis, a sixty-year-old author, has not written a word in the twelve years since his first wife and.
Praise For Unforgivable…
"Philippe Djian has no equal, amongst French authors, as the interrogator of the relationships that bind human beings together . . . it is this humanity—tackled head-on in all its complexity—that draws him close to the great Anglo-Saxon writers. Djian is incontestably the most American of French writers." —Vogue (France)



"[Unforgivable] is impossible to put down." —Libération



"Philippe Djian [delivers] a beautiful exercise of self-deprecating humor . . . Various reflections [on] paternity, on writing, on relationship erosion, and on aging, [Unforgivable] treats serious subjects . . . with seriousness but without taking itself too seriously."
—L'Express



"[Unforgivable] is a vertiginous fall . . . [using] flashbacks, a host of dilapidated secondary characters, country roads, and stylistic brainwaves . . . Unforgivable resembles its author: a dark and disquieting gaze, strong nerves . . . and an irresistible charm." —Elle



"Djian, here at the height of his talent, is capable of giving life to the sixty-year-old Francis, at once violently egocentric and infantile, engaging and unreasonable . . . a profoundly thoughtful novel . . . the minute examination of parent-child relations, the theme of forgiveness and of mercy, are only at the surface of a much larger aesthetic and ethical ambition: to detail the craft of life and love . . . remarkably well done." —Télérama



"Djian has the genius to succeed in two genres at once, the genre of the intimate diary . . . and the 'sea, sex, and sun' genre, stormy at times. He writes panoramically, wide-screen, the seaside under a telescope, Californian sky, the angle of the camera well-chosen between the lawn and the garden path . . . Unforgivable is the account of a misanthropic charmer . . . you won't be bored for a second." —Le Point



"A long journey of doubt, of obsession, and, above all, of setbacks and blows. Economic prose . . . and very sharp. Djian's language rings true." —Métro



"[Djian's] imagination has rarely been as fertile . . . a reflection on the way literature ingests the whole life of an author. That, for Djian, is surely true." —Livres Hebdo
Simon & Schuster, 9781439164433, 224pp.
Publication Date: February 16, 2013