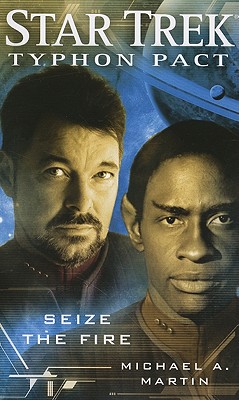 Typhon Pact #2 (Mass Market)
Seize the Fire (Star Trek )
Pocket Books/Star Trek, 9781439167823, 512pp.
Publication Date: November 30, 2010
* Individual store prices may vary.
Description
SEIZE THE FIRE

Shortly after revealing its union with the Federation's newest adversary—a coalition of galactic powers known as the Typhon Pact—the Gorn Hegemony suffers an ecological disaster that destroys the hatchery world of their critically important warrior caste. Fortunately, the Gorn had already been investigating traces of an ancient but powerful "quick terraforming" technology left behind by a long-vanished civilization. This technology, should it prove controllable, promises to restore their delicate biological and social status quo. But when a Gorn soldier prepares to use the technology to reshape the planet Hranrar into a new warrior-caste spawning ground, threatening to extinguish the native Hranrarii, he draws the unwanted attention of a mad Gorn trooper determined to bring the military caste into dominance.

Meanwhile, as the U.S.S. Titan embarks upon a search for this potent technology in the hope of using it to heal the wounds the Federation sustained during the recent Borg crisis, Captain Riker must balance his responsibility for his crew's safety against the welfare of the Hranrarii and his duty to the Prime Directive. With a menacing Typhon Pact fleet nipping at his heels, Riker must not only stop the Gorn warriors but also plumb the secrets of an ancient terraforming artifact. But of everyone serving aboard Titan, Commander Tuvok may be the only one who understands how dangerous such planet-altering technology can be, even when used with the best of intentions. . . .
About the Author
Michael A. Martin's solo short fiction has appeared in The Magazine of Fantasy & Science Fiction. He has also coauthored (with Andy Mangels) several Star Trek comics for Marvel and Wildstorm and numerous Star Trek novels and eBooks, including the USA Today bestseller Titan: Book One: Taking Wing; Titan: Book Two: The Red King; the Sy Fy Genre Award-winning Star Trek: Worlds of Deep Space 9 Book Two: Trill -- Unjoined; Star Trek: The Lost Era 2298 -- The Sundered; Star Trek: Deep Space 9 Mission: Gamma: Vol. Three: Cathedral; Star Trek: The Next Generation: Section 31 -- Rogue; Star Trek: Starfleet Corps of Engineers #30 and #31 ("Ishtar Rising" Books 1 and 2); stories in the Prophecy and Change, Tales of the Dominion War, and Tales from the Captain's Table anthologies; and three novels based on the Roswell television series. His most recent novels include Enterprise: The Romulan War and Star Trek Online: The Needs of the Many. His work has also been published by Atlas Editions (in their Star Trek Universe subscription card series), Star Trek Monthly, Dreamwatch, Grolier Books, Visible Ink Press, The Oregonian, and Gareth Stevens, Inc., for whom he has penned several World Almanac Library of the States nonfiction books for young readers. He lives with his wife, Jenny, and their two sons in Portland, Oregon.
or
Not Currently Available for Direct Purchase