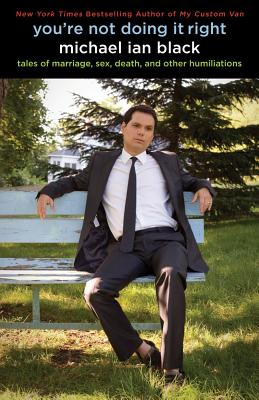 You're Not Doing It Right (Hardcover)
Tales of Marriage, Sex, Death, and Other Humiliations
Gallery Books, 9781439167854, 256pp.
Publication Date: February 28, 2012
Other Editions of This Title:
Paperback (10/16/2012)
* Individual store prices may vary.
Description
Following his first book of hilarious essays in My Custom Van, Michael Ian Black expands his commentary to the subject that has made him one of the most-followed celebrities on Twitter: his irreverent take on the joys of suburban family life.

"You're not doing it right."

Michael Ian Black has been hearing these five words all his life. And now—on the eve of his fortieth birthday—he is finally beginning to wonder why. . . .

As a husband and father living in the suburbs, Michael asks the question so many of us ask ourselves at one point or another: How did I end up here? (And also: If Fat Kevin Federline succumbs to his own wasted potential, what does that mean for the rest of us?) The answers to these questions, and others that you probably would have never thought to ask, are painstakingly detailed in You're Not Doing It Right, Michael Ian Black's debut memoir.

Darkly humorous and told with raw honesty, Michael takes on his childhood, his marriage, his children, and his career with unexpected candor and deadpan wit in this funny-because-it's-true essay collection. He shares the neuroses that have plagued him since childhood and how they shaped him into the man he is today. Stories include: How his lesbian feminist mother raised him to be a tough but sensitive New Seventies Man like Alan Alda; how his camp girlfriend dumped him for a guy nicknamed Taco; how he backed into marrying his wife by breaking up with her first; how he is completely undone by hearing a Creed song on the radio on the eve of becoming a father; and how he learned to use Santa Claus as a "Bad Cop" threat to control his kids year round.

From the comedian who brought you Stella and The State, Michael Ian Black says the kinds of things you're afraid to admit. Here he is: naked, exposed, a little chilly, and understandably shriveled.
About the Author
Michael Ian Black is a writer, comedian, and actor who currently appears on Another Period, The Jim Gaffigan Show, and Wet Hot American Summer: First Day of Camp. He created and starred in many television series, including Michael and Michael Have Issues, Stella, and The State. He wrote the screenplay for the film Run, Fatboy, Run and wrote and directed the film Wedding Daze. Michael regularly tours the country as a stand-up comedian and is the bestselling author of the book My Custom Van (and 50 Other Mind-Blowing Essays That Will Blow Your Mind All Over Your Face), the memoir You're Not Doing It Right, and the children's books Chicken Cheeks, The Purple Kangaroo, A Pig Parade Is a Terrible Idea, I'm Bored, Naked!, and Cock-a-Doodle-Doo-Bop. Michael lives in Connecticut with his wife and two children.
Praise For You're Not Doing It Right: Tales of Marriage, Sex, Death, and Other Humiliations…
"All these years, Michael Ian Black has not gotten enough credit for what a good writer he is. This book is charming and good company and—best of all—amazingly honest. And really, really funny, of course—though you probably already guessed at that part."
— Ira Glass, This American Life

"Memorable and funny. . . . An amusing look at masculine insecurity and confusion."
—Kirkus Reviews

"This book is so frank, so full of amusingly embarrassing confessions, I should probably be giving Michael Black a hug instead of a blurb."
—Sarah Vowell, New York Times bestselling author and essayist

"It's no surprise that Michael Ian Black's book is hysterical. But I was surprised by how heartfelt and touching his memoir is. It's true: Michael Ian Black has emotions!"
—A.J. Jacobs, New York Times bestselling author of The Year of Living Biblically and The Know-It-All

"I loved My Custom Van. But I loved You're Not Doing It Right even more. Reading this book felt like taking a long road trip with Michael himself—which I've done. And I actually recommend the book more. Touching, hilarious, and truthful all at once. What else do you want, America?"
—Mike Birbiglia, New York Times bestselling author of Sleepwalk with Me

"Dear Michael Ian Black: please stop writing things in books that I wish I had written myself, it's starting to make me feel bad. Also, would you like to be friends someday? I sure would."
—Samantha Bee, senior correspondent on The Daily Show and author of I Know I Am But What Are You?

"Michael Ian Black is one of the finest comedy minds of our generation and a master at assembling words in a hilariously pleasing way. You would have to be a vapid crapsack not to enjoy this book."
—Chris Hardwick
Book Videos
or
Not Currently Available for Direct Purchase