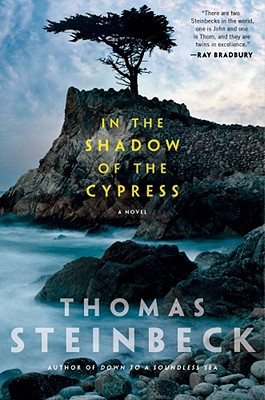 In the Shadow of the Cypress
Hardcover

* Individual store prices may vary.
Other Editions of This Title:
Digital Audiobook (4/5/2010)
Paperback (4/5/2011)
MP3 CD (8/11/2015)
Description
Thomas Steinbeck has been praised by Publishers Weekly for his stylistic brilliance and "accomplished voice." Now, his enthralling novel In the Shadow of the Cypress blends history and suspense with literary mastery and brings vivid realism to California's rich heritage.
In 1906, the Chinese in California lived in the shadows. Their alien customs, traditions, and language hid what they valued from their neighbors . . . and left them open to scorn and prejudice. Their communities were ruled—and divided—by the necessity of survival among the many would-be masters surrounding them, by struggles between powerful tongs, and by duty to their ancestors.
Then, in the wake of natural disaster, fate brought to light artifacts of incredible value along the Monterey coast: an ancient Chinese jade seal and a plaque inscribed in a trio of languages lost to all but scholars of antiquity. At first, chance placed control of those treasures in the hands of outsiders—the wayward Irishman who'd discovered them and a marine scholar who was determined to explore their secrets. The path to the truth, however, would prove to be as tangled as the roots of the ancient cypress that had guarded these treasures for so long, for there are some secrets the Chinese were not ready to share. Whether by fate, by subtle design, or by some intricate combination of the two, the artifacts disappeared again . . . before it could be proved that they must have come there ages before Europeans ever touched the wild and beautiful California coast.
Nearly a century would pass before an unconventional young American scientist unearths evidence of this great discovery and its mysterious disappearance. Taking up the challenge, he begins to assemble a new generation of explorers to resume theperilous search into the ocean's depth . . . and theshadows of history. Armed with cutting-edge, moderntechnology, and drawing on connections to powerful families at home and abroad, this time Americans and Chinese will follow together the path of secrets that have long proved as elusive as the ancient treasures that held them.
This striking debut novel by a masterful writer weaves together two fascinating eras into one remarkable tale. In the Shadow of the Cypress is an evocative, dramatic story that depicts California in all its multicultural variety, with a suspense that draws the reader inexorably on until the very last page.
Gallery Books, 9781439168257, 256pp.
Publication Date: April 6, 2010
Which narrative style did you feel was most effective in relaying themystery of the jade artifacts: Doctor Gilbert's first person journal entries or the third person Dr. Lao-Hung and Luke's stories are told in?
When considering the events he observed on the day of the earthquake, Doctor Gilbert reports that he has "been plagued with the nagging suspicion that the Chinese knew what was about to happen long before it occurred, and trusted their safety afloat better than they did ashore" (43). How does this statement portray Chinese culture? Why do they consider the sea a safer place than the land? Discuss the bigger concept of the Chinese community being insular and trusting themselves rather than each other. Is the white community the same way?
Doctor Lao-Hong finds himself in a difficult position: to the Americans he appears too Chinese; to the Chinese he is too American. What does this say about early 20th century Chinese-American relations? How has this changed in the past hundred years?
"The Chinese Empire had only one all-powerful enemy in the world, and it was the Chinese themselves" (77). Do you agree? Do you think that this problem is unique to Chinese culture? Why or why not?
Thomas Paine's Common Sense was an American Revolution pamphlet arguing that Britain's rule over the United States was a mistake. Included in Paine's argument was the idea that America was not simply a 'British' nation; it was composed of people from all over Europe. Why did Steinbeck choose to include this particular piece of literature? How does this apply to any resistance that might have occurred as a result of the jade artifacts? Can Paine's point be stretched globally?
Discuss the elaborately detailed fishing scene. How is Doctor Lao-Hung changed by this experience? Does it affect his decision to help the fishing community?
Yung Lee appears to simply be a generous hostess; however, later we find out that she is deeply involved and influential in the community. How can this be seen as an allegory to the Chinese role in the Californian community?
One of the proverbs Steinbeck includes is: "Wisdom is not a birthright it is a treasured inheritance" (131). Earlier, Doctor Lao-Hung observes that, "There were men and women in this very fleet who could proudly name ancestors who served under great imperial admirals" (102). Do you agree that wisdom can be passed down? Is there evidence of this in the novel?
On the saucer given to Doctor Lao-Hung in gratitude for his assistance it reads: "Mankind poses questions for which there are no answers. Without devotion chaos ensues" (120). How could this proverb help Luke reconcile the fact that he is unsuccessful in uncovering the artifacts?
Doctor Gilbert and Luke both insist on bringing the truth to light while Doctor Lao-Hung and the fishing community work ardently to rebury it. Which side are you on? How does Steinbeck balance the importance of historical truth with protecting an ancient heritage?
Luke argues that "pure science" rises above any cultural or racial bias. Do you agree? Discuss some contemporary examples that support or refute this argument.
In the conclusion of the novel, Robert eventually follows tradition and joins the family business; however, he chooses to marry a Vietnamese woman. What does this say about the evolution of this tight-knit Chinese family? Has Robert done what Doctor Lao-Hung was unable to and bridged the gap?
or
Not Currently Available for Direct Purchase