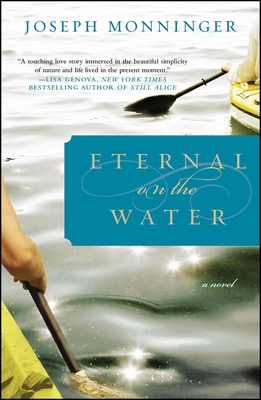 Eternal on the Water
Paperback

* Individual store prices may vary.
Other Editions of This Title:
Digital Audiobook (11/14/2012)
Compact Disc (12/1/2012)
MP3 CD (12/1/2012)
Compact Disc (12/1/2012)
Description
Cobb, a devoted teacher and nature-lover, takes a sabbatical from his New England boys prep school seeking to experience what Henry David Thoreau and the transcendentalists did in the early nineteenth century. Kayaking to the last known spot where the American writer and philosopher camped four years before he died, he encounters the beautiful free-spirited Mary. Also a teacher, avid bird-watcher, and deft adventurist, Mary is flirtatious and beguiling, and the two soon become inseparable. Mary is like no one Cobb has ever met before, but he gets the feeling that she is harboring a secret. Eventually she shares her fears with Cobb—that she may be carrying the gene for a devastating, incurable illness that runs in her family. Finding strength in their commitment to one another, the two embark on a journey that is filled with joy, anguish, hope, and most importantly, unending love.

Set against the sweeping natural backdrops of Maine's rugged backcountry, the exotic islands of Indonesia, scenic Yellowstone National Park, and rural New England, Tender River is a timeless and poignant love story that will captivate readers everywhere.
Praise For Eternal on the Water…
Praise for The World as We Know It:

"Ask yourself when the last time it was that you read a book so beautiful and agonizing that it made you cry for joy and sorrow. The World As We Know It does that." --Bookreporter

"Monninger has homed in on the beauty and cruelty of the natural world in this gripping and moving story of loss and understanding. Readers ... will revel in Monninger's warm and graceful descriptions of rural New Hampshire and his adept understanding of the landscape of human relationships." --Booklist

"Joe Monninger beautifully captures the essence of childhood adventure and the sweet innocence of falling in love for the first time. Fans of John Irving, you have a new author to love." --Lisa Genova, New York Times bestselling author of Still Alice and Left Neglected

"Henry David Thoreau meets Nicholas Sparks in this poignant love story rooted in the forests of Maine. On sabbatical, prep school teacher Jonathan Cobb's only goal is to retrace Thoreau's historic 92-mile journey along the Allagash Waterway by kayak, little realizing that, like Thoreau, he will soon "front only the essential facts of life" after meeting Mary Fury on his first night camping. An experienced, exuberant outdoorswoman, Mary invites Cobb to join her for a lecture at the Chungamunga camp for girls suffering with medical illnesses. There, Cobb is impressed by the camaraderie of the group, drawn in by their emphasis on creativity, mythology and survival skills. His growing feelings for Mary are put to the test when she reveals that she's suffering from Huntington's disease, and details the condition's debilitating path. Though the plot sometimes drags through Monninger's numerous digressions, his keen eye for nature, subtle incorporation of indigenous myths and use of symbolism make for a memorable story of love and courage."
--PW

"Love conquers all, the saying goes, but it can't win out over the disease that befalls Mary Fury, the seemingly unflappable heroine at the center of Monninger's poignant, if a bit overlong, novel. Fury has the gene for Huntington's, a cruel affliction that attacks the body slowly, reducing a once healthy person to a mass of twitching muscles and nerves. Jonathan Cobb, a University of New Hampshire professor on sabbatical, learns the grim reality of Mary's situation shortly after the two meet (and instantly fall in love) on the Allagash River. This is the land of Thoreau's Walden Pond, and Cobb had come there to experience firsthand the pleasures of a simple life illustrated by its celebrated author. When Mary begins showing signs of Huntington's, the two must cope with the inevitable, which includes honoring Mary's wishes to live out her days as she sees fit. Monninger (Baby, 2007) is a gifted writer, and readers able to overlook a few maudlin moments will relish this eloquently rendered tale."
--Booklist

"A touching love story immersed in the beautiful simplicity of nature and life lived in the present moment."
--Lisa Genova, NYTimes bestselling author of Still Alice

"Joe Monninger is a brilliant writer. No one understands nature the way he does, under his skin and straight to his bones. He writes about new love with such tension, emotion, and the deep passion and understanding that develops between two people. The novel will keep you up all night. Eternal on the Water will be a classic."
--Luanne Rice, NYTimes bestselling author of The Deep Blue Sea for Beginners


"Eternal on the Water is more than a heartfelt love story. It is a beautiful and searching exploration of the meaning of commitment and the majesty of nature, told in the strong, clear voice of a true believer. In these pages, there is much to learn of life, death, love and healing. It's a book to savor and then to share."
--Susan Wiggs, NYT bestselling author of Just Breathe and Lakeshore Christmas

"Eternal on the Water is a book that reminds you that joy and sorrow are inextricably entwined, that one means less without the other. What would you do if you were Mary, or Cobb? This luminescent story will never leave you. I adored it."
--Dorothea Benton Frank

"Joseph Monninger's Eternal on the Water is a compelling and poignant love story. His two characters, both strong and independent, meet by chance in the Maine wilderness and find in each other the depth of connection they have been searching for and the confrontation with mortality they have been dreading all their lives. Their celebration of life and their emotional parting will touch you deeply and move you to tears."
--Selden Edwards, author of The Little Book

"Genuinely enchanting! If you ever went to summer camp, this book is especially for you!"
--Kaya McLaren, author of On the Divinity of Second Chances
Gallery Books, 9781439168332, 368pp.
Publication Date: February 16, 2010
About the Author
Joseph Monninger has published several award-winning YA novels and three books of nonfiction, including the memoir Home Waters, and has been awarded two National Endowment for the Arts fellowships. He lives and teaches in New Hampshire, where he also runs a dog sled team.
Cobb has taken a sabbatical from teaching to learn from nature. Specifically, he wants to kayak down the Allagash, along Thoreau's path. How do you think Cobb's trip into the unknown alludes to or is a metaphor for other aspects of his life?
Early in the book, before Cobb meets Mary, a moose blocks his way in the road. Then, a female moose crosses, and the male trots after her. How does this foreshadow his meeting Mary? What other appearances do moose make in the novel, and what do you think these appearances signify?
During their first meeting, Mary asks Cobb if he's a bear. The mythology of bears turning into humans to steal dances and charm people is a recurring one throughout the novel. Mary's mythological stories about crows pop up throughout the novel, too. Examine the use of mythology and folklore in the story and discuss their role in the novel.
Cobb's fondness for Thoreau is illustrated in his love for nature and his desire to live life simply. Even when they are spellbound in their first romantic days together, Mary respects Cobb's desire to follow in Thoreau's footsteps and gives him some time to be alone on Pillsbury Island where Thoreau camped, and he agrees even as he wants to be with her. What does this say about his dedication to Thoreau's way of life? What draws him to it so strongly? What does it say about Mary's respect for others?
Cobb describes his motto as hurry gradually. What do you think he means? Do you think he and Mary managed to live by this motto? Why or why not?
We know from the very first pages of the novel that Mary has died on the river. What effect did knowing the ending have on your reading experience as you traveled back in time to read about Cobb and Mary's budding relationship? Might you have felt differently had you not known what was coming? Why or why not?
The novel features many references to circles throughout. For example, Mary eats her sandwiches in circles, Cobb describes himself as a circular kisser, and birds circle around carcasses. Identify the ways in which circles appear in or influence the story and discuss their significance.
Francis is a secondary character who has an emotional impact on Cobb and Mary, just as they do on him. How did you feel about the way Cobb and Mary took Francis under their wings during his difficult times? How would you have reacted if Francis was a student or protégé of yours?
The Chungamunga Girls play an important part in Mary's life. What do you think was their main function in the novel? How does their motto, we are Chungamunga girls, we are eternal on this water, have an added poignancy for Mary?
Freddy, Mary's brother, says that "the real world is always somewhere else" (page 187). What do you think he means by this? Compare and contrast his love for sea turtles with Mary's love of crows. How else are the siblings similar or different?
Why do you think the author decided to make reference to Edgar Allan Poe's poem, "Annabelle Lee"? How is the love described in the poem similar to that of Cobb and Mary?
Mary does not want to know her test results because, if she tests positive, she does not want to live in fear of the disease and its inevitable conclusion. But Cobb encourages her to find out so she'll know how to plan. How do you feel about this aspect of the story? What does it tell you about these characters? If you were in Mary's position, would you want to know whether you had a terminal illness?
Cobb wants what is best for Mary, but he finds it painful to go along with her decision to end her life on her terms—in dignity, before the effects of her disease totally take over. How do you feel about her desire to end her own life doing something she loves? Did you find her decision believable given what you learn of her throughout the novel? Why or why not?
This novel delves into the full meaning of love. Was there a scene or a moment that seemed to sum it all up for you? Do you think love can be defined in a moment, or is it the compilation of many moments? Did you find the evolution of Cobb and Mary's love realistic? Why or why not?
Why do you think the author chose the title, Eternal on the Water? Discuss the significance of the river to Mary's story in particular.