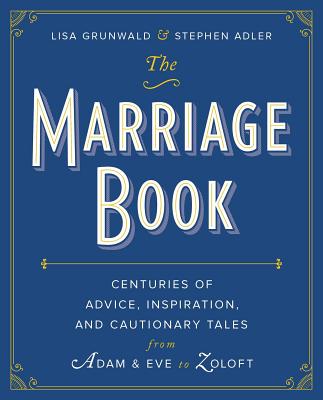 The Marriage Book
Centuries of Advice, Inspiration, and Cautionary Tales from Adam and Eve to Zoloft
Hardcover

* Individual store prices may vary.
Description
The definitive anthology of wisdom and wit about one of life's most complex, intriguing, and personal subjects.

When and whom do you marry? How do you keep a spouse content? Do all engaged couples get cold feet? How cold is so cold that you should pivot and flee? Where and how do children fit in? Is infidelity always wrong? In this volume, you won't find a single answer to your questions about marriage; you will find hundreds.

Spanning centuries and cultures, sources and genres, The Marriage Book offers entries from ancient history and modern politics, poetry and pamphlets, plays and songs, newspaper ads and postcards. It is an A to Z compendium, exploring topics from Adam and Eve to Anniversaries, Fidelity to Freedom, Separations to Sex. In this volume, you'll hear from novelists, clergymen, sex experts, and presidents, with guest appearances by the likes of Liz and Dick, Ralph and Alice, Louis CK, and Neil Patrick Harris. Casanova calls marriage the tomb of love, and Stephen King calls it his greatest accomplishment. With humor, perspective, breadth, and warmth, The Marriage Book is sure to become a classic.
Praise For The Marriage Book: Centuries of Advice, Inspiration, and Cautionary Tales from Adam and Eve to Zoloft…
**NPR Best Books of 2015**


**A New York Times Summer Reading Pick**


"A lively anthology of letters, jokes, songs, novels, movies, plays and poems about every aspect of this noble--or, on occasion, ignoble--institution, from wedding day to divorce [with entries that] are sincere and unforgettable."
— The Wall Street Journal

"Refreshingly unsappy. . . . This idiosyncratic compilation includes Bill Clinton's 1998 grand jury testimony, a reddit thread about whether to hyphenate your name, and advice from Ovid on playing hard to get. Like that funny guy or gal you met at the party, this sweet, smart, A-to-Z guide never takes itself too seriously, and before you know it, you'll find yourself falling in love."
— NPR's Book Concierge

"[A] delightful book--the perfect gift. . . . for anyone who has ever been married, plans to, or is determined to avoid it. Read it . . . and smile."
— Hudson Valley News

"Marries scholarship and irresistible ephemera."
— The Approval Matrix, New York Magazine

"A widely researched, generously illustrated, and essentially optimistic alphabet—from Adam and Eve to In-Laws to Zoloft—of what the married authors call 'the private, perilous, hopeful journey from I to we.'"
— Lisa Shea

"A cultural scrapbook on the resilience of a fraught institution. . . . If we sometimes wonder, a little uneasily, how we ended up viewing the institution more instrumentally than romantically, The Marriage Book offers reassurance that marriage has for a long time inspired a dizzying mix of pragmatism and passion. . . . Illuminating."
— The Atlantic

"A dowry of wisdom from writers, artists, sexperts, and politicians."
— Hot Type, Vanity Fair

"An anthology of advice and stories, running the gamut from Adam and Eve to quotes from comedian Louis CK."
— Time

"One of the best books I can recommend for all of you about-to-be wed couples. . . . Filled with fascinating comments, observations and advice about married life."
— Bridal Guide Magazine

"You won't be able to put [The Marriage Book] down."
— Popsugar.com

"A fun read about love, sex, spats, and the rules for marriage."
— Keija Minor

"[Full of] wonderful advice."
— Bustle.com

"This book contains everything you could ever want to know about marriage."
— RealSimple.com

"What do you give to the newlyweds who have everything? How about The Marriage Book by Lisa Grunwald & Stephen Adler? . . . Infinitely browsable, sometimes shocking but always amusing, this huge collection of thoughts, warnings, and words of wisdom for the lovestruck is one of those things you'll want to pass around at the bridal shower, just for fun. . . . There's something for everyone, from romantic to realist."
— Price County Review

"Everyone you can think of is quoted, plus hundreds unknown to you. A definitive survey? I can't think of writers with more energy and dedication. A gift for about-to-be-marrieds? Duh."
— Jesse Kornbluth, Head Butler blog
Simon & Schuster, 9781439169650, 560pp.
Publication Date: May 12, 2015
About the Author
Lisa Grunwald and Stephen J. Adler collaborated on two bestselling anthologies: Women's Letters: America from the Revolutionary War to the Present and Letters of the Century: America 1900–1999. Grunwald is the author of the novels The Irresistible Henry House, Whatever Makes You Happy, New Year's Eve, The Theory of Everything, and Summer. Adler is the president and editor-in-chief of Reuters. Grunwald and Adler have been married to each other for twenty-six years and plan to stay that way.
or
Not Currently Available for Direct Purchase