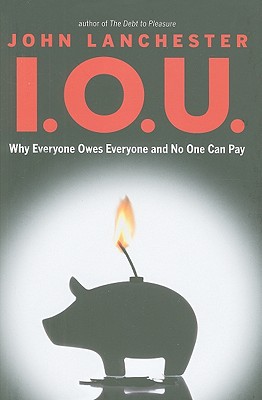 I.O.U.: Why Everyone Owes Everyone and No One Can Pay (Hardcover)
Why Everyone Owes Everyone and No One Can Pay
Simon & Schuster, 9781439169841, 272pp.
Publication Date: January 1, 2010
* Individual store prices may vary.
or
Not Currently Available for Direct Purchase
Description
Part economic primer, part fiscal and historical analysis, New Yorker and London Review of Books contributor John Lanchester offers his brilliantly witty, succinct overview of the current financial crisis.
For most people, the reasons for the sudden collapse of our economy remain obscure. I.O.U. is the story of how we came to experience such a complete and devastating financial implosion, and how the decisions and actions of a select group of individuals had profound consequences for America, Europe, and the global economy overall. John Lanchester begins with "The ATM Moment," that seemingly magical proliferation of cheap credit that led to an explosion of lending, and then deftly outlines the global and local landscapes of banking and finance. Viewing the crisis through the lens of politics, culture, and contemporary history -- from the invention and widespread misuse of financial instruments to the culpability of subprime mortgages -- Lanchester draws perceptive conclusions on the limitations of financial and governmental regulation, capitalism's deepest flaw, and, most important, on the plain and simple facts of human nature where cash is concerned.
Weaving together firsthand research and superbly written reportage, Lanchester delivers a shrewd perspective and a digestible, comprehensive analysis that connects the dots for the expert and casual reader alike. I.O.U. is an eye-opener of a book -- it may well provoke anger, amazement, or rueful disbelief -- and, as the author clearly reveals, we've only just begun to get ourselves back on track.
Praise For I.O.U.: Why Everyone Owes Everyone and No One Can Pay…
"[H]ere's a prediction: Few if any of these [finance] books will be as pleasurable—and by that I mean as literate or as wickedly funny—as John Lanchester's I.O.U….Mr. Lanchester explains these things methodically, with mathematical rigor, but he is also, crucially, guided as much by perception and feel….history lesson is peppered with dead-on references to everything, including "Annie Hall," "The Simpsons," "The Wire," Hemingway and Jacques Derrida….Before you begin to cry, pick up a copy of I.O.U. Good humor and good company will be the things that'll get us through." —Dwight Garner, The New York Times



"Witty, lucid, solicitous of the average person's difficulty in grasping the conceptual underpinnings of international finance....Lanchester manages to know enough to explain the terrain clearly and yet he never loses his perspective…Lanchester had me in the palm of his hand…" —Salon.com



"[A] writer with literary bona fides…[Lanchester] has the intellectual heft and the chops, as a jazz musician might say, to deliver a resounding book about the crisis….An elegant and wonderfully witty writer, Mr. Lanchester approaches his subject with a newcomer's verve. It's infectious….frame[s] the Great Recession in startlingly original terms." —Devin Leonard, The New York Times, Sunday Business



"Warning to bankers everywhere in the world. You better buy every single copy of I.O.U. because Lanchester's painted the target on you that the rest of us so desperately wanted to see. My prediction: bankers may be an endangered species once I.O.U. gets out, and from this read, I can tell you, while I hate to rush Darwin, it can't happen fast enough." —James J. Cramer, host of CNBC's Mad Money and author of Jim Cramer's Getting Back to Even



"[Lanchester] brings his mischievous wit to bear on the Great Credit Crackup in his boisterous primer….His method: to boil complex instruments and linkages down to anecdotes, outlandish images and acerbic asides that strip away those layers of bank jargon. The result is the perfect read for anyone still wondering what went wrong and why." —Bloomberg News



"In I.O.U., the only truly entertaining book I've read on the subject, the British writer John Lanchester theorizes that after the Cold War, capitalism could go wild because Western governments no longer had to worry about competing with communism. This is a fascinating idea…" —Jacob Weisberg, Newsweek



"[John Lanchester has] leaped into nonfiction, combining prodigious research and reporting with his storytelling gift. The result is this elegantly crafted little book-equal parts history, economic primer, and social commentary-that manages to be, by turns, acidic, frightening, and sharply funny. What it is not is boring. In fact, this is a better book about the global meltdown than any other to date-and some of our best financial and business writers have weighed in on the subject….He explains everything so lucidly, so simply, refracted through the lens of history for perspective, that it all makes perfect sense. A" —Tina Jordan, Entertainment Weekly



"The novelist John Lanchester's short book on the finance crisis, I.O.U.,…is literary and profound….But this is not just finance-for-poets. Lanchester…is a master explainer with an excellent grasp of sophisticated finance. His book is a gem." —Christopher Caldwell, The Daily Beast



"I.O.U. is the map to the crazed world of contemporary finance we have all been waiting for. John Lanchester's superb book is everything its subject, the 2008 crash, was not: namely lucid, beautifully contrived, comprehensible to the reader with no specialist knowledge—and most of all devastatingly funny. I urge you to read it." —Will Self, author of Liver



"I.O.U. is so clear and funny and cleverly written. I love the personal asides and observations and jokes and bits of autobiography that make it seem human and not text-book like. And the more and more improbable analogies for the ups and downs of the markets (a bride's nightie...a gorilla on a pogo stick). But what I like most is that it makes me feel intelligent, because I can now understand all this stuff." —Marina Lewycka, author of A Short History of Tractors in Ukrainian
Advertisement