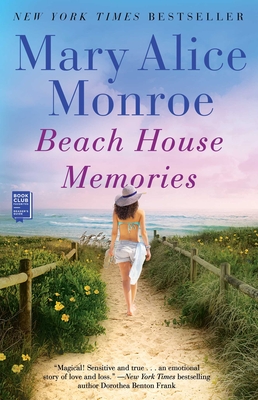 Beach House Memories (The Beach House) (Paperback)
Gallery Books, 9781439170946, 432pp.
Publication Date: April 9, 2013
* Individual store prices may vary.
Description
Mary Alice Monroe, New York Times bestselling author of the Lowcountry Summer trilogy, returns to her beloved South with Beach House Memories, the sequel to The Beach House!

Autumn brings haunting beauty to the sun-soaked dunes on Isle of Palms, where Olivia "Lovie" Rutledge lives in her beloved Primrose Cottage. As the seasons change, Lovie remembers one special summer…

In 1974, America is changing, but Charleston remains eternally the same. When Lovie married aristocratic, well-connected businessman Stratton Rutledge, she turned over her fortune and fate to his control. But she refused to relinquish one thing: her family's old seaside cottage. Precious summers with her children on the barrier island are Lovie's refuge from social expectations and her overbearing husband's philandering. Here, she is the "Turtle Lady," tending the loggerhead turtles that lay their eggs in the warm night sand and then slip back into the sea.

Then, in the summer of '74, biologist Russell Bennett visits to research the loggerheads. Their shared interest brings them together, and soon it blooms into a passionate, profound love—forcing Lovie to face an agonizing decision. Stratton's influence is far-reaching, and if she dares to dream beyond a summer affair, she risks losing her reputation, her wealth, even her children.

This emotional tale of a strong woman torn between duty and desire, between tradition and change, is an empowering journey through the seasons of self-discovery. Until this autumn, this time of winds and tides, of holding on and letting go…
About the Author
Mary Alice Monroe is the New York Times bestselling author of two dozen novels, including The Summer Girls, The Summer Wind, The Summer's End, A Lowcountry Wedding, A Lowcountry Christmas, Last Light Over Carolina, Time Is a River, Sweetgrass, Skyward, The Four Seasons, The Book Club, The Beach House, Beach House Memories, Swimming Lessons, Beach House for Rent, and Beach House Reunion. Her books have received numerous awards, including the 2008 South Carolina Center for the Book Award for Writing, the 2014 South Carolina Award for Literary Excellence, the 2015 SW Florida Author of Distinction Award, the RT Lifetime Achievement Award, and the International Book Award for Green Fiction. In 2018 she was inducted into the South Carolina Literary Hall of Fame. Her novel, The Beach House was made into a Hallmark Hall of Fame film. An active conservationist, she lives in the lowcountry of South Carolina. Visit her at MaryAliceMonroe.com and at Facebook.com/MaryAliceMonroe.
Praise For Beach House Memories (The Beach House)…
"Monroe knows how to weave a tale and this is one of her very best. She creates vibrant characters [who] live and love in the paradise-like world of the South Carolina low country. It is a magical place in many ways, especially in the words with which Monroe describes it. Every summer deserves one book that is THE summer book, and for beach reading you couldn't make a better selection than this one. Mary Alice Monroe knows how to pull readers into this world instantly and keep them there till the very last word on the very last page."
— The Huffington Post

"Magical! Mary Alice Monroe's writing is always sensitive and true, as inspiring as the natural wonder about which she writes."

—New York Times bestselling author Dorothea Benton Frank

"Monroe's usual resplendent storytelling shines even brighter in BEACH HOUSE MEMORIES, which offers startling insights into the intimate connection between nature and the human heart."

—New York Times bestselling author Patti Callahan Henry

"Mary Alice Monroe takes us back to the mid 1970's when sea turtle conservation was in its infancy. The efforts by "turtle lady" Lovie Rutledge to document the number of loggerhead nests each season on the Isle of Palms was largely unappreciated or even ridiculed by locals. Then a kindred spirit comes into her life and fills her with self-worth, resolve and bittersweet beach house memories. BEACH HOUSE MEMORIES is another in a remarkable trilogy that has increased sea turtle volunteerism and conservation efforts. I highly recommend it."

—Sally R. Murphy, DNR Sea Turtle Coordinator