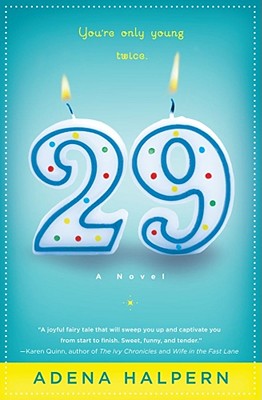 29 (Paperback)
A Novel
Atria Books, 9781439171127, 288pp.
Publication Date: June 15, 2010
Other Editions of This Title:
Compact Disc (7/21/2014)
Compact Disc (7/21/2014)
MP3 CD (7/21/2014)
* Individual store prices may vary.
Description
What if you closed your eyes, blew out the candles, and your wish came true?

Ellie Jerome is a young-at-heart seventy-five-year-old who feels she has more in common with her twenty-nine-year-old granddaughter, Lucy, than her fifty-five-year-old daughter, Barbara. Ellie's done everything she can to stay young, and the last thing she wants is to celebrate another birthday. So when she finds herself confronted with a cake full of candles, Ellie wishes more than anything that she could be twenty-nine again, just for one day. But who expects a wish like that to come true?



29 is the story of three generations of women and how one magical day shakes up everything they know about each other. While Ellie finds that the life of a twenty-something is not as carefree as she expected, the sheer joy of being young again prompts her to consider living her life all over. Does she dare stay young for more than this day, even if it means leaving everyone she loves behind?

Fresh, funny, and delightful, 29 is an enchanting adventure about families, love, and the real lessons of youth.
About the Author
Adena Halpern is the author of the novels 29 and THE TEN BEST DAYS OF MY LIFE and TARGET UNDERWEAR AND A VERA WANG GOWN- NOTES FROM A SINGLE GIRL'S CLOSET, a memoir which was based on her popular "Haute Life" essays for the back page of Marie Claire magazine. In addition to Marie Claire, Adena has written for Daily Variety and The New York Times. She has a Bachelor of Fine Arts degree in dramatic writing from New York University and a Master of Fine Arts degree in screenwriting from The American Film Institute. A proud Philadelphia native, she resides in Los Angeles with her husband, television and screenwriter Jonathan Goldstein.
Praise For 29: A Novel…
"A joyful fairy tale that will sweep you up and captivate you from start to finish. Sweet, funny, and tender."
--Karen Quinn, author of The Ivy Chronicles and Wife in the Fast Lane

"Take an ingenious idea for a plot, combine it with likable characters and genuine heart and you've got '29,' a novel about a woman who is full of regrets – until she makes a wish that changes her life and the lives of those she loves. A skillfully told story that will appeal to 29-year-olds of all ages."
-- Jane Heller, bestselling author of Name Dropping and An Ex to Grind