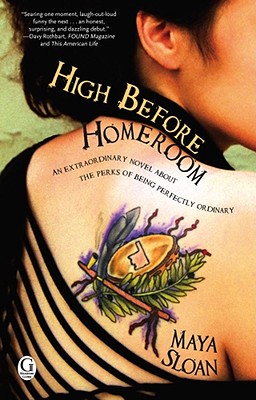 High Before Homeroom (Paperback)
Gallery Books, 9781439171295, 320pp.
Publication Date: June 22, 2010
* Individual store prices may vary.
Description
Losers, now you can get the bad-boy rep the girls find positively irresistible! Unleash your dark side with the Doug Schaffer plan for drug addiction and rehabilitation! (Kids, don't try this at home.)



At sixteen years old, Doug Schaffer knows two things for sure:



1. He is doomed to live in the shadow of his older brother, Trevor, a former high school football star who is stationed in Iraq.



2. Free-spirited Laurilee, the hot ear-piercing girl at the mall, only dates bad boys.



Cue Doug's foolproof plan to tarnish his own unremarkable reputation. The first step is to develop a drug addiction. His mom's too preoccupied with organizing care packages for Mothers Support Our Troops Northwest Oklahoma City Chapter to stop him. Besides, he just needs to get hooked on meth long enough to come back from rehab a totally different person. Someone people notice.



With the help of Trevor's strung-out former high-school buddy, drug addict Doug has the confidence that loser Doug never mustered. He stays out all night, scores girls, and stands up for himself. Then Trevor unexpectedly returns home with a dark secret of his own, and everything Doug thought was true is shattered. Soon the brothers find a common ground they never knew they shared as they discover the price of pleasing others is the freedom to be yourself.


About the Author
Maya Sloan is an award-winning author with a MFA in creative writing from Boston University and a MFA in fiction writing from the University of Arkansas. She is the author of High Before Homeroom and the co-writer of Rich Kids of Instagram. She was born and raised in Oklahoma City, Oklahoma.
Praise For High Before Homeroom…
"Maya Sloan's characters could be deemed purely comic if they weren't so realistic, tender if they weren't so jaded, and heartwarming if their lives weren't so heart-wrenching. All of which makes this a darkly compelling -- possibly controversial -- coming-of-age novel. High Before Homeroom is a wild debut from a brilliant new novelist."
-- Julianna Baggott, author of The Miss America Family and co-author of Which Brings Me to You


"Here's a confession: I like Doug Schaffer more than I ever liked his idol Dean Moriarty, and I had much more fun reading Maya Sloan's High Before Homeroom than I ever had reading its literary progenitor, On the Road."
--Ayelet Waldman, author of Red Hook Road and Bad Mother

"Funny and poignant, this energetic coming-of-age novel about a young outsider who takes a radical path to coolness marks Maya Sloan as an engaging new young novelist to watch."
--Rilla Askew, author of Harpsong

"No matter how profane it may seem at times, High Before Homeroom, like Youth in Revolt, is ultimately a charming take on one nerd's coming of age. In this assured debut, Maya Sloan clears the gender barrier, giving us the hapless Doug Schaffer, sixteen and obsessed with sex, love and Kerouac."
--Stewart O'Nan, author of Snow Angels and The Speed Queen

"I love this book. Doug Schaffer -- sixteen years old and in an almost-constant state of arousal, as only a sixteen-year-old boy can be -- is everything you'd hope for in a narrator:disarmingly honest and irreverent and affable and funny -- very funny. Maya Sloan is a mad scientist of a novelist, filling her Petri dish with the cells of J. D. Salinger, William Burroughs, and Mark Twain, but ultimately this novel is her own glorious creation: a smart and wholly original take on what it means to yearn, in all its manifestations, in the 21st century."
-- John McNally, author of After the Workshop

"Searing one moment, laugh-out-loud funny the next, Maya Sloan's High Before Homeroom is an honest, surprising, and dazzling debut."
-- Davy Rothbart, FOUND Magazine and This American Life