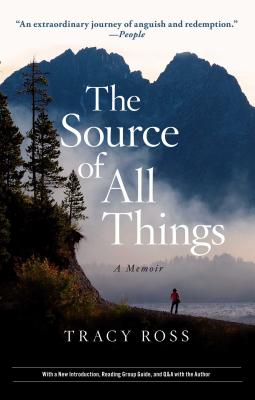 The Source of All Things (Paperback)
A Memoir
Free Press, 9781439172988, 302pp.
Publication Date: February 21, 2012
* Individual store prices may vary.
Description
Called "brave and heartbreaking" by Elle and "an extraordinary journey" by People, Tracy Ross's riveting memoir about abuse, survival, and healing is now available in paperback. Tracy Ross's adult life has been defined by her determination to push herself to the physical limits of what a person can endure. In The Source of All Things, she struggles to reconcile her stepfather's abuse with her desire to make her family whole again. Tracy's stepfather first molested her when she was eight years old. But he was also her family's savior--the man who rescued her mother from deep depression and the protective figure who instilled in her the very passion for nature that saved her life. It wasn't until she ran away from home at fourteen that her family was forced to confront the abuse that tore them apart. The Source of All Things is a powerful, breathtakingly honest story about a mistake that has taken three decades and thousands of miles of raw wilderness to reconcile. Unfolding in the achingly gorgeous landscapes of Colorado, Idaho, Wyoming, and Alaska, Tracy describes her search for a place in which to heal, the sacredness of the outdoors, and the ways in which nature, at its most wild and challenging, gave her the strength to overcome.
About the Author
Tracy Ross is an award-winning journalist and senior editor at Backpacker Magazine. Her essay "The Source of All Things" has been named a finalist for a National Magazine Award and has been selected for inclusion in The Best American Sports Writing and The Best American Magazine Writing. She lives with her family in the mountains above Boulder, Colorado.
Praise For The Source of All Things: A Memoir…
"Disturbing but beautifully written...[We've] heard stories like these before, but rarely in such clear, unsentimental prose." --O magazine



"Brave and heartbreaking...her courageous story will bring solace and inspiration to others drowning in fear and lacking a voice of their own." --Elle magazine



"[An] extraordinary journey of anguish and redemption..." -People magazine



"The Source of All Things is a brave book. Sustained by her love of nature, Tracy Ross's search for truth, clarity, and vindication involving her childhood abuse is told in an easygoing voice that allows us to readily digest her horrors. In a kind of ironic silver lining, the man who abused Tracy also cultivated her love of the wild, introducing her to its exhilarating applications and healing powers where she always found solace—perhaps it was his unconscious attempt at salvation?" – Norman Ollestad, author of Crazy for the Storm



"Tracy Ross is unflinchingly honest as she portrays a life scarred by dark secrets and deeply concealed wounds. But it is in her beloved wilderness that we exalt in her hard won triumphs of self discovery and the serenity of forgiveness. The Source of All Things is a mesmerizing memoir that lingers in your mind long after you close the book." - Mary Alice Monroe, New York Times bestselling author of The Butterfly's Daughter


"Tracy Ross is fearless. She has faced the black stuff of her childhood and turned it into a memoir that will grip you, break your heart, and finally sing to you. Most of all, you will be glad she survived to write this funny, inspiring, beautiful book." – Claire Dederer, author of Poser: My Life in Twenty-Three Yoga Poses



"I loved this book. Part survivor memoir and part love letter to  nature, I found The Source of All Things compulsively readable and intensely enthralling. " –Julia Scheeres, author of A Thousand Lives



"In this brave memoir Tracy Ross embodies the detachment necessary to function while the wound of childhood sexual trauma festers unseen, erupting in self-destructive, dangerous behaviors until Ross can finally learn the truth, and thus begin to heal. In speaking her truth, in making herself vulnerable, she will help heal others."--Janine Latus, author of If I Am Missing or Dead: a sister's story of love, murder and liberation



"Powerful...a compelling story." --PW



"Ross continually explores the boundaries of father-daughter intimacy, never demonizing her stepfather, but instead, humanizing him—a far more difficult task." --Kirkus Reviews