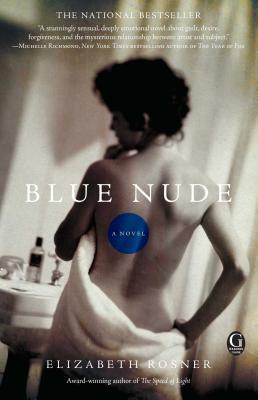 Blue Nude
A Novel
Paperback

* Individual store prices may vary.
Description
Once a prominent painter, Danzig now shares his wisdom and technique with students at San Francisco's Art Institute—yet his own canvases remain empty. When he meets Israeli-born Merav, the beautiful new model for his class, he senses she may reignite his artistic passion. Merav moved to California to escape the danger and violence of the Middle East, yet she cannot outrun her fears about the past. As the characters challenge one another, Rosner lyrically uncovers their disparate upbringings, their creative awakenings, and their similarly painful, often catastrophic, love lives to propel them toward reconciliation, redemption, and ultimately revival.
Praise For Blue Nude: A Novel…
"The grace of this novel is . . . in its details, the insights and illuminations that abundantly reveal the author's intelligence and compassion." —San Francisco Chronicle

"This luminous and haunting novel explores the possibility of redemption through Art, Truth, Bravery, and Passion . . . and the memory of that journey will linger with me for a long time to come."

—Lalita Tademy, New York Times bestselling author of Cane River

"Blue Nude explores the big questions of history, fate, art, how we choose to live the lives we're given—and yet it's also wonderfully intimate. . . . Elizabeth Rosner has written a thought-provoking, moving, and original book."

—Dan Chaon, author of Await Your Reply

"In a restrained yet elegiacal voice, Rosner explores the power of memory and the providence of art to amplify and alleviate human suffering."
—Booklist

"Through German artist, Danzig, and Israeli muse, Merav, Elizabeth Rosner builds a bridge from loss to reconciliation, from anger to understanding. Blue Nude is a lyrical exploration of how we -- as individuals and as a society -- move past our separate histories and toward a shared redemption. This is truly a lovely book. "
-- Meg Waite Clayton, author of The Wednesday Sisters

"In Blue Nude, Elizabeth Rosner gracefully explores the uneasy intersection of private lives and public history. A stunningly sensual, deeply emotional novel about guilt, desire, forgiveness, and the mysterious relationship between artist and subject."
--Michelle Richmond, New York Times bestselling author of The Year of Fog

"Rosner has a painter's eye and a poet's ear. Blue Nude is a luminous book about painful histories -- both private and global -- and how they stay with us even as they travel through to become something else - quite possibly art. A book both heady and tangible, both unflinching and generous, but always beautiful to read."
--Karen Joy Fowler, author of the Jane Austen Book Club

"We watch, spellbound, as the story seems to levitate midair, as the characters seamlessly unfold a plot that is no less than fascinating. Using the rhythms of poetry, Elizabeth Rosner has created a lyrical tour de force."
-Linda Gray Sexton, author of Half in Love: Surviving the Legacy of Suicide
Gallery Books, 9781439173084, 224pp.
Publication Date: September 14, 2010
About the Author
Elizabeth Rosner is a bestselling novelist, essayist, and poet. She is the author of several novels and a poetry collection. Some of her works include, Blue Nude, Electric City, and The Speed of Light. Her essays have appeared in Elle, Hadassah Magazine, HuffPost, and numerous anthologies.