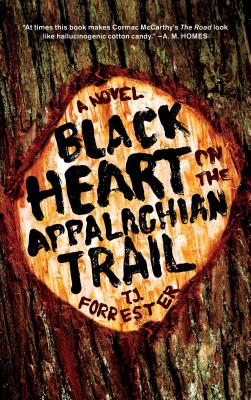 Black Heart on the Appalachian Trail (Paperback)
Simon & Schuster, 9781439175613, 195pp.
Publication Date: October 2, 2012
* Individual store prices may vary.
Description
"With echoes of Flannery O'Connor, Faulkner, and Raymond Carver" (A.M. Homes), this singular psychological tale of murder unfolds against the backdrop of one of America's most breathtaking landscapes. In the vast wilderness of the Appalachian Trail, three hikers are searching for answers. Taz Chavis, just released from prison, sees the thru-hike as his path to salvation and a way to distance himself from a toxic relationship. Simone Decker, a young scientist with a dark secret, is desperate to quell her demons. Richard Nelson, a Blackfoot Indian, seeks a final adventure before taking over the family business back home. As they battle hunger, thirst, and loneliness, and traverse the rugged terrain, their paths begin to intersect, and it soon becomes clear that surviving the elements may be the least of their concerns. Hikers are dying along the trail, their broken bodies splayed on the rocks below. Are these falls accidental, the result of carelessness, or is something more sinister at work?
Praise For Black Heart on the Appalachian Trail…
"T.J. Forrester's narrative explores the weird heart of American darkness with echoes of Flannery O'Connor, Faulkner, cousin Raymond Carver, and the young and very talented Brad Watson. At times this book makes Cormac McCarthy's The Road look like hallucinogenic cotton candy. I couldn't put it down." —A.M. Homes, author of May We Be Forgiven



"Americans like to go into the wilderness when seeking spiritual insights or primal experiences and after time in the dark woods the two can seem to be one and the same. T.J. Forrester, in Black Heart on the Appalachian Trail, has used elements of noir and the bildungsroman to craft a convincing, potent and beautifully rendered novel of adventure and mayhem. The prose is sure-handed and evocative, tight but not parched, the story tough and honest." —Daniel Woodrell, author of Winter's Bone



"A raw, evocative story . . . His creative use of flashbacks and literary flourishes elevate this dark novel to deliver a wallop in both prose and premise." —Publishers Weekly



"Three damaged travelers connect with each other on a pilgrimage to trek over 2,000 miles of the Appalachian Trail.
A pilgrimage is usually a good thing. Dig the whimsical adventures of Bill Bryson's trek in A Walk in the Woods or the heartwarming Emilio Estevez film, The Way, about the Camino de Santiago? This is not either of those stories. This is vicious backwoods noir in the tradition of Daniel Woodrell and Cormac McCarthy, and experienced hiker Forrester (Miracles, Inc., 2010) is damned good at his job. We open in the desolation of a village in rural Wyoming, where ex-con Taz Chavis is so messed up he finds himself feeling up a local barfly's wooden leg. "That's what the gutter does to a guy, eats him to the bone," Forrester writes. Leaving town with still-raw memories of his cokehead girlfriend, Chavis swears to walk the entire length of the Appalachian Trail or die trying. Along the way, we meet Richard Nelson, a Native American who claims to be a shaman among his people. "White man, if you want to get laid on the trail, you best come up with some New-Age shit mixed with nature," Richard advises. These guys seem all shades of normal compared with good citizen Simone Decker, who has a real thing for sharing high cliffs with other hikers (read: potential victims). "She's here because she's convinced herself that no one can thru-hike the Appalachian Trail and be the same person as when they started," Forrester writes. "She hopes change will arrive like an erupting volcano, melting her genes so completely that when they cool she'll become someone else entirely." With bodies broken in trees and first-person plummets to death, the whole thing is, as our man Hobbes said, nasty, brutish and short. But for fans of snakebite prose, this is your book.
A dark, coiled-up ramble through the woods, as quick and cutting as a razor blade."