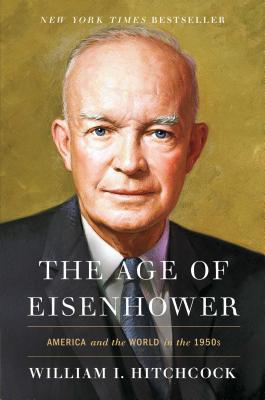 The Age of Eisenhower
America and the World in the 1950s
Hardcover

* Individual store prices may vary.
Other Editions of This Title:
Digital Audiobook (3/19/2018)
Paperback (3/5/2019)
Description
NEW YORK TIMES BESTSELLER

"A page-turner masterpiece." —Jim Lehrer

In a 2017 survey, presidential historians ranked Dwight D. Eisenhower fifth on the list of great presidents, behind the perennial top four: Lincoln, Washington, Franklin D. Roosevelt, and Teddy Roosevelt. Historian William Hitchcock shows that this high ranking is justified. Eisenhower's accomplishments were enormous, and loom ever larger from the vantage point of our own tumultuous times.

A former general, Ike kept the peace: he ended the Korean War, avoided a war in Vietnam, adroitly managed a potential confrontation with China, and soothed relations with the Soviet Union after Stalin's death. He guided the Republican Party to embrace central aspects of the New Deal like Social Security. He thwarted the demagoguery of McCarthy and he advanced the agenda of civil rights for African Americans. As part of his strategy to wage, and win, the Cold War, Eisenhower expanded American military power, built a fearsome nuclear arsenal and launched the space race. In his famous Farewell Address, he acknowledged that Americans needed such weapons in order to keep global peace—but he also admonished his citizens to remain alert to the potentially harmful influence of the "military-industrial complex."

From 1953 to 1961, no one dominated the world stage as did President Dwight D. Eisenhower. The Age of Eisenhower is the definitive account of this presidency, drawing extensively on declassified material from the Eisenhower Library, the CIA and Defense Department, and troves of unpublished documents. In his masterful account, Hitchcock shows how Ike shaped modern America, and he astutely assesses Eisenhower's close confidants, from Attorney General Brownell to Secretary of State Dulles. The result is an eye-opening reevaluation that explains why this "do-nothing" president is rightly regarded as one of the best leaders our country has ever had.
Praise For The Age of Eisenhower: America and the World in the 1950s…
"Outstanding."
— Michael O'Donnell

"Like the supposedly conformist and complacent 1950s, too long eclipsed by the drama and turbulence of the 1960s, so has Dwight Eisenhower too long been dismissed as a distracted codger compared with the youthful president who succeeded him, John F. Kennedy. Now William I. Hitchcock's trenchant and compelling book convincingly redresses the balance. He reminds us of the gravity of the issues at stake in the 1950s—including increasingly violent clashes over civil rights and the prospect of nuclear Armageddon—and persuasively portrays Eisenhower as an engaged and thoughtful leader who deeply shaped the nation's destiny for decades to come."

— David M. Kennedy, Donald J. McLachlan Professor of History Emeritus, Stanford University, and Pulitzer Prize-winning author of Freedom From Fear

"Expansive. . . . Hitchcock discusses the full range of challenges that occupied Eisenhower across the eight years of his presidency. . . . [A] rich narrative."
— Richard Rhodes

"A splendid biography."
— Joseph C. Goulden

"William Hitchcock has given us an absorbing account of an era that looms large not only in the long history of the West but in our time. Dwight Eisenhower helped create a strong, dynamic, and in many ways enviable America. There were flaws, yes, and dreams deferred—but taken all in all, Ike's achievements on the battlefield and in the public square of peacetime are towering, and we live still in their long shadow."
— Jon Meacham, author of DESTINY AND POWER: The American Odyssey of George H.W. Bush and AMERICAN LION

"Eisenhower's steady hand, deep experience, and seriousness of purpose served America well during eight perilous years. William Hitchcock's insightful and stimulating study couldn't be more timely."
— H. W. Brands, Jack S. Blanton Sr. Chair in History, University of Texas at Austin, and author of The General vs. the President: MacArthur and Truman at the Brink of Nuclear War

"Magisterial. . . . [Hitchcock] offers rich evidence of Eisenhower's charisma and quiet but adroit leadership."
— Jay Strafford

"A complete and persuasive assessment."
— Booklist (starred review)

"William I. Hitchcock's The Age of Eisenhower is a superb synthesis, comprehensive in its coverage of domestic and international issues, current in its treatment of what the documents contain, and consistently fair in the conclusions it reaches. By so successfully showing what's known about the Eisenhower era, this book more than any other will shape how the future remembers it."
— John Lewis Gaddis, Yale University, Pulitzer Prize-winning author of George F. Kennan: An American Life

"The Age of Eisenhower is a page-turner masterpiece about what we Americans can accomplish when we try to be and do our best. William Hitchcock tells the remarkable story of how a values-laden boy from Kansas grew up to become one of the most important—and best—leaders in modern history."
— Jim Lehrer

"[A] probing analysis of the Eisenhower Era. . . . A complete and persuasive assessment."
— Booklist (starred review)

"The Age of Eisenhower is history and biography at its finest. With power and elegance, William Hitchcock brings America's 34th president brilliantly alive, and shows just how consequential the Eisenhower years were—for the U.S. and for the world."
— Fredrik Logevall, Pulitzer Prize-winning author of Embers of War

"William Hitchcock has written the study of Dwight D. Eisenhower's White House years that I've always wanted to read--a thoughtful, informed, deeply engaging portrait of this crafty, slightly mysterious man. There's a lot that's new, even revelatory, about Ike, including the surprising ways in which his life as a soldier shaped his consequential Presidency."
— Jeffrey Frank, author of Ike and Dick: Portrait of a Strange Political Marriage

"Will Hitchcock has written the best book yet to appear on the Eisenhower years. Elegantly written and evocatively narrated, Hitchcock examines Ike's domestic and foreign policy challenges, and persuasively emphasizes that he was one of our most consequential presidents. Ike's integrity, thoughtfulness, prudence, self-discipline, and civic-mindedness remind us of the qualities that make for presidential greatness."
— Melvyn P. Leffler, Edward Stettinius Professor of American History, University of Virginia

"'Ike draws you in,' writes William Hitchcock in The Age of Eisenhower, a masterful account of that most consequential of postwar presidencies. Having labored long on a book about Ike's vice-president, I thought I knew all about the 34th president and the era of McCarthyism, Little Rock, Happy Days and Khrushchev. But Hitchcock's lucid style, clear-eyed analysis and knack for telling detail pinned me to my chair. I emerged, a long weekend later, awed by Ike's performance—and the author's gift for crafting such a tale."
— John A. Farrell, author of Richard Nixon: The Life

"At a moment when inspiring leaders are hard to find, William Hitchcock brings one of our national heroes back to life in the pages of this beautiful book. Dwight Eisenhower was a man of many limitations who lived during a very trying time in our history, but he nurtured the integrity, intelligence, and discipline to help navigate our nation through a world war, a cold war, and an early civil rights struggle. This book is biography at its best, and an inspiration for our age."
— Jeremi Suri, author of The Impossible Presidency: The Rise and Fall of America's Highest Office

"The definitive single-volume account of this understudied but highly consequential presidency."
— Alvin S. Felzenberg

"The best single account of Eisenhower's presidency to date. . . . A lively and insightful exploration of how Ike's brand of no-nonsense leadership defined an era."
— Derek Chollet
Simon & Schuster, 9781439175668, 672pp.
Publication Date: March 20, 2018
About the Author
William I. Hitchcock is a professor of history at the University of Virginia and the Randolph Compton Professor at the Miller Center for Public Affairs. A graduate of Kenyon College and Yale University, he is the author most recently of The Bitter Road to Freedom: The Human Cost of Allied Victory in World War II Europe, which was a finalist for the Pulitzer Prize. For more about the book, visit AgeofEisenhower.com.
or
Not Currently Available for Direct Purchase