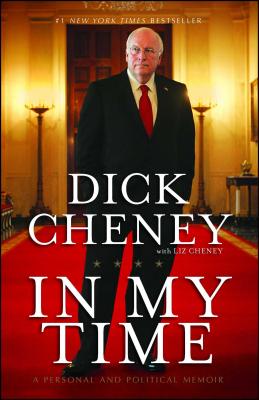 In My Time (Paperback)
A Personal and Political Memoir
Threshold Editions, 9781439176221, 576pp.
Publication Date: May 15, 2012
* Individual store prices may vary.
Description
In his #1 New York Times bestseller, former Vice President Dick Cheney delivers a forty-year portrait of American politics and shares unyielding reflections on his role as one of the most steadfast and influential statesmen in the history of our country. In his enlightening and provocative memoir--a stately page-turner with flashes of surprising humor, remarkable candor, and powerful resonance--former Vice President Dick Cheney takes readers through his experiences as family man, policymaker, businessman, and politician during years that shaped our collective history. Eyewitness to events at the highest levels, Dick Cheney brings to life scenes from past and present: He chronicles his coming-of-age as a high school athlete in Casper, Wyoming, and courting homecoming queen Lynn Vincent, his future wife. He describes driving through the White House gates just hours after the 1974 resignation of Richard Nixon, to manage the Ford transition. He portrays his response to the national crisis of 9/11, when he conveyed orders from the White House bunker to shoot down a hijacked airliner if it would not divert. And he reveals how his political vision has endured through his extraordinary ascent to the heights of American public life as: * The youngest White House Chief of Staff, under President Gerald Ford * Congressman from Wyoming who worked closely with President Ronald Reagan * Secretary of defense under George H. W. Bush, overseeing the U.S. military during Operation Desert Storm and the resolution of the Cold War * CEO of the international Fortune 500 company Halliburton * The first U.S. vice president to serve out his term of office in the twenty-first century. Working with George W. Bush from the onset of the global war on terror, he was--and remains--an outspoken proponent of taking every step necessary to defend the nation.
About the Author
Dick Cheney was White House Chief of Staff under President Gerald Ford and Secretary of Defense under President George H.W. Bush, overseeing America's military during the 1991 Operation Desert Storm. Elected six times to the U.S. House of Representatives from Wyoming, he eventually became House Minority Whip. As the forty-sixth Vice President of the United States, he served two terms under President George W. Bush during the dawn of the Global War on Terror, playing a key role in events that have shaped history.