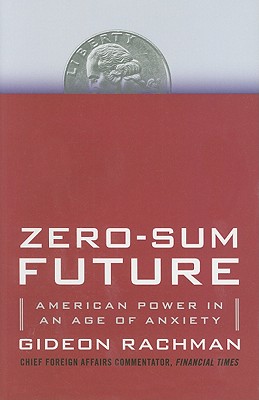 Zero-Sum Future (Hardcover)
American Power in an Age of Anxiety
Simon & Schuster, 9781439176610, 352pp.
Publication Date: February 1, 2011
Other Editions of This Title:
Paperback (2/4/2012)
* Individual store prices may vary.
Description
From one of the world's most influential commentators on international affairs, chief foreign affairs columnist for the Financial Times, comes a stark warning about a gathering global political crisis.
Successive presidents have welcomed globalization and the rise of China. But with American unemployment stubbornly high and U.S. power facing new challenges, the stage is set for growing rivalry between America and China. The European Union is also ripping itself apart. The win-win logic of globalization is giving way to a zero-sum logic of political and economic struggle.
The new world we now live in, an age of anxiety, is a less prosperous, less stable world, with old ideas overthrown and new ideologies and powers on the rise. Rachman shows how zero-sum logic is thwarting efforts to deal with global problems from Afghanistan to unemployment, climate change to nuclear proliferation.
This timely and important book details why international politics is now more dangerous and volatile—and suggests what can be done to break away from the crippling logic of a zero-sum world.
or
Not Currently Available for Direct Purchase