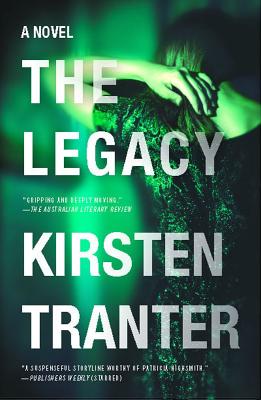 The Legacy (Paperback)
A Novel
Washington Square Press, 9781439177181, 448pp.
Publication Date: August 10, 2010
Other Editions of This Title:
Paperback, Spanish (7/1/2011)
* Individual store prices may vary.
Description
A WASHINGTON SQUARE PRESS PAPERBACK ORIGINAL

A thrilling and addictive novel about three unlikely friends and the web of lies that unravels after one of them goes missing.

At the center of The Legacy is the story of Julia Alpers, her friend Ralph, and the beautiful and wealthy Ingrid. As students in Sydney, the bond that ties this threesome together is complex—delicate and intense, shaped by intellect, and defined by desire. When Ingrid falls in love and marries the much older and very handsome Gil Grey, she decides to leave her friends and settle in New York City, where Gil is a major player in the art world. It is here that she becomes stepmother to Gil's teenage daughter, a former child prodigy, and begins her own work on rare, ancient texts called "curse scrolls" at Columbia University. But on the morning of September 11, 2001, she has an appointment downtown. And is never seen again.

Devastated and heartsick, Ralph sends Julia to New York to investigate Ingrid's last days. What Julia discovers plunges her more deeply into Ingrid's life than she could ever imagine. As Julia grows closer to unearthing the truth about Ingrid's death, she is forced to confront her conflicted feelings about her former friend and to make a crucial decision about her own future.

Praised by international critics as an "entertaining literary thriller that skillfully describes the almost pleasurable pain of love and life denied" (The Australian), The Legacy is an utterly addictive and beautifully written novel that introduces a brilliant new voice in fiction.
About the Author
Kirsten Tranter grew up in Sydney and studied English and Fine Arts at the University of Sydney. She lived in New York between 1998 and 2006, where she completed a PhD in English on Renaissance poetry at Rutgers University. She now lives in Sydney with her husband and son and is working on a second novel.
Praise For The Legacy: A Novel…
"Australian author Tranter makes her splendid debut with this novel about friendship, love, abuse and deceit.... Tranter's writing is as rich and luxurious as heavy, expensive brocade. The characters' names and many aspects of the plot will remind readers of Henry James' Portrait of a Lady.... It's a goldmine of literary references, and finding them can be both fun and challenging. A promising beginning to what will undoubtedly be a successful writing career." —Kirkus Reviews (starred)

"This hypnotic debut from Australian author Tranter pays homage to Henry James's A Portrait of a Lady while offering a suspenseful story line worthy of Patricia Highsmith.... While Tranter's sedate pacing avoids typical thriller antics and conventional crime plot twists, she raises some wickedly keen questions about art world wheeling and dealing." —Publishers Weekly (starred)

"A gripping and deeply moving novel." —The Australian Literary Review

"I don't know where I've read a better evocation of the unbearable pain of unrequited love than in the measured rhythms and cadences of Tranter's prose.... The Legacy is so accomplished, it's difficult to believe it's a first novel... It demands your full attention and only reluctantly releases you from its clutches to go about your daily life. It's the kind of novel that makes you wish for a mildly debilitating illness to keep you in bed for a couple of days." —The Australian Literary Review

"Full of suave and stunning evocations of Sydney and Manhattan, this sparkling and spacious novel captures the smell and sap of young people half in love with everyone they're vividly aware of, and groping to find themselves like the answer to an erotic enigma." — Peter Craven, The Monthly (Australia)

"The most satisfying novel I've read all year." —Bookseller + Publisher (***½ stars)

"An intelligent and engaging novel that is dense, intricate, detailed, acutely observed, and beautifully written in a voice that is measured and consistent from start to finish." "—Debra Adelaide, author of The Household Guide to Dying

"Fans of literary mysteries will enjoy this intricate, fascinating, and original novel. Highly recommended." —Library Journal (starred)
Book Videos
or
Not Currently Available for Direct Purchase