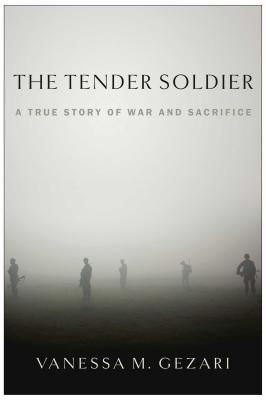 The Tender Soldier (Hardcover)
A True Story of War and Sacrifice
Simon & Schuster, 9781439177396, 368pp.
Publication Date: August 13, 2013
Other Editions of This Title:
Paperback (8/12/2014)
* Individual store prices may vary.
Description
In this gripping story of three tough-minded American civilians carrying out the most audacious military social science experiment since Vietnam, journalist Vanessa Gezari shows how their humanity is tested and their lives are changed forever when a lone Afghan attacks one of them in an open market.

What happens when the Pentagon sends three Americans to help carry out the most audacious experiment since Vietnam?

On the day Barack Obama was elected president in November 2008, a small group of American civilians took their optimism and experience to Afghanistan, then considered America's "good war." They were part of the Pentagon's controversial attempt to bring social science to the battlefield, a program, called the Human Terrain System, that is driven by the notion that you can't win a war if you don't understand the enemy and his culture. The field team in Afghanistan that day included an intrepid Texas blonde, a former bodyguard for Afghan president Hamid Karzai, and an ex-military intelligence sergeant who had come to Afghanistan to make peace with his troubled past. But not all goes as planned.

In this tale of moral suspense, journalist Vanessa Gezari follows these three idealists from the hope that brought them to Afghanistan through the events of the fateful day when one is gravely wounded, an Afghan is dead, and a proponent of cross-cultural engagement is charged with his murder. Through it all, these brave Americans ended up showing the world just how determined they were to get things right, how hard it was to really understand a place like Afghanistan where storytelling has been a major tool of survival, and why all future wars will involve this strange mix of fighting and listening.

Gezari is the only journalist to have gained access to the lives of people inside the troubled Human Terrain System, including the brilliant, ambitious figures who conceived it. The Tender Soldier is the first account of this historic, little-known mission. In the best tradition of The Good Soldiers and The Things They Carried, this is a true story of war and sacrifice that will upend your ideas about what really went wrong in the war.
About the Author
Vanessa M. Gezari holds the James Madison Visiting Professorship at the Columbia University Graduate School of Journalism. She has written for The Washington Post, The New Republic, Slate, and others. She lives in New York.
Praise For The Tender Soldier: A True Story of War and Sacrifice…
"As Neil Sheehan's Bright Shining Lie did with Vietnam, Ms. Gezari's deft if less sweeping narrative dissects the hopes, hubris and shortcomings of America's efforts to nation-build in Afghanistan while fighting a war there…. It is a testament to the book's strengths that it left me wanting more…. Ms. Gezari's book powerfully humanizes the ways the counterinsurgency effort played out in Afghanistan."

"With a journalist's discerning eye for nuance, Gezari brings readers into [a] controversial gray area, framed within the larger, just as murky, context that has come to define the distant wars in Iraq and Afghanistan….Gezari's writing stands apart from other depictions of our post-9/11 wars….Her book exemplifies the persistence of a war-wise reporter who filed from frontline locations, seeking out sources in sketchy areas, often unescorted by U.S. military personnel….The book's main subject and its author both devoted themselves—like real anthropologists—to listening, recording, and understanding the stories of the 'other.' Iraqis and Afghans have more in common with us than we might think."

"A sharp-eyed look at the complexities of war."

"Engrossing and important…. a gripping tale that exposes the strange mix of idealism and political calculation that can drive U.S. policy in other countries. Gezari writes crisply and with a clear sense of purpose while maintaining a journalist's objectivity about her subject… .An important piece in the growing canon of historical works about the war in Afghanistan. [The Tender Soldier] should be considered essential reading to anyone interested in understanding the war and its effect on the people who had to fight it."

"A fine and fearless journalist, Ms. Gezari unmoors fiction from fact in The Tender Soldier, a cutting, empathetic exploration of cultures clashing in a war that may never end."

"Blending strong in-depth reporting with a narrative writing that lets readers experience life in the war-torn nation, Gezari has written a military thriller, but also much more, as she tells the social scientists' story."

"Bravely reported and beautifully told, The Tender Soldier is a crushing story of good intentions and war. Vanessa Gezari is an unflinching journalist, and she has written a great, angering, and heartbreaking book that in its many layers is as damning as it is honorable."
— David Finkel, Pulitzer Prize-winning author of the New York Times bestseller The Good Soldiers

"Part history, part war story, part critique, Gezari writes with a stonecutter's brilliance, snapping into focus a part of the world, and a chapter in American history, that we don't fully comprehend. Citizens will read The Tender Soldier in a few nights and come away feeling smarter and enriched. This is brilliant reading and is a kind of road map by which to understand other wars, and other news reports breaking daily around us."
— Doug Stanton, author of the New York Times bestseller Horse Soldiers

"The story running through the heart of The Tender Soldier is a searing reminder that wars may be waged with good intentions, but they are built upon tragedy. Vanessa Gezari explores this grim paradox with an admirable lucidity and a sharp eye for the kind of telling detail that make her account of the U.S. war in Afghanistan a moving, unforgettable read."
— Jon Lee Anderson, New Yorker staff writer and author of the national bestseller The Fall of Baghdad

"The Tender Soldier takes readers on an eloquent journey back through one tragic American death in Afghanistan. But its larger point is a hard-fisted critique of the U.S. military's chronic inability to understand the larger world in which it operates. It is a book worth memorizing, and repeating to U.S. decision-makers, when the next Iraq or Afghanistan presents itself—as it surely will."
— Dana Priest, Pulitzer Prize-winning coauthor of Top Secret America

"Gezari's gripping tale of American idealism gone wrong is vital reading for anyone interested in America's decade of war in Afghanistan. Beautifully told, the book illuminates one of the most interesting and little known programs in recent U.S. military history."
— Lourdes Garcia-Navarro, NPR international correspondent

"Readers get a sobering feel for the difficult task of waging a war on foreign soil, as well as the travails of hardworking and often brilliant individuals struggling to change enormous political and social systems for the better. Nuanced, readable, and utterly engrossing, Gezari's exposé is a revelatory and unique look at the war in Afghanistan."
— Publishers Weekly (starred review)

"Insightful….Gezari delivers a gripping report on another of America's painful, surprisingly difficult efforts to win hearts and minds."
— Kirkus Reviews (starred review)
or
Not Currently Available for Direct Purchase