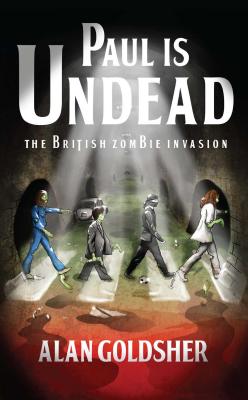 Paul Is Undead: The British Zombie Invasion (Paperback)
The British Zombie Invasion
Gallery Books, 9781439177921, 310pp.
Publication Date: June 22, 2010
* Individual store prices may vary.
or
Not Currently Available for Direct Purchase
Description
LADIES AND GENTLEMEN, IT'S TIME TO REALLY MEET THE BEATLES. For John Lennon, a young, idealistic zombie guitarist with dreams of global domination, Liverpool seems the ideal place to form a band that could take over the world. In an inspired act, Lennon kills and reanimates local rocker Paul McCartney, kicking off an unstoppable partnership. With the addition of newly zombified guitarist George Harrison and drummer/Seventh Level Ninja Lord Ringo Starr, the Beatles soon cut a swath of bloody good music and bloody violent mayhem across Europe, America, and the entire planet. In this searing oral history, discover how the Fab Four climbed to the Toppermost of the Poppermost while stealing the hearts, ears, and brains of smitten teenage girls. Learn the tale behind a spiritual journey that resulted in the dismemberment of Maharishi Mahesh Yogi. Marvel at the seemingly indestructible quartet's survival of a fierce attack by Eighth Level Ninja Lord Yoko Ono. And find out how the boys escaped eternal death at the hands of England's greatest zombie hunter, Mick Jagger. Through all this, one mystery remains: Can the Beatles sublimate their hunger for gray matter, remain on top of the charts, and stay together for all eternity? After all, three of the Fab Four are zombies, and zombies live forever. . . .
Praise For Paul Is Undead: The British Zombie Invasion…
"A POST-MODERN GOTHIC CLASSIC." —Mick Wall, author of When Giants Walked the Earth: A Biography of Led Zeppelin



"HILARIOUS." —Michael Ian Black, comedian and author of Clappy as a Ham



"BRILLIANT AND HILARIOUS. TWO DECAYING THUMBS UP." —Jonathan Maberry, multiple Bram Stoker Award–winning author of Patient Zero and Rot & Ruin



"PAUL IS UNDEAD MAY BE THE MOST LIVELY BEATLES BOOK TO COME DOWN THE LONG & WINDING ROAD IN YEARS. IT'S BLOODY BRILLIANT!" —Charles F. Rosenay, Examiner.com



"PAUL IS UNDEAD IS THE ABBEY ROAD OF BEATLES ZOMBIE MASHUP NOVELS." —A.J. Jacobs, author of The Guinea Pig Diaries and The Year of Living Biblically



"...this clever take on the subgenre will bring music nerds into its fandom." —Booklist



"Goldsher turns in a classic rags-to-riches tale of aspiration and success that would do Horatio Alger proud, punctuated by no end of gore." —Kirkus Reviews


From Publisher's Weekly
Starred Review. Are readers ready for a world in which the Beatles just wanna eat your brains? Goldsher (Hard Bop Academy) thinks so, and he may be right. In this humor-filled splatterfest, the rise and fall of the zombie Beatles unfolds through eyewitness accounts, newspaper clippings, and interviews. Violence and music go hand-in-hand as the zombiefied Lennon, Harrison, and McCartney fight, eat, and rock their way to fame and popularity while ninja lord Ringo Starr tries to keep them out of trouble. Nothing can stop them--not even a vampiric Pete Best, zombie-killing Mick Jagger, rival ninja Yoko Ono, or bad reviews. In fact, their only enemies may be one another, as personal conflicts threaten to break them up for good. Roughly paralleling the real-world career of the Beatles, this alternate history reimagines successes, failures, and rivalries with over-the-top bizarro charm. (July)
Copyright © Reed Business Information, a division of Reed Elsevier Inc. All rights reserved.
Advertisement