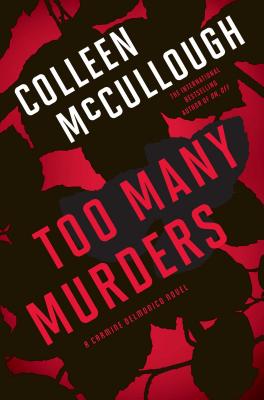 Too Many Murders (Paperback)
A Carmine Delmonico Novel
Simon & Schuster, 9781439178287, 384pp.
Publication Date: October 19, 2010
Other Editions of This Title:
Paperback, Spanish (6/1/2011)
Compact Disc (2/1/2010)
Compact Disc (3/13/2012)
* Individual store prices may vary.
Description
The year is 1967, and the world teeters on the brink of nuclear holocaust as the Cold War goes relentlessly on. But the little city of Holloman, Connecticut, home to prestigious Chubb University and armaments giant Cornucopia, has its own crisis: twelve murders have taken place in one day.

As chief of detectives Captain Carmine Delmonico investigates, he finds himself drawn into a gruesome web of secrets and lies. And as if twelve murders were not enough, Carmine must match wits with the mysterious Ulysses, a spy giving Cornucopia's armaments secrets to the Russians. Are the murders and espionage different cases, or are they somehow linked?

When FBI special agent Ted Kelly makes himself part of the investigation, it appears the stakes are far higher than anyone had imagined. As the death toll mounts, Carmine and his team discover that the answers are not what they seem—but then, are they ever?
About the Author
Colleen McCullough, a native of Australia, established the department of neurophysiology at the Royal North Shore Hospital in Sydney before working as a researcher at Yale Medical School for ten years. She is the bestselling author of numerous novels, including The Thorn Birds, and lives with her husband on Norfolk Island in the South Pacific.
Praise For Too Many Murders: A Carmine Delmonico Novel…
"Colleen McCullough… has proven abilities to evoke historical eras, and she does so again in Too Many Murders. McCullough brings her characters alive...and skillfully portrays the Cold War period. But her supreme talent is in her plotting (just ask any reader of The Thorn Birds), and Too Many Murders has an addictive storyline. "

--Jay Strafford, Richmond Times Dispatch

"The historical setting gives the novel a fresh feel, and it keeps readers off guard: if the story were set in the here and now, we'd easily be able to anticipate the flow of the plot, but since it takes place in a time before DNA evidence, national computer databases, profiling, and so on, we have no idea how Carmine can possibly find a solution. A thoroughly entertaining crime novel."

— David Pitt, Booklist

"You may need a scorecard to keep track of the perps and vics, but there's still room for a final twist."

--Kirkus
or
Not Currently Available for Direct Purchase