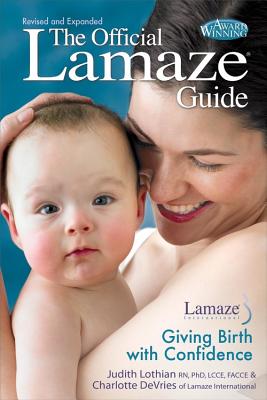 Official Lamaze Guide
Paperback

* Individual store prices may vary.
Description
In the revised edition of The Official Lamaze Guide, the authors explain why childbirth has become riskier in the U.S.—leading to a shocking increase in maternal mortality rates, incidences of postpartum depression and post traumatic stress disorder related to childbirth, and the number of babies admitted to newborn intensive care units. To increase the safety and health of childbirth, the authors recommend following six "Lamaze Healthy Birth Practices" and starting childbirth education as early in pregnancy as possible.

Lamaze's vision for the future is that formal childbirth education, in person and online, should start early in pregnancy. In the second edition of The Official Lamaze Guide, the authors share Lamaze's belief that preparing for birth and becoming a mother takes all of pregnancy, not just six weeks of formal classes at the end of the third trimester.
This new edition has been updated to reflect the latest evidence-based research on pregnancy and childbirth. Since the first edition, childbirth in the U.S. has gotten riskier. The cesarean rate has continued to rise; now almost one third of women in the U.S. have a cesarean. There's been a shocking rise in the maternal mortality rate. More babies are admitted to NICUs, and there's been an alarming increase in incidences of postpartum depression and post traumatic stress disorder related to childbirth. Lamaze believes that all women have the right and the responsibility to get complete and accurate information about pregnancy and birth, and to choose what's best for them and their babies based on that information.
The second edition of The Official Lamaze Guide will showcase the six Lamaze Healthy Birth Practices, which are supported by research studies that examine the benefits and risks of maternity care practices.
1. Let labor begin on its own.
2. Walk, move around, and change positions throughout labor.
3. Bring a loved one, friend, or doula for continuous support.
4. Avoid interventions that aren't medically necessary.
5. Avoid giving birth on your back and follow your body's urges to push.
6. Keep mother and baby together—it's best for mother, baby, and breastfeeding.

The mission of Lamaze International is to promote, support and protect natural, safe, and healthy birth through education and advocacy through the dedicated efforts of professional childbirth educators, providers, and parents.
Praise For Official Lamaze Guide…
"At last there is a resource that emphasizes normal birth and increases parents' confidence. The honest information and reassuring tone of the authors truly get to the heart of women's fears and allow them to explore those fears in a safe way. The book contains life skills such as communication and negotiation and tells the simple story of birth in a manner that left me in awe. I wish I had been able to share this book with expectant families during my first seventeen years of teaching and being a doula."

—Ann Grauer, LCCE, CD(DONA), PCD(DONA), past president of DONA International

"The Official Lamaze Guide: Giving Birth with Confidence is the first book that every pregnant woman should read before she makes any decisions about her maternity care. This book is a breath of fresh air. By following these explanations and recommendations women will gain the best chance of having a normal, natural, healthy, and empowering birth."

—Marshall Klaus, MD, and Phyllis Klaus, MFT, CSW, authors of The Doula Book, Your Amazing Newborn, and Bonding

"This book is a wonderful resource that provides information, knowledge, and skills to expectant parents who want to play a central role in their children's births."

—Penny Simkin, coauthor of Pregnancy, Childbirth, and the Newborn

"The Official Lamaze Guide is a source of information that women need to have and a message that women need to hear. I think it accomplishes its purpose skillfully and has the potential to be a transformative influence. I hope women read it, absorb it, and begin to celebrate birth!"

—Molly Remer, MSW, CCCE

"This is a superb book. Though it's called 'official,' it isn't written in bureaucratic language and isn't heaped with instructions. It's humane, funny, tender, down-to-earth and joyful. Essential reading for all pregnant women who seek autonomy in childbirth."

—Sheila Kitzinger, author of The Complete Book of Pregnancy and Childbirth

"The Official Lamaze Guide: Giving Birth with Confidence is one of the rare books today containing an unapologetically woman-centered view of birth…. The authors strongly advocate natural birth…. They emphasize that women's bodies are beautifully designed to grow, birth, and nurture babies. The Official Lamaze Guide…should be in every [pregnant mother's] hands."

—Jane Pincus, BA, MAT, MFA, Birth: Issues in Perinatal Care

"What Lamaze offers women isn't a 'method' but rather the confidence to stop worrying and start believing that a woman's body does birth best, and that every woman deserves patient, gentle, unwavering support through this process. This book gives women something new to 'expect': to be amazed at our own power and strength."

—Jennifer Block, author of Pushed: The Painful Truth About Childbirth and Modern Maternity Care

"Warm and wise, honest yet reassuring, chock full of information, and based on the latest and best research—any pregnant woman who wants a normal birth should put this book on her A list."

—Henci Goer, author of The Thinking Woman's Guide to a Better Birth
Da Capo Press, 9781439179796
Publication Date: September 1, 2010
About the Author
Judith Lothian is a nurse and childbirth educator with over 30 years of experience. She is an associate professor at Seton Hall University College of Nursing and is chair of the Lamaze International Certification Council. Dr. Lothian is a nationally recognized speaker on birth and breastfeeding, a columnist for The Journal of Perinatal Education, and a mother of five and grandmother of seven.

Charlotte DeVries is a journalist, past president of Lamaze International's board of directors, and a current board advisor. She works alongside her husband, a sociologist, on childbirth and midwifery research and education. She also writes a newspaper column on life as a working mother of three and grandmother of one.
or
Not Currently Available for Direct Purchase