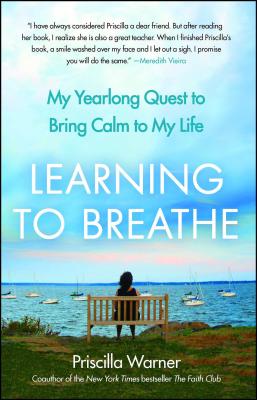 Learning to Breathe
My Yearlong Quest to Bring Calm to My Life
Paperback

* Individual store prices may vary.
Description
By the coauthor of the New York Times bestseller, The Faith Club, Learning to Breathe was launched on the Today show to brilliant reviews.

Priscilla Warner has had a great life: a supportive husband, a flourishing marriage, two loving sons, and a bestselling book, The Faith Club. Despite all her good fortune and success, she suffers from anxiety and panic attacks so debilitating that they leave her unable to breathe. She's tried self-medicating—in high school, with a hidden flask of vodka—and later, with prescription medications—daily doses of Klonopin with a dark chocolate chaser. After forty years of hyperventilating, and an overwhelming panic attack that's the ultimate wake-up call, Warner's mantra becomes "Neurotic, Heal Thyself." A spirited New Yorker, she sets out to find her inner Tibetan monk by meditating every day, aiming to rewire her brain and her body and mend her frayed nerves. On this winding path from panic to peace, with its hairpin emotional curves and breathtaking drops, she also delves into a wide range of spiritual and alternative health practices, some serious, and some . . . not so much.

Written with lively wit and humor, Learning to Breathe is a serious attempt to heal from a painful condition. It's also a life raft of compassion and hope for people similarly adrift or secretly fearful, as well as an entertaining and inspiring guidebook for anyone facing daily challenges large and small, anyone who is also longing for a sense of peace, self-acceptance, and understanding.
Praise For Learning to Breathe: My Yearlong Quest to Bring Calm to My Life…
"I have always considered Priscilla a dear friend. But after reading her book, I realize she is also a great teacher. When I finished reading Priscilla's book, a smile washed over my face and I let out a sigh. I promise you will do the same."—Meredith Vieira



"Learning to Breathe is an exquisite, funny, life-changing approach to anxiety and panic. I highly recommend this book."—Christiane Northrup, M.D., ob/gyn physician and author of Women's Bodies, Women's Wisdom




"From one who has suffered from anxiety (and who hasn't?), catching one's breath is imperative. Priscilla Warner opens every holistic door on her journey from panic to peace. Readers will cheer Warner as she finds some semblance of serenity Her recipe for success makes this book prescriptive as well as entertaining—her dharma becoming her karma."—Joan Anderson, author of A Year by the Sea



"Part mystery story, part comedic hero's journey, part state-of-the-art psychology, and part public health message, this is a complex, brainy book that goes down in one sitting like some kind of a tasty chick-lit snack. Learning a lot is rarely this enjoyable and teachers rarely this appealing."—Belleruth Naparstek, author of Invisible Heroes and creator of the Health Journeys guided imagery series



"On a quest to rid herself of almost lifelong panic attacks, self-described 'neurotic' Priscilla Warner begins her journey toward liberation. Her humorous, honest, and detailed account provides readers with a rich tapestry of both her inner experience and snapshots of the many approaches and teachers she encounters along the way: This vividly described personal odyssey of her 'panic-to-peace project' resonates profoundly with the universal desire for serenity and understanding."—Francine Shapiro, Ph.D., originator of EMDR therapy and author of Getting Past Your Past: Take control of Your Life with Self Help Techniques from EMDR Therapy




"Wise, searching, fearless, and big-hearted, Priscilla Warner's search for inner peace will resonate with anyone who has ever been anxious or at sea—in other words, all of us. She is a comforting and stabilizing guide through her own life—and ours. This book is a gift."—Dani Shapiro, author of Devotion: A Memoir



"The words leap off the page. Priscilla Warner's courageous story from panic to peace brims with insights that light the path to simply living a better life.—Elisha Goldstein, Ph.D., author of The Now Effect
Atria Books, 9781439181089, 288pp.
Publication Date: May 1, 2012
About the Author
Priscilla Warner grew up in Providence, Rhode Island, graduated from the University of Pennsylvania, and spent many years in Boston and New York as an advertising art director, shooting ads for everything from English muffins to diamond earrings. Priscilla co-authored The New York Times bestselling memoir The Faith Club, then toured the country for three years, hyperventilating her way through an extended book tour. Finally, in the skies over Oklahoma, she vowed to find her inner monk, and began meditating her way from panic to peace.