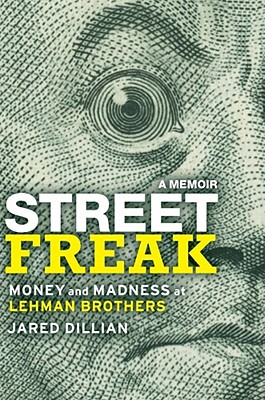 Street Freak
Money and Madness at Lehman Brothers
Hardcover

* Individual store prices may vary.
Other Editions of This Title:
Paperback (9/11/2012)
MP3 CD (1/19/2016)
Description
When Jared Dillian joined Lehman Brothers in 2001, he fulfilled a life-long dream to make it on Wall Street—but he had no idea how close to the edge the job would take him.

Like Michael Lewis's classic Liar's Poker, Jared Dillian's Street Freak takes readers behind the scenes of the legendary Lehman Brothers, exposing its outrageous and often hilarious corporate culture.

In this ultracompetitive Ivy League world where men would flip over each other's ties to check out the labels (also known as the "Lehman Handshake"), Dillian was an outsider as an ex-military, working-class guy in a Men's Wearhouse suit. But he was scrappy and determined; in interviews he told potential managers that, "Nobody can work harder than me. Nobody is willing to put in the hours I will put in. I am insane." As it turned out, on Wall Street insanity is not an undesirable quality.

Dillian rose from green associate, checking IDs at the entrance to the trading floor in the paranoid days following 9/11, to become an integral part of Lehman's culture in its final years as the firm's head Exchange-Traded Fund (ETF) trader. More than $1 trillion in wealth passed through his hands, but at the cost of an untold number of smashed telephones and tape dispensers. Over time, the exhilarating and explosively stressful job took its toll on him. The extreme highs and lows of the trading floor masked and exacerbated the symptoms of Dillian's undiagnosed bipolar and obsessive compulsive disorders, leading to a downward spiral that eventually landed him in a psychiatric ward.

Dillian put his life back together, returning to work healthier than ever before, but Lehman itself had seemingly gone mad, having made outrageous bets on commercial real estate, and was quickly headed for self-destruction.

A raucous account of the final years of Lehman Brothers, from 9/11 at its World Financial Center offices through the firm's bankruptcy, including vivid portraits of trading-floor culture, the financial meltdown, and the company's ultimate collapse, Street Freak is a raw, visceral, and wholly original memoir of life inside the belly of the beast during the most tumultuous time in financial history. In his electrifying and fresh voice, Dillian takes readers on a wild ride through madness and back, both inside Lehman Brothers and himself.
Praise For Street Freak: Money and Madness at Lehman Brothers…
"[A] disturbingly candid memoir . . . the highly personal journal of a poor kid who quit the U.S. Coast Guard to chase his dream of becoming a trader. . . . His narrative crackles with authenticity . . . the dominant tone is unsparingly confessional and even modest. Dillian's snail's-eye view is what makes his book a valuable companion to previous volumes on Lehman. . . . From hair-trigger decisions to trashy banter, Dillian captures how the market feels from inside the belly of a trading room. . . . [A] blunt and sometimes hilarious account." —Bloomberg

"This revealing, personal memoir of a volatile period in the dual lives of a big-time trader and the fallen American giant Lehman Brothers is depicted in the fueled words of Dillian, a major figure at the company. . . .Writ[ing] in a style that veers from gonzo lucidity to precise trader chatter . . . Dillian offers a candid look at the demise of a corporate behemoth." —Publishers Weekly

"Thank God for the 3rd element, because if it wasn't for lithium Jared Dillian might still be in the psych ward looking for his shoelaces. Instead, we get Street Freak, the best Wall Street memoir in a bunch of years. This guy can really f***ing write. Street Freak is more than just a great read, though. For anybody who's ever gone off the rails, or thought they might, it's a comforting reminder that there's always a way back." —John Rolfe, coauthor of Monkey Business: Swinging Through the Wall Street Jungle

"Always vivid, by turns hilarious and sad, this is an electrifying memoir about not only money and madness, but the madness of money. It left me wondering yet again about the shifting boundaries between sanity and insanity." —Siri Hustvedt, author of The Summer Without Men

"A scathing critique of selfish, scrambling men so driven to earn a buck that they lose all sight of the world beyond the tickers. . . . Dillian hardly fit the mold of the rich, Northeastern prep-schooler, and his outsider status served as a great attribute, offering him a clearer view of an industry both morally and economically bankrupt." —Kirkus Reviews

"A bipolar math whiz [and] amusingly caustic writer whose new memoir pulls no punches about a financial career that nearly cost him both his sanity and his life." —Fortune.com
Gallery Books, 9781439181263, 368pp.
Publication Date: September 13, 2011
About the Author
Jared Dillian is the founder of the subscription-based, daily financial market report The Daily Dirtnap. He worked on the Pacific Options Exchange from 1999 to 2000, and was a trader for Lehman Brothers from 2001 to 2008, specializing in index arbitrage and ETF trading. Dillian is a graduate of the United States Coast Guard Academy and earned a Masters in Business Administration from the University of San Francisco. He lives in Myrtle Beach, South Carolina. Visit JaredDillian.com.
or
Not Currently Available for Direct Purchase