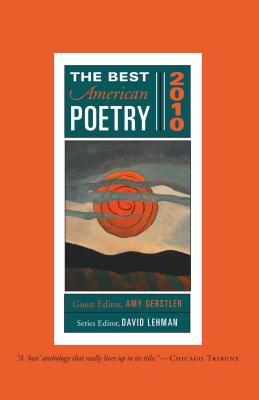 The Best American Poetry 2010
Series Editor David Lehman
Paperback

* Individual store prices may vary.
Description
AMY GERSTLER'S COMMITMENT TO INNOVATIVE POETRY that conveys meaning, feeling, wit, and humor informs the cross section of poems in the 2010 edition of The Best American Poetry. The works collected here represent the wealth, the breadth, and the tremendous energy of poetry in the United States today. Featuring poems from some of our country's top bards, including John Ashbery, Anne Carson, Louise Glück, Sharon Olds, and Charles Simic, The Best American Poetry 2010 also presents poems that poignantly capture the current moment, such as the sonnets John Updike wrote to chronicle his dying weeks. And there are exciting poems from a constellation of rising stars: Bob Hicok, Terrance Hayes, Denise Duhamel, Dean Young, and Elaine Equi, to name a very few.

The anthology's mainstays are in place: It opens with series editor David Lehman's incisive foreword about the state of American poetry and has a marvelous introduction by Amy Gerstler. Notes from the poets, illuminating their poems and their writing processes, conclude this delightful addition to a classic series.

Dick Allen * John Ashbery * Sandra Beasley * Mark Bibbins * Todd Boss * Fleda Brown * Anne Carson * Tom Clark * David Clewell * Michael Collier * Billy Collins * Dennis Cooper * Kate Daniels * Peter Davis * Tim Dlugos * Denise Duhamel * Thomas Sayers Ellis * Lynn Emanuel * Elaine Equi * Jill Alexander Essbaum * B. H. Fairchild * Vievee Francis * Louise Glück * Albert Goldbarth * Amy Glynn Greacen * Sonia Greenfield * Kelle Groom * Gabriel Gudding * Kimiko Hahn * Barbara Hamby * Terrance Hayes * Bob Hicok * Rodney Jones * Michaela Kahn * Brigit Pegeen Kelly * Corinne Lee * Hailey Leithauser * Dolly Lemke * Maurice Manning * Adrian Matejka * Shane McCrae * Jeffrey McDaniel * W. S. Merwin * Sarah Murphy * Eileen Myles * Camille Norton * Alice Notley * Sharon Olds * Gregory Pardlo * Lucia Perillo * Carl Phillips * Adrienne Rich * James Richardson * J. Allyn Rosser * James Schuyler * Tim Seibles * David Shapiro * Charles Simic * Frank Stanford * Gerald Stern * Stephen Campbell Sutherland * James Tate * David Trinidad * Chase Twichell * John Updike * Derek Walcott * G. C. Waldrep * J. E. Wei * Dara Wier * Terence Winch * Catherine Wing * Mark Wunderlich * Matthew Yeager * Dean Young * Kevin Young
Scribner, 9781439181454, 256pp.
Publication Date: September 14, 2010
About the Author
David Lehman, the series editor of The Best American Poetry, is also the editor of The Oxford Book of American Poetry. His eleven books of poetry include The Morning Line, Playlist, Poems in the Manner Of, New and Selected Poems, When a Woman Loves a Man, and The Daily Mirror. The most recent of his many nonfiction books is One Hundred Autobiographies: A Memoir. He lives in New York City and Ithaca, New York.