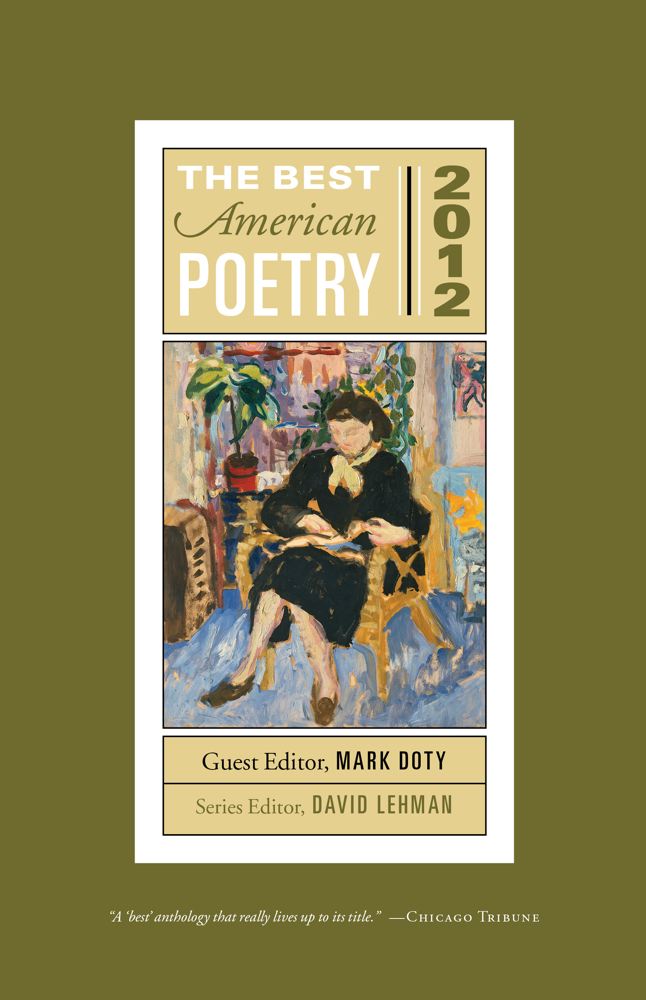 The Best American Poetry 2012 (Hardcover)
Series Editor David Lehman
Scribner, 9781439181539, 240pp.
Publication Date: September 18, 2012
* Individual store prices may vary.
Description
Edited this year by acclaimed poet and writer Mark Doty, the foremost annual anthology of contemporary American poetry returns. Mark Doty brings the vitality and imagination that illuminate his own work to his selections for the twenty-fifth volume in the Best American Poetry series. He has chosen poems of high moral earnestness and poems in a comic register; poems that tell stories and poems that test the boundaries of innovative composition. This landmark edition includes David Lehman's keen look at American poetry in his foreword, Mark Doty's gorgeous introduction, and notes from the poets revealing the germination of their work. Over the last twenty-five years, The Best American Poetry has become an annual rite of the poetry world, and this year's anthology is a welcome and essential addition to the series. SHERMAN ALEXIE * KAREN LEONA ANDERSON * RAE ARMANTROUT * JULIANNA BAGGOTT * DAVID BAKER * RICK BAROTt REGINALD DWAYNE BETTS * FRANK BIDART * BRUCE BOND * STEPHANIE BROWN * ANNE CARSON * JENNIFER CHANG * JOSEPH CHAPMAN * HEATHER CHRISTLE * HENRI COLE * BILLY COLLINS * PETER COOLEY * EDUARDO C. CORRAL * ERICA DAWSON * STEPHEN DUNN * ELAINE EQUI * ROBERT GIBB * KATHLEEN GRABER * AMY GLYNN GREACEN * JAMES ALLEN HALL * TERRANCE HAYES * STEVEN HEIGHTON * BRENDA HILLMAN * JANE HIRSHFIELD * RICHARD HOWARD * MARIE HOWE * AMORAK HUEY * JENNY JOHNSON * LAWRENCE JOSEPH * FADY JOUDAH * JOY KATZ * JAMES KIMBRELL * NOELLE KOCOT * MAXINE KUMIN * SARAH LINDSAY * AMIT MAJMUDAR * DAVID MASON * KERRIN McCADDEN * HONOR MOORE * MICHAEL MORSE * CAROL MUSKE-DUKES * ANGELO NIKOLOPOULOS * MARY OLIVER * STEVE ORLEN * ALICIA OSTRIKER * ERIC PANKEY * LUCIA PERILLO * ROBERT PINSKY * DEAN RADER * SPENCER REECE * PAISLEY REKDAL * MARY RUEFLE * DON RUSS * KAY RYAN * MARY JO SALTER * LYNNE SHARON SCHWARTZ * FREDERICK SEIDEL * BRENDA SHAUGHNESSY * PETER JAY SHIPPY * TRACY K. SMITH * BRUCE SNIDER * MARK STRAND * LARISSA SZPORLUK * DANIEL TOBIN * NATASHA TRETHEWEY * SUSAN WHEELER * FRANZ WRIGHT * DAVID YEZZI * DEAN YOUNG * KEVIN YOUNG.
About the Author
Guest Editor Mark Doty is an American poet whose collection, Fire to Fire: New and Selected Poems won the National Book Award for poetry in 2008. His nonfiction book, Dog Years, was a New York Times bestseller. His many other honors include the National Book Critics Circle Award, the PEN/Martha Albrand Award, and the Los Angeles Times Book Prize. He is a professor at Rutgers University and lives in New York City and on the east end of Long Island.Series Editor David Lehman is the author of seven books of poetry, including When a Woman Loves a Man. The editor of The Oxford Book of American Poetry, he lives in New York City.
Praise For The Best American Poetry 2012: Series Editor David Lehman…
"The foremost annual anthology of contemporary American poetry returns." -Publishers Weekly
or
Not Currently Available for Direct Purchase