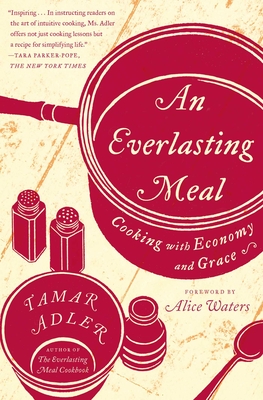 An Everlasting Meal (Paperback)
Cooking with Economy and Grace
Scribner Book Company, 9781439181881, 250pp.
Publication Date: June 19, 2012
* Individual store prices may vary.
Description
In An Everlasting Meal, Tamar Adler has written a book that "reads less like a cookbook than like a recipe for a delicious life" (New York magazine). In this meditation on cooking and eating, Tamar Adler weaves philosophy and instruction into approachable lessons on feeding ourselves well. An Everlasting Meal demonstrates the implicit frugality in cooking. In essays on forgotten skills such as boiling, suggestions for what to do when cooking seems like a chore, and strategies for preparing, storing, and transforming ingredients for a week's worth of satisfying, delicious meals, Tamar reminds us of the practical pleasures of eating. She explains what cooks in the world's great kitchens know: that the best meals rely on the ends of the meals that came before them. With that in mind, she shows how we often throw away the bones, skins, and peels we need to make our food both more affordable and better. She also reminds readers that almost all kitchen mistakes can be remedied. Summoning respectable meals from the humblest ingredients, Tamar breathes life into the belief that we can start cooking from wherever we are, with whatever we have. An empowering, indispensable work, An Everlasting Meal is an elegant testimony to the value of cooking.
About the Author
A former editor at Harper's Magazine," Tamar Adler has cooked at Gabrielle Hamilton's Prune restaurant and Chez Panisse. She was the founding head chef of the restaurant Farm 255 in Athens, Georgia. Tamar currently lives in Brooklyn, New York.
Praise For An Everlasting Meal: Cooking with Economy and Grace…
"An Everlasting Meal is beautifully intimate, approaching cooking as a narrative that begins not with a list of ingredients or a tutorial on cutting an onion, but with a way of thinking…. Tamar is one of the great writers I know—her prose is exquisitely crafted, beautiful and clear-eyed and open, in the thoughtful spirit of M.F.K. Fisher. This is a book to sink into and read deeply." —Alice Waters, from the Foreword



"It can be tricky, in this age of ethically charged supermarket choices, to remember that eating is an act of celebration. Tamar Adler's terrific book wisely presents itself as a series of how to's—How To Boil Water, How to Have Balance, How to Live Well—with the suggestion that it's not only possible to do all these things, but in fact a pleasure. An Everlasting Meal provides the very best kind of lesson (reminding us we enjoy being taught), that there is real joy to be had in eating, and eating well." --Dan Barber, Chef/Co-Owner of Blue Hill and Blue Hill at Stone Barns



"Tamar Adler understands a simple truth that seems to evade a lot of cookbook writers and self-proclaimed 'foodies': cooking well isn't about special equipment or exotic condiments or over-tested recipes (and it sure isn't about 'quickfire challenges' or kicking it up a notch). It's about learning some basics, respecting the ingredients, and developing a little culinary intuition, or maybe just plain common sense. A book can't necessarily teach you how to do that, but An Everlasting Meal will almost certainly inspire you to teach yourself." --Colman Andrews, author of The Country Cooking of Italy and Editorial Director of TheDailyMeal.com



"In this beautiful book, Tamar Adler explores the difference between frugal and resourceful cooking. Few people can turn the act of boiling water into poetry. Adler does. By the time you savor the last page, your kitchen will have transformed into a playground, a boudoir and a wide open field. An Everlasting Meal deserves to be an instant and everlasting culinary classic." –Raj Patel, author of The Value of Nothing and Stuffed and Starved



"An Everlasting Meal is a great thrill to read. Anyone who cooks is engaged in a re-creation of the Enlightenment Age--beginning with alchemy and mystery, always grasping towards chemistry and a tasty supper. With this book, Tamar Adler has chronicled our epic. Her tone manages to make the reader almost feel like he is thinking out loud. A marvelous accomplishment." –Jack Hitt, contributing writer to the New York Times Magazine



"Lessons so right and so eloquent that I think of them as homilies." --Corby Kummer, The New York Times Book Review



"Reads less like a cookbook than like a recipe for a delicious life." --New York Magazine



"Reading [An Everlasting Meal] is like having a cooking teacher whispering suggestions in your ear.... Mindfulness, I'm discovering through this terrific book, can be delicious."
--Novella Carpenter, author of Farm City



"Tamar Adler has written the best book on 'cooking with economy and grace' that I have read since MFK Fisher."
--Michael Pollan



"What it really is is a book about how to live a good life: take the long view, give to others, learn from everything you do, and always, always, always mindfully enjoy what you are doing and what you've done. The fact you'll learn to be a great cook is just a bonus." --Forbes.com