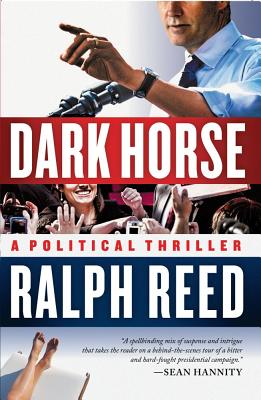 Dark Horse
A Political Thriller
Paperback

* Individual store prices may vary.
Other Editions of This Title:
Digital Audiobook (12/4/2008)
Description

At the Democratic National Convention in Chicago, California governor Robert Long got robbed.

It's a tight race between Long and Senator Salmon Stanley for the Democratic nomination for president. When Stanley triumphs, Long's delegates walk out, the media has a field day, and Long and his team -- including ace political strategist Jay Noble -- pack their bags and go home, knowing that whether Stanley fought fair or not, it's the end of the line. Unless...Would Long consider running as an independent? Independent campaigns of the past, such as those of Ross Perot and Ralph Nader, have been more gesture than genuine threat -- but how might the Internet and modern communications technology change that? And are the American people so disgusted at the partisanship and gridlock of the two-party system -- in particular, is the right wing so fed up with the Republican Party -- that they would vote for an independent? Would Long even be able to get on the ballot in all fifty states? A lively cast of characters struggles with issues of their own: - Michael Kaplan, Senator Stanley's consigliere and alter ego, is a shrewd and ruthless campaigner -- but this time, has he gone too far? Can he avoid being indicted as scandal consumes the campaign? - Harrison Flaherty is the incumbent vice president and the Republican nominee for president. He is confident of victory, but there remain major obstacles to his inauguration -- some that he is aware of, some that he cannot foresee...and some that can kill. - Dr. A ndrew S tanton is a mega-church pastor and religious broadcaster whose millions of listeners (and their financial support) give him great influence in Washington. Vice President Flaherty wants and expects Stanton's support...but will Flaherty get it? - Rassem el Zafarshan is in the United States with a band of terrorists, unlimited financing, and only one goal: to create an act of terrorism so horrific that it will make Americans forget about September 11, 2001 -- and bring about war between the United States and Iran. And in this election year, he knows just how to do it. - Claire L ong, the wife of the governor, wants revenge against her husband's enemies, so she supports his presidential candidacy without question. But she has just one slight problem... - Jay Noble has met a beautiful young woman who loves him, and he gets a second shot at winning a presidential campaign, one more chance to go out on top. But as the campaign grinds on, he has to wonder: Did he pick the right horse? And is the woman just too good to be true? Author Ralph Reed's many years of political involvement at the highest levels have prepared him to identify and portray in fiction some of the most glaring problems in our current political system -- and to tell that story with characters so true to life that they could well be subjects of a news story.
Praise For Dark Horse: A Political Thriller…
"Ralph Reed, a top-flight political player, has done it again with Dark Horse. This political thriller is a spellbinding mix of suspense and intrigue that takes the reader on a behind-the-scenes tour of a bitter and hard-fought presidential campaign. Dark Horse, a timely account of the best and worst of American politics, is a must-read." -- Sean Hannity, host, The Sean Hannity Show, and cohost, Hannity & Colmes



"Ralph Reed has written a lively novel that crackles with real-life political drama. Dark Horse is a page-turner that combines an insider's knowledge of politics with the suspense of a thriller. You won't be able to put it down." -- Karl Rove, former senior adviser and deputy chief of staff to President George W. Bush



"Only Ralph Reed is capable of extending a political thriller to the realm of the spiritual and the devotional. Dark Horse is an exciting read that beats even the real thing of 2008 for suspense and drama." -- Robert D. Novak, syndicated columnist and television commentator
Howard Books, 9781439182413, 435pp.
Publication Date: January 5, 2010