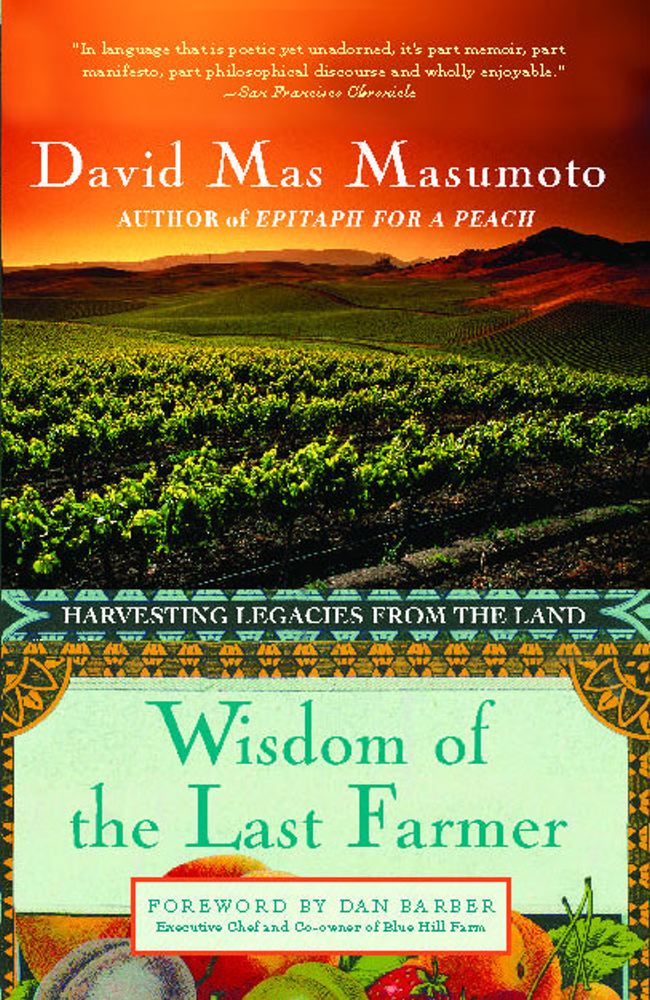 Wisdom of the Last Farmer
Harvesting Legacies from the Land
Paperback

* Individual store prices may vary.
Description
David Mas Masumoto works a family farm, growing organic peaches, nectarines, and grapes. When Masumoto's father has a stroke on the fields of their eighty-acre farm, Masumoto confronts life's big questions: What do his and his father's lives mean? What have they lived and worked for? "A fiercely tender book" (Deborah Madison), Wisdom of the Last Farmer "tells the most fascinating kind of story, reminding us that, at its best and most authentic, organic farming requires not only soul, but intimate knowledge of place, a deep grasp of subjects ranging from plant physiology to tractor repair, and unrelenting physical labor" (onEarth magazine). In the harvest of his father's wisdom, and his own, gathered from a lifetime of farming and surviving, Mas finds the natural connections between generation and succession and life, death, and renewal. He tells how to tend and make things grow, and how to know when to let nature take over, weaving together stories of life and death to reveal age-old wisdom in what the The Oregonian called a "sweet taste of farming, family, loyalty, and dignity." With insights full of beautiful, lyrical descriptions on how to nurture both the tangible and intangible, Masumoto's quiet eloquence reveals how our own destinies are involved in the future of our food, the land, and the farm.
Praise For Wisdom of the Last Farmer: Harvesting Legacies from the Land…
"Wisdom of the Last Farmer is a fiercely tender book; it could forever change how you regard a parent and the way you eat a peach...[and] puts food and farming into a rugged perspective that both humbles and inspires." -- DEBORAH MADISON, author of What We Eat When We Eat Alone and Local Flavors

"An eloquent and moving memoir...a coming-of-age story for adults as well as a generous appreciation of the personal value of farming to farmers and its overall value to society. Masumoto's love for his family, their land, and the fruit they produce shines through every chapter." -- MARION NESTLE, Ph.D., author of What to Eat

"The only voice from within farming that sings of both its pleasures and its pains, Mas Masumoto's words are so deeply rooted in his farmwork that they sweat, sting, and shine all at the same time. America's most articulate orchard-keeper, its most earthy writer, Mas eloquently captures the everyday beauty, heartbreak, and moral complexity of a multigenerational family intent on 'bearing fruit' despite insurmountable odds." -- GARY PAUL NABHAN, author of Renewing America's Food Traditions

"Masumoto passionately engages every fiber of his being in both his work and his writing, bringing the land to life for his readers….A philosopher in coveralls and work boots….Read slowly and savor."
—Booklist

"A graceful meditation on the work of growing food and its meaning across generations. A peach of a book... worthy of placement alongside the best of Wendell Berry, Liberty Hyde Bailey and other literary farmers."
--Kirkus
Atria Books, 9781439182420, 272pp.
Publication Date: June 1, 2010
About the Author
David Mas Masumoto is an organic peach and grape farmer who works with his wife, Marcy Masumoto, and their two children, Nikiko and Korio, on their 80-acre farm just outside Del Ray, 20 miles south of Fresno, CA. He has a bachelors degree in sociology from U.C. Berkeley and a masters degree in community development from U.C. Davis. He is a columnist for The Fresno Bee, has written for USA Today and The Los Angeles Times, and has been featured in Wall Street Journal, Los Angeles Times, Time Magazine and New York Times. His farm has been featured Sunset, Country Living, and Glamour Magazines and on television as part of the California Heartland PBS series as well as the nationally aired program "Ripe for Change."

Masumoto has won numerous awards, including the James Clavell Japanese American National Literacy Award in 1986; the 1995 Julia Child Cookbook Award in the Literary Food Writing category, finalist for the 1996 James Beard Foundation Food Writing Award, and San Francisco Review of Books Critics' Choice Award 1995-96, all for Epitaph for a Peach; Commonwealth Club of California silver medal for the California Book Awards in 1999 and was a finalist for the Asian American Writers' Workshop award in New York for Harvest Son; and the University of California, Davis "Award of Distinction" from the College of Agricultural and Environmental Sciences in 2003. He has been the key note speaker at diverse conferences including International Association of Culinary Professionals, Culinary Institute of America, American Association of Museums, and many more. He also was awarded a Breadloaf Writers Conference fellowship in 1996.