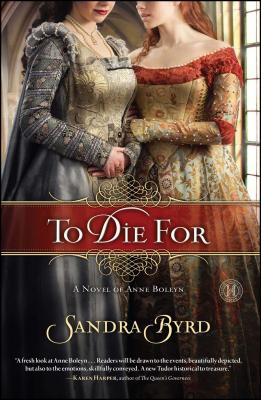 To Die For
A Novel of Anne Boleyn (Ladies in Waiting #1)
Paperback

* Individual store prices may vary.
Other Editions of This Title:
Hardcover, Large Print (1/1/2012)
Description
Sandra Byrd takes readers back to the court of Henry the Eighth in a novel that imagines the life of Anne Boleyn's best friend, a young woman whose fortunes depend on the queen's.

When Anne Boleyn's star begins to ascend, of course she takes her best friend Meg Wyatt along for the ride. Life in the court of Henry VIII is thrilling at first, but as Anne's favor rises and falls, so does Meg's. And though she's pledged her loyalty to Anne no matter what the test, Meg just might lose her greatest love—and her own life—because of it.

Meg's childhood flirtation with a boy on a neighboring estate turns to true love early on. When he is called to follow the Lord, she turns her back on both the man and his God. Slowly, both woo her back through the heady times of the English reformation. In the midst of drama and intrigue, Meg finds her place in history and follows her own calling to the Lord. Meg and Anne must determine what love really means and what, in this life, is worth dying for.

Readers continue to be captivated by the Tudors, that most famous of English ruling families. To Die For seamlessly blends fact and fiction in an unforgettable tale of two fascinating lives and one unshakable faith.
Praise For To Die For: A Novel of Anne Boleyn (Ladies in Waiting #1)…
"In To Die For, Sandra Byrd gifts the reader with a fresh look at Anne Boleyn through the eyes of her lifelong friend Meg Wyatt. But Meg commands her own interest and respect in the Tudor world of triumph and tragedy. Readers will be drawn to the events, beautifully depicted, but also to the emotions, skillfully conveyed. A new Tudor historical to treasure."
— Karen Harper, author of The Queen's Governess

"In this moving story of a friendship that survives a queen's rise and fall, Sandra Byrd reaches beyond the familiar stereotypes to give us the story of two remarkable women: Anne Boleyn and Meg Wyatt. A refreshingly three-dimensional Anne and a Meg of courage and integrity make this novel a must for your Tudor library."
— Susan Higginbotham, author of The Queen of Last Hopes

"Ms. Byrd shows a wonderful sense of time and place in her novel, To Die For. Her characters and her story are drawn with precision. The new life she breathes into well-worn notables like Anne Boleyn and Henry VIII, as seen through her character, Meg, is simply captivating."
— Diane Haeger, author of The Queen's Rival

"Most readers of Tudor historicals think they know Queen Anne Boleyn. They'll meet a very different Anne in Sandra Byrd's wonderfully told To Die For. Anne's life-long friend Meg Wyatt tells the tale of Anne's rise from lady-in-waiting to the arms of King Henry VIII and the throne of England until her tragic fall. Meg, who rises and falls with Anne, seeks her own lost love and faith. Anne's influence during the English Reformation is an integral and refreshing part of this story, one that Byrd tells with authority, adding a new and honest dimension to Anne's life and death . . . A novel to savor and return to."
— Jeane Westin, author of His Last Letter: Elizabeth I and the Earl of Leicester

"Sandra Byrd's first venture into historical fiction is nothing short of brilliant. All the Tudor details are perfectly placed, like gemstones in a royal crown, yet there is far more to this compelling novel than mere history. The characters live and breathe, their struggles are real, their longings palpable. Seeing Anne Boleyn's story through the eyes of her closest friend provides a well-rounded, even sympathetic view of a woman often vilified in history books. As Meg's story unfolds, Sandra Byrd does Philippa Gregory one better, giving readers a wider glimpse of history, a greater measure of hope, and an ending that satisfies at the deepest level. Simply put, To Die For is the best historical novel I've read in many a season, a masterpiece of history and heart."
— Liz Curtis Higgs, New York Times bestselling author of Mine Is the Night

"If you love Philippa Gregory, you'll adore Sandra Byrd! Through the eyes of Anne Boleyn's most trusted friend, Meg Wyatt, Ms. Byrd seamlessly weaves sacred threads of history with those of captivating imagination to take us on an unforgettable journey of the heart. The paths we travel—at once both familiar and new—are bathed in hope that casts an eternal light on the characters' hearts, and the reader's. I've no doubt that if Anne and Meg could somehow read To Die For, they would thank Ms. Byrd for telling their stories with such grace and beauty."
— Tamera Alexander, bestselling author of Within My Heart and The Inheritance

"As a reader who appreciates well-researched historical fiction, I truly enjoyed Sandra Byrd's To Die For. Anne Boleyn has long held a fascination for contemporary readers, and I was pleased to discover this account of her remarkable life. Through her charm, intelligence, and wit, she changed the course of history."
— Angela Hunt, author of The Fine Art of Insincerity

"Told through the eyes of Anne Boleyn's best friend, Meg Wyatt, this stunning novel by French Twist series author Byrd re-examines Boleyn's life from her beginnings to her rise and eventual fall in the Tudor court. Meg has her own tale of young love and pride, having turned her back on her childhood love when he accepted a religious calling. She travels with Anne to court and finds her life intimately tied to Anne's changing fortunes. Byrd's novel adds a depth to the character of Anne Boleyn that is often missing in other novels, and she brings the history to life in exquisite detail. Readers might indeed find themselves sympathizing with the young queen. Highly recommended for fans of Philippa Gregory."
— Library Journal, starred review, selected for the Best Christian Fiction Books of 2011

"With the vivid descriptions the author provides, To Die For is an interesting work of historical fiction that offers a fresh look at the court of King Henry VIII."
— Romantic Times (4 stars)
Howard Books, 9781439183113, 352pp.
Publication Date: August 9, 2011
About the Author
Award-winning and bestselling author Sandra Byrd has published four dozen books in the fiction and nonfiction markets, including Mist of Midnight, Bride of a Distant Isle (A Romantic Times Book Reviews Top Pick), and her most recent, A Lady in Disguise. For nearly two decades, Sandra has shared her secrets with the many writers she edits, mentors, and coaches. She lives in the Seattle, Washington area.