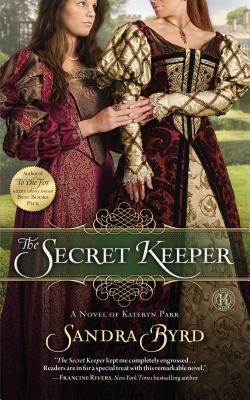 The Secret Keeper
A Novel of Kateryn Parr (Ladies in Waiting #2)
Paperback

* Individual store prices may vary.
Other Editions of This Title:
Digital Audiobook (11/8/2012)
Description
With a secret threatening to escape her lips at any moment, Juliana St. John is caught between love and honor as she takes on her new life as a mistress to household of Sir Thomas Seymour in the second novel of the Ladies in Waiting series.

What she sees in secret, she may not tell.

Mistress Juliana St. John is the lovely, forthright daughter of a prosperous knight's family. Though all expect her to marry the son of her late father's business partner, time and chance interrupt, sending her to the sumptuous but deceptive court of Henry VIII.

Sir Thomas Seymour, brother of the late Queen Jane, returns to Wiltshire to conclude his affairs with Juliana's father's estate and chances upon her reading as lector in the local church. He sees instantly that she would fit into the household of the woman he loves and wants most to please, Kateryn Parr. Juliana's mother agrees to have her placed with Parr for a season and Juliana goes, though reluctantly.

For she keeps a secret.

Juliana has been given the gift of prophecy, and in one vibrant vision she has seen Sir Thomas shredding the dress of a highly born young woman, while it was still on her body, to perilous consequence.

As Juliana accompanies Kateryn Parr to court, Henry's devout sixth queen raises the stakes for all reformers. Support of firebrand Anne Askew puts the queen and her ladies in life-threatening jeopardy, as does the queen's desire to influence her husband's—and the realm's—direction and beliefs.

Later, without Henry's strong arm, the court devolves to competition, duplicity, and betrayal. The risks could not be higher as Juliana must choose between love and honor, personal fulfillment and sacrifice. Ultimately, her course is driven by a final kept secret, one that undoes everything she thought she knew.
Praise For The Secret Keeper: A Novel of Kateryn Parr (Ladies in Waiting #2)…
"Rich in historical detail, full of intrigue, and starring a memorable heroine—Juliana St. John—who grows in both character and faith, Sandra Byrd's The Secret Keeper kept me completely engrossed in the tumultuous court of Henry VIII. I felt a part of the times, thanks to the author's skillful storytelling, vivid descriptions, and inspiring characters. Readers are in for a special treat with this remarkable novel."
— Francine Rivers, New York Times bestselling author

"'How do I love thee? Let me count the ways,' wrote Elizabeth Barrett Browning long years after the Tudor period of Sandra Byrd's remarkable book, The Secret Keeper. But the poet's words come to mind often as I count the myriad ways I love this story. Exquisite attention to detail of time, language, and place. A deft creation of character voice that invites the reader in and never lets her go. A delicate suspense that keeps pages turning. And throughout, the evidence of a remarkable storyteller who moves emotions in ways that both inspire and satisfy. I fell in love with Juliana St. John and with her heart, and hope she and her secrets find the widest possible audience."
— Jane Kirkpatrick, New York Times bestselling author of Where Lilacs Still Bloom

"A young woman with the gift of prophecy becomes entangled in Henry VIII's court in this engaging novel. [. . .] Byrd (To Die For) crafts a well-researched historical novel that engrosses readers in Juliana's world and the juicy details of the Tudor court. [. . .] Anglophiles and history buffs alike will surely enjoy this bird's-eye view into royal politics, love, and scandal."
— Publishers Weekly

"Juliana's character as the main protagonist is both surprisingly fresh and perfectly presented. There is much more to her than a lady's maid, and finding out her secrets as the story unfolds is a great pleasure. Unlike many novels of this kind — which portray a fictional character in the lead — this one works very well. A female's place in society is expanded upon, but not so much as to become monotonous and spoil the historical theme."
— Historical Novel Society

"The Secret Keeper emulates the fast-paced tension of a great romantic suspense novel but relies entirely upon court intrigue to accomplish that pulse-pounding feat. Anchored by the proper but down-to-earth voice of Juliana St. John, the reader remains lip-bitingly engaged in the story and its characters even through the most mundane activities in which they take part. [...] Like its predecessor, The Secret Keeper illumines roles the royals played in the ebb and flow of the English Reformation Movement, but does so in such a suspenseful, romantic fashion that the reader is every bit as entertained as she is educated. [...] I'd be willing to wager that, come December, The Secret Keeper will find a firm ranking on many bloggers' Best Books of 2012 lists — including mine. The Secret Keeper is simply superb. It grabbed me from the start and never let go. [...] Even readers who shy away from the well-researched historical will get wrapped up in the Tudor trickery and lovely romance within this story. Byrd's tightly woven plot is laced with ever-splicing threads of intrigue that worm their way into your imagination and all but tie the book to your hands. Read it!"
— USA Today

"The Secret Keeper is a beautifully crafted story of heartache, love and loyalty. The reader is gifted with glimpses into the lives of many of the key characters of that day: Kateryn Parr, Thomas Seymour, and the young Elizabeth Tudor. The heroine's secrets are compelling, but the biggest secret others have kept from her changes her life. However, it is no secret that Sandra Byrd writes compelling fiction on women's trials and triumphs. Enjoy, but keep a handkerchief nearby."
— Karen Harper, New York Times bestselling author of Mistress of Mourning

"Atmospheric, dramatic and full of twists, this second title in Byrd's 'Ladies in Waiting' series (after To Die For) is a sure bet for fans of Deborah Vogts and Tudor fiction."
— Library Journal
Howard Books, 9781439183144, 352pp.
Publication Date: June 5, 2012
About the Author
Award-winning and bestselling author Sandra Byrd has published four dozen books in the fiction and nonfiction markets, including Mist of Midnight, Bride of a Distant Isle (A Romantic Times Book Reviews Top Pick), and her most recent, A Lady in Disguise. For nearly two decades, Sandra has shared her secrets with the many writers she edits, mentors, and coaches. She lives in the Seattle, Washington area.
or
Not Currently Available for Direct Purchase