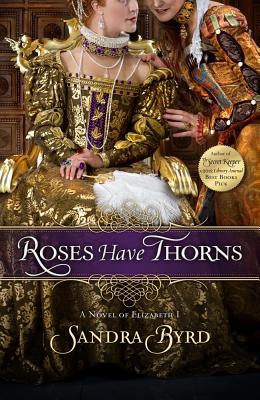 Roses Have Thorns (Paperback)
A Novel of Elizabeth I (Ladies in Waiting #3)
Howard Books, 9781439183168, 317pp.
Publication Date: January 8, 2011
Other Editions of This Title:
Digital Audiobook (1/23/2014)
Library Binding, Large Print (6/1/2013)
* Individual store prices may vary.
Description
From the acclaimed author of To Die For comes a stirring novel told that sheds new light on Elizabeth I and her court. In 1565, seventeen-year-old Elin von Snakenborg leaves Sweden on a treacherous journey to England. Her fianc has fallen in love with her sister and her dowry money has been gambled away, but ahead of her lies an adventure that will take her to the dizzying heights of Tudor power. Transformed through marriage into Helena, the Marchioness of Northampton, she becomes the highest-ranking woman in Elizabeth's circle. But in a court that is surrounded by Catholic enemies who plot the queen's downfall, Helena is forced to choose between her unyielding monarch and the husband she's not sure she can trust--a choice that will provoke catastrophic consequences. A rich, tautly woven tale of love, deception, and grace, Roses Have Thorns vividly conjures the years leading up to the beheading of Mary Queen of Scots and is a brilliant exploration of treason, both to the realm and to the heart.
Praise For Roses Have Thorns: A Novel of Elizabeth I (Ladies in Waiting #3)…
"In Roses Have Thorns Sandra Byrd has given the reader another amazing heroine to tell the intimate story of England's greatest queen, Elizabeth I. What a unique point of view and deeply moving story Helena von Snakenborg provides. Byrd is especially adept at blending political and private lives. This is a timeless women's friendship novel as well as a poignant love story to cherish—both the roses and the thorns."

-Karen Harper, New York Times bestselling author of Mistress of Mourning


"There is something golden about this tale of Elin, an eager young woman in a strange land, diligent in her duty but alive to love. A tale gracefully told, even as it renders the terrors of treachery that form the crucible of Elin's hard-won wisdom. A heartfelt story of loyalty, longing, life-long friendship, and the many seasons of the heart."

-Barbara Kyle, author of The Queen's Gamble and BloodBetween Queens


"Beautiful prose and masterful research combine to bring this fascinating tale to life, treating the reader to fully realized characters and providing an original window in which we can view Elizabeth's court. Ms. Byrd's work will stand as an unforgettable contribution to Tudor fiction."

-D.L. Bogdan, author of The Forgotten Queen


"Scandalous gossip! Court intrigue! Forbidden romance! Roses Have Thorns is addictive reading--a guilty pleasure that will transport your heart to the edge of despair and, with a sigh, to the renewal of hope."

-Serena Chase


"The book spans nearly 24 years, and readers will be very caught up as the story unfolds and they see some of the familiar players of Elizabeth's court through the eyes of a gentle and affectionate friend to the Queen. With this well written novel, rich in history and everyday court life during the Elizabethan period, I can now count Sandra Byrd as one of my favorite writers of historical fiction."