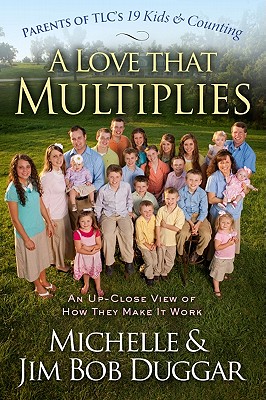 A Love That Multiplies
An Up-Close View of How They Make it Work
Hardcover

* Individual store prices may vary.
Other Editions of This Title:
Digital Audiobook (6/6/2011)
Paperback (3/6/2012)
Description
As the Duggar children grow up—even while more little ones are born—Michelle and Jim Bob Duggar face more than baby diapers and organizational chore charts. In their new book, they share practical insights about the joys and challenges of parenting with faith.

In this second book from the Duggars, they focus on the principles that equip them to face life's challenges—drawing from their most recent challenge with the 3-month premature birth of their newest child, Josie. They also share the new challenges their older children are facing as they prepare for adult life. Central to the book is a section on the principles that the Duggars have consistently taught their children. These simply worded principles are basic to the Duggar family and are shared in a way that other parents can incorporate in their own homes. A special chapter on homeschooling gives valuable information to parents who are considering this route or are already invested in it. The world continues to be amazed by their nineteen well-groomed, well-behaved, well-schooled children and their home life, which focuses on family, financial responsibility, fun—and must importantly, faith. The Duggars show how parents can succeed whether they're rearing a single child or several.

Table of Contents

Preface: Our Biggest Test Begins

Part 1: Little Baby, Big Challenges
1. Little Eyes Watching
2. More Babies on the Way!
3. A Surprising Test Begins
4. Praying without Ceasing
5. Miracles and Milestones
6. Difficult Priorities

Part 2: Shaping Hearts and Minds
7. Living under the Microscope
8. Opportunities to Reach Out to Others
9. Developing a Servant Heart
10. Making Faith Fun

Part 3: Big Hope for Our Children's Future
11. Homeschool, Duggar Style
12. Vocations, Goals, and Roles
13. Daily Training, Tips, and Practicalities
14. Life Is a Classroom

Part 4: Big Hearts, Full of Love
15. Protecting and Cherishing Our Relationships
16. Michelle's Heart for Children and Moms
17. Jim Bob's Lifelong Hobby
18. Do the Duggars Date?

P.S. Answering the Big Question
Howard Books, 9781439183816, 288pp.
Publication Date: June 7, 2011
About the Author
Michelle Duggar has been married for more than twenty years to her husband, Jim Bob, and they are blessed with nineteen children. The Duggars have the #1 program on TLC/Discovery Health/TLC documentaries and have appeared on national television shows, such as the Today show, Good Morning America, The View, Inside Edition, Jimmy Kimmel Live, and others.

Jim Bob and Michelle Duggar married in 1984. Some time after the birth of their first child, they prayed that God would give them a love for children like his love for children and that he would bless them with as many children as he saw fit in his timing. Soon after, Michelle became pregnant with twins! The Duggars currently have ten boys and nine girls, and all their names begin with "J"—Joshua, Jana and John-David (twins), Jill, Jessa, Jinger, Joseph, Josiah, Joy-Anna, Jedidiah and Jeremiah (twins), Jason, James, Justin, Jackson, Johannah, Jennifer, Jordyn-Grace, and Josie.

The Duggars are the #1 program on TLC/ Discovery Health / TLC documentaries and have appeared multiple times on national TV shows, such as The Today Show, Good Morning America, The View, Inside Edition, Jimmy Kimmel Live, Fox News Network, CNN, MSNBC, and others. Foreign television appearances include Italian Public Television, KBS (Korean Broadcasting System), and Discovery Home & Health (UK & Australia). They have been featured in magazine and newspaper articles in China, India, New Zealand, Australia, France, and Germany. As a family project, the Duggars built a seven-thousand-square-foot home. Both Jim Bob and Michelle are licensed real estate agents and conduct the Jim Sammon's Financial Freedom Seminar in their community. They purpose to live completely debt-free—postponing purchases until they have the cash. Jim Bob served in the Arkansas House of Representatives from 1999 to 2003 and was a candidate for the U.S. Senate in 2002.
or
Not Currently Available for Direct Purchase