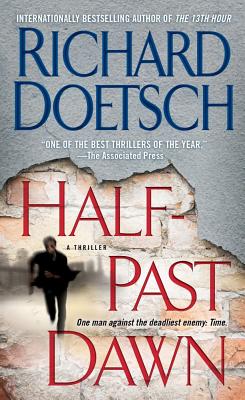 Half-Past Dawn (Mass Market Paperbound)
Pocket Books, 9781439183984, 427pp.
Publication Date: July 31, 2012
* Individual store prices may vary.
or
Not Currently Available for Direct Purchase
Description
From the mind-shattering opening scene, internationally bestselling author of The Thieves of Darkness, Richard Doetsch takes readers on a twisting, turning adventure. Jack Keeler wakes up one bright June morning to the shock of his life: a half-healed gash over his right eye, a hastily stitched together bullet wound in his shoulder, an intricate tattoo in a foreign script covering the length of his forearm, and a front-page headline that reads NEW YORK CITY DISTRICT ATTORNEY JACK KEELER DEAD. He has until dawn to piece together what happened and to find his missing wife Mia, an FBI agent. The ensuing race is a twisting, turning, adrenaline-charged hyperspeed adventure that uncovers an ancient people lost to legend, an assassin who will stop at nothing to avenge his death sentence, a diary whose contents foretell the future, and a curious mystery hidden deep inside the country's most dangerous prison.
About the Author
Richard Doetsch is the bestselling author of several thrillers, including The Thieves of Heaven, The Thieves of Faith, Thieves of Darkness, and The 13th Hour. He lives in New York with his family.
Praise For Half-Past Dawn…
"Richard Doetsch delivers one of the best thrillers of the year...a gut-wrenching read. The constant shocks and twists will delight the most seasoned thriller fan." —The Associated Press
"This one will keep you guessing to the end." —Suspense Magazine
"A whole new meaning to the term 'thriller'...an incredible story that will leave one wondering until the very end." —Book Banter (blog)
"The story is too compelling to be abandoned before the last word and, even then, it doesn't let go." —Murder By Type (blog)
"Half Past Dawn defies description. There simply has not been anything like it. Ever. Full of nonstop action, mindbending switchbacks and psychological puzzles, it will keep you up far into the deepest hours of the night, quite possibly even until…half-past dawn. Richard Doetsch is undeniably the king of plot twists." —BookReporter
"Doetsch delivers a whole new meaning to the term 'thriller,' providing shocking revelations and realizations at the end of almost every chapter. Readers will be left wondering (and dreading) what will happen next, and be physically unable to stop reading." —San Francisco Book Review
Advertisement