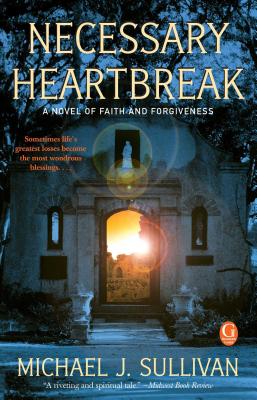 Necessary Heartbreak
A Novel of Faith and Forgiveness
Paperback

* Individual store prices may vary.
Description
An extraordinary journey back in time shows a struggling single dad that the faith he's lost is still alive—and stronger than ever. . . .

Michael Stewart has weathered his share of hardships: a troubled childhood, the loss of his mother, even the degradation of living on the city streets. Now he's raising his teenaged daughter, Elizabeth, on his own and doing the best he can at work and at home. But he's turned his back on his faith—that is, until the morning Michael and Elizabeth volunteer for a food pantry at their local church. While storing boxes in the basement, they step through a mysterious door . . . and find themselves in first-century Jerusalem during the tumultuous last week of Jesus Christ's life. It is a dangerous and violent place, where doing what your heart tells you is right can get you imprisoned—or worse—and they are thankful to take refuge with a kind widow. But when they come face-to-face with Judas Iscariot and the condemned Christ himself, Michael realizes that before they can escape Jerusalem, he must experience history's most necessary and shattering heartbreak—and that pain and loss must happen if Michael is to be set free: to live, love, and reclaim the blessings he has in the present day.
Praise For Necessary Heartbreak: A Novel of Faith and Forgiveness…
"A beautiful book. . . . I applaud Michael J. Sullivan for bringing his story to life."
—Eric Wilson, New York Times bestselling author of Fireproof and Haunt of Jackals

"Necessary Heartbreak is the product of a big talent and a mighty heart, and this entrancing tale of mysteries both temporal and spiritual is sure to take up residence under your skin." -- Sam Hamm, Screenwriter (Batman movies)

"Necessary Heartbreak is the first of Sullivan's trilogy, which opens with quite the proverbial bang." -- Midwest Book Review

"Michael J Sullivan's story is inspiring, makes you think about what is important in life, what your faith means." -- Paul Hewitt, Georgia Tech head basketball coach

"I thoroughly enjoyed this book and eagerly await the volumes that are slated to follow. I highly recommend it." -- Pastor Marc Axelrod (Potter, WI)

"Mr. Sullivan treats the story of the last week of Christ's life with much respect." --Kyle Sabo, The Cathedral of the Incarnation Book Club (Garden City, NY)

"It is a great action/adventure story with a time traveling twist . . . Full of complicated love stories and questions of faith and belief . . . It made me laugh and cry at turns." --Melissa Voet – Community Book Club (California)
Gallery Books, 9781439184233, 256pp.
Publication Date: March 30, 2010
About the Author
Michael J. Sullivan is an author and sports writer living in New York who graduated from St. John's University, and is a member of the McDonald's All-American Selection Boys Basketball Committee and the Parade All-American Selection Committee. Michael hosted sports radio shows on WGBB on Long Island, NY, and WEVD 1050AM in New York City, as well as worked with ESPN and Sporting News. In addition to writing the When Time Forgets series, Michael covers high school and college sports for Fox-owned Scout.com, which involves daily activity on ten to twelve message boards as well as writing approximately 100 articles each month.

Michael has published a number of books through established trade houses, including the trivia book So You Think You're a New Yorker, which was an iconic work lauded by columnist Cindy Adams. In addition, he published seven sports-themed books for children through Enslow, and a volume of a children's book series through HarperCollins.
Compare Michael and Elizabeth's relationship with Michael's relationship with his own father. How are their power struggles and communication difficulties similar and different?
Discuss Michael's relationship with religion. What changed his once-strong faith? How is his belief in God different at the end of the novel? How do Elizabeth's and Leah's faith change throughout the novel?
Is Michael too overprotective, or just a concerned parent? Does Michael use his fear for Elizabeth to hold himself back from life? Why does he push people away?
Why does Michael consistently avoid women and feel almost uncomfortable with them? What is he afraid of? Why does he have so much trouble letting go of Vicki and moving on, going so far as to search for her in Jerusalem?
Talk about the different ways Michael and Elizabeth deal with losing Vicki. Throughout the story, they hide their emotions from each other. Why can't they talk about her with each other? Why do they each blame themselves for her death, when clearly it's neither one's fault?
How did the narrative format of the novel, incorporating flashbacks throughout, impact your read?
Why does Leah take Michael and Elizabeth in so easily? How are they able to accept life together so quickly? What do they learn from each other? What do Michael and Leah see in each other of their missing spouses?
Leah and Michael discuss having a "reverence for life," in both Leah's time and Michael's. Michael admits that not much has changed. Reread the passage on pages 157–158 and talk about how the two cultures respect life.
Discuss the difference between "kill" and "sacrifice." Why does Leah ultimately decide not to sacrifice Cassie? What does Elizabeth learn from Cassie? Discuss Cassie's significance to the story and what she symbolizes.
What does Michael make Leah believe?
How is the second time Michael denies Christ different from the first?
Why do Michael and Elizabeth keep finding excuses to stay in Jerusalem one more day? Is it because they're drawn to Jesus, or do you see another reason?
Why are Michael and Elizabeth so intent on helping Jesus, even though they know how the scene will play out? Why must Michael shoulder his burden? How can Elizabeth lift Michael's burden?
How does Leah break through Michael's façade? Why doesn't he ask her to come home with them? Did you like the ending of the book? Why or why not?
How does heartbreak shape each character? Do you agree with the title, that heartbreak is sometimes necessary?